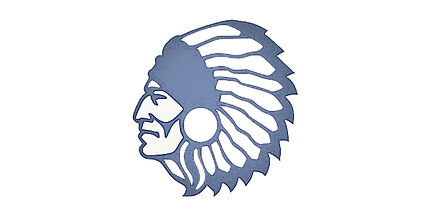 Behind three of the top five finishers, including champion Chloe Helms, The Lakeside School in Eufaula girls team won the AISA Varsity State Cross Country meet Wednesday at Auburn's Keisel Park.
Helms, a sophomore, won the race in 22 minutes and 27.02 seconds, easily outdistancing Lee-Scott Academy's Isabel Litkenhous, the runner-up in 24:19.76.
Lakeside eighth grader Sophie Seaborn was third in 24:51.63 and freshman Addy Helms was fifth in 26:18.15. Also for the Chiefs, junior Rebecca Neville (29:40.72) was 10th and senior Mackenzie Erickson (30:10.81) was 12th among the 22-runner field.
As a team, Lakeside finished with 26 points with Lee-Scott second with 33 points and Glenwood third with 65.
The Lakeside boys finished fifth out of six scoring teams. Heritage Christian won the event with Lee-Scott runner-up.
Leading the Lakeside boys was sophomore Evan Sellars in fifth place with a time of 21:37.38. Seventh grader Forrest Stephenson (26:18.61) was the next highest Chiefs finisher in 26th place. Freshman Tucker Stephenson (29:46.47) was next in 32nd place.
Tuning up: With just two weeks before the postseason begins, most AHSAA Wiregrass cross country teams are getting their last runs in this week as a final tune-up.
Four different meets Thursday and Saturday feature at least a couple of area programs competing.
On Thursday, nine teams, mostly from the Wiregrass, run at the Bobcat Invitational 2 meet at Frank Jackson State Park in Opp. Teams registered for the meet are Geneva, New Brockton, Northside Methodist, Opp, Straughn, Wicksburg, Zion Chapel, Kinston and Red Level.
The meet starts with a middle school 2-mile race at 4:30 p.m., followed by the varsity girls 5K (3.1 miles) race at 5 p.m. and the varsity boys at 5:40 p.m.
On Saturday, Dothan, Enterprise and Providence Christian travel to Auburn for the 25th Annual Tiger Classic at Keisel Park. The event features 21 high schools, mostly from the Montgomery, Auburn and Wiregrass areas, though Westminster of Oak Mountain is also registered.
The meet starts at 8:30 a.m. with the varsity girls race, followed by varsity boys at 9:15 a.m. A junior high girls race (grades 7-9) is set for 10 a.m. and the boys junior high at 10:40 a.m.
Also on tap for Saturday are the Covington County III meet in Andalusia and the Trinity Co-Ed State Championship meet in Montgomery.
Teams registered for the Covington County meet are Wiregrass programs New Brockton, Opp, Zion Chapel and Kinston along with T.R. Miller, St. Luke's, Straughn, Flomaton, Florala, Carver (Birmingham), Pleasant Home and Red Level.
The meet starts with the junior varsity 2-mile race at 9 a.m., followed by the varsity girls at 9:40 a.m. and varsity boys at 10:05.
In Montgomery, the Trinity meet features a unique format were teams place their top five girls and top five boys for a 10-person team and the top three boys and top three girls finishers on each team will be scored to determine a co-ed champion. The co-ed race is at 9:05 a.m.
There will also be regular girls and boys races with the girls at 8 a.m. and the boys at 8:35 a.m.
Local teams registered for the 21-team meet are Dothan and Houston Academy.
Enterprise boys finish second: Behind three top 16 finishes, the Enterprise boys team earned second place at this past Saturday's Smiths Station Panther Invitational.
The Enterprise girls finished sixth out of eight scoring teams.
The Wildcat boys earned 71 points behind only Smiths Station (54), but it was enough to beat out Columbus (Ga.), which finished third with 77 points, and was well ahead of five other scoring teams.
Brett Tessay and Bowden Michael paced the Wildcat effort with top 10 finishes. Tessay captured third place with a time of 17:38.56. LAMP's Landon Perdue won the race in 17:09.98 and teammate Agustin Lemuz was runner-up in 17:15.40.
Michael finished seventh for Enterprise in 18:14.14. Kristyan DeJesus finished 16th with an 18:41.89 time.
Also for Enterprise, Conrad Suter (19:06.70) and Jacob Tillery (19:10.07) finished 23rd and 25th, while Rajan Dahale (20:34.70) and Christopher Jones (20:38.87) finished 45th and 46th in the 92-runner field.
The Enterprise girls were led by Lauren Rodgers and Emma McCrea. Rodgers took 10th place in the race with a 21:53.63 time, while McCrea claimed 14th place with a 22:09.45 time.
Other top EHS girls placers were Hannah Sheffield (26th, 23:21.14), Stella Retherford (29th, 23:37.85), Kamryn Wile (30th, 23:39.90) and Ammarie Jenkins (38th, 24:41.06) among the 86 runners.
Other area runners at Smiths: Goshen and Charles Henderson also had runners competing at Smiths Station's Panther Invitational.
For Goshen, Brady Singleton finished the boys race in 61st place after a 22:50.00 time. For Charles Henderson, Corey Johnson finished the boys race in 65th place with a 23:08.97 time and Tatum Brook was 78th in the girls event with a 33:17.30 time.