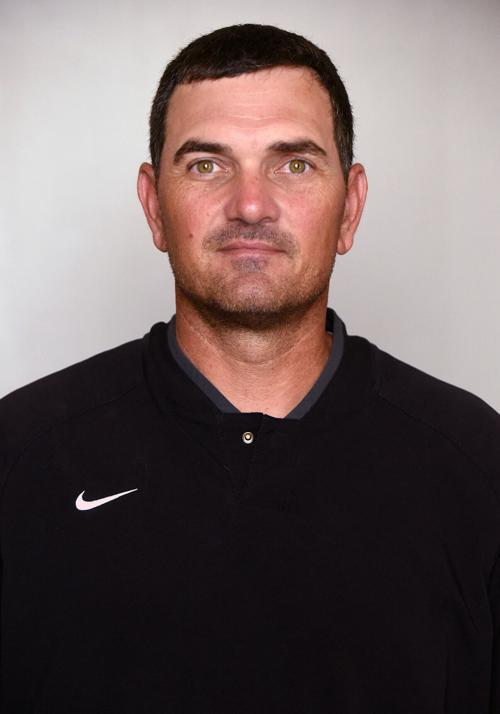 A former Alabama quarterback who was MVP of a state championship game and is the son of one of the state's winningest coaches has been tabbed the new head football coach at Dale County.
Luke Tucker, the MVP of Fayette County's 1996 state championship victory who was part of the University of Alabama football team for two years, was hired Tuesday night as the Warriors' new head football coach. He replaces Don Moore, who accepted a job at Goshen last month.
The Dale County School Board also hired Tucker's wife, Lori, as a special education teacher during Tuesday's meeting. Both hires were confirmed by Dale County Superintendent Ben Baker and principal Matt Humphrey.
Tucker played and later coached at Fayette County under his dad, Waldon, who has 309 career wins that also includes stops at Demopolis and Gordo. He comes to Dale County after serving last year as defensive coordinator under his brother, Lance, at Memphis-area Bartlett High School.
The Dale County job will be Luke Tucker's first head football coaching role after 14 years as an assistant coach, including seven years as a defensive coordinator. He will also be Dale County's head golf coach and a physical education teacher
"I am excited. I have always wanted to be a head football coach and this is an opportunity that I have been looking forward to," Tucker said.
"It means a lot (to be a head football coach). It is something that I have always wanted to do. My father was a head coach, still is, and he has coached 40 years. My brother began and I have been with my brother ever since. I have enjoyed it."
Humphrey feels the school made a home run hire with Tucker.
"We are ecstatic that he is willing and committing to take the position at Dale County High School," Humphrey said. "I think he brings a lot of years of experience on a personal level as well as a coach. I am looking forward to seeing what he can bring to Dale County High School to develop our program and make it bigger and better."
Humphrey added Tucker was the most impressive of all the candidates interviewed for the football job.
"He did a great job in the interview and the interview lasted about three, three-and-a-half hours, so it wasn't easy," Humphrey said. "I also had an opportunity to invite my assistant coaches to come in and they all fell in love with him. I think he will bring in some cohesiveness with our coaches. To me, ultimately that stood out.
"Obviously, his name stood out, knowing the experience he has on the personal level as well as with his dad and brother. He and his family are well known in the football realm of things."
Tucker takes over a Warrior program that has been up-and-down since a 2014 state runner-up season. Dale County has had three losing seasons since, but also has had three 7-4 teams, including this past fall. The Warriors are expecting to have 20 seniors for the upcoming season.
The new Warrior coach has been at the Midland City school the last two days, meeting people and going over plans with coaches and administrators.
"I have had an opportunity to work with him in the last couple of days and he has been every bit of what we thought he would be," Humphrey said. "Every single one of the coaches have come to me and thanked me for hiring him because he has done a really good job."
Tucker was a standout quarterback for his dad at Fayette County, twice earning all-state honors. He threw for 7,428 yards and 53 touchdowns off 430-of-879 attempts in his high school playing days. He was also selected a USA Today Honorable Mention All-American.
The highlight of his career was winning MVP during Fayette County's 26-7 state championship win over T.R. Miller in 1996 as a junior. That game finished off the Tigers' first 15-0 unbeaten season in school history.
He signed to play for the University of Alabama and head coach Mike DuBose, serving as a back-up quarterback behind Andrew Zow and Tyler Watts and was part of the Crimson Tide's 1999 SEC Championship team. He left Tuscaloosa after two years.
"It had nothing to do with football. I come from a small town and the school was too big for me," Tucker said of transferring.
He enrolled at nearby Bevill State Community College and played on the school's baseball team for two seasons. He then transferred to AUM and played two years of baseball there.
He obtained his Bachelor of Science degree in physical education at AUM and earned a Masters' degree from the University of West Alabama.
After college, he taught physical education at Berry Elementary and driver's education at Berry High School while moving into coaching with his dad at Fayette County in 2007.
He served under his dad through 2010 before his brother Lance took over the Fayette County program in 2011. He became the program's defensive coordinator in 2014, a role he held through 2019. During his tenure there, the Tigers were state runner-ups three times (2012, 2015, 2017).
He was also the head baseball coach from 2015-2019 at Fayette County.
In 2019, his brother accepted the head football job at Bartlett and Luke Tucker followed him to the 2,800-student school as defensive coordinator.
While he has learned a lot of football under his dad and brother, he said he gained more from both than what is in the record book.
"Mostly, I learned it is not about the wins and losses," Tucker said. "It is about building the relationships with the young men, helping them to grow and be better men. That is what I mostly learned from dad and my brother in watching them coach and how they handled the young men."
Tucker said he has been impressed with Warrior players in the brief time he has been around them.
"I have gotten to meet the kids," Tucker said. "They seem like really good kids, smiles on their faces and they seem to enjoy being out there and wanting to play football."
As far as offensive and defensive schemes, Tucker said it was too soon to tell what the Warriors would run this fall.
"It is hard to say what offense I will run or what defense until I get out there with the players and be with them," Tucker said.
"I like a bunch of offenses, but some of them you just can't do it (with certain personnel). Honestly it is something I don't know until I see what kind of players we have and athletes we have and whether we have a throwing quarterback or a running quarterback."