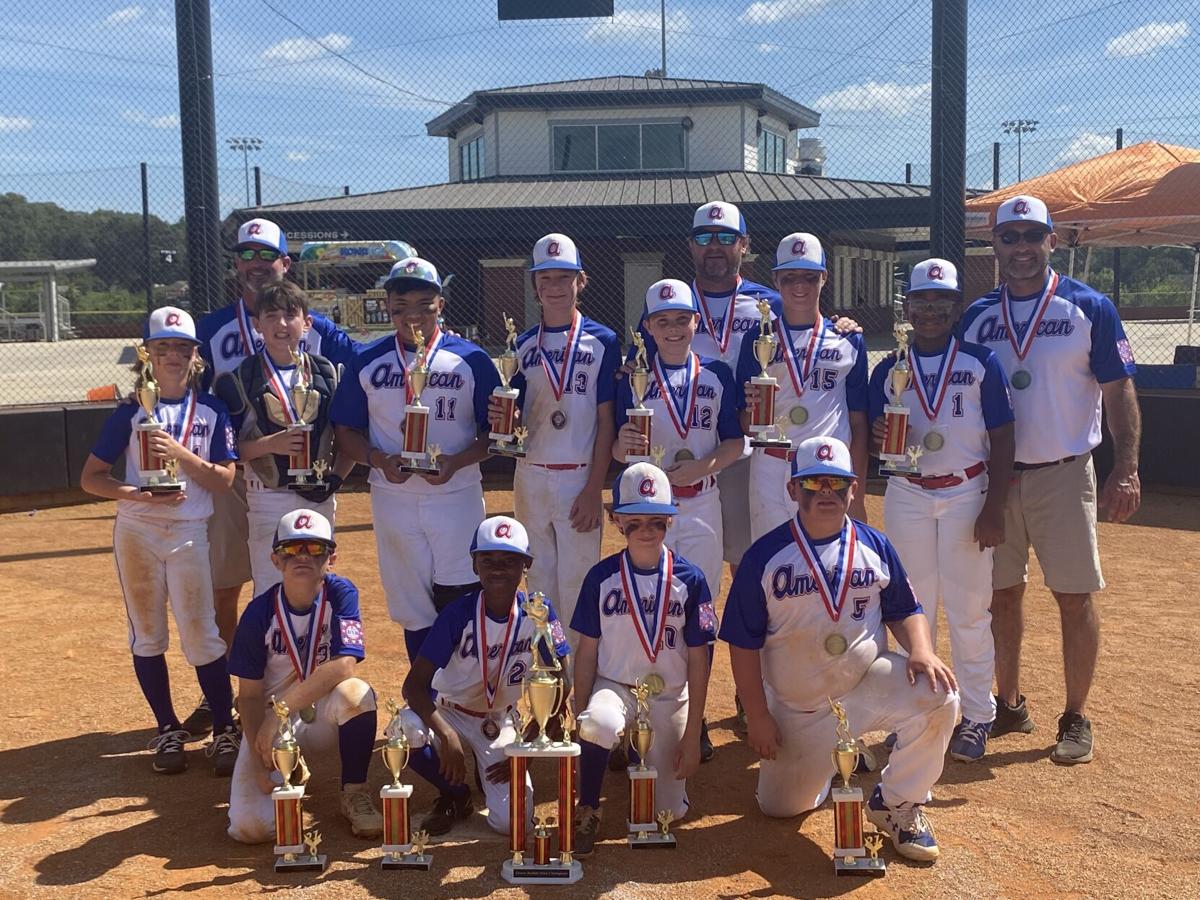 Recapping Dothan American's run at the Alabama Rookie Ozone State Tournament in Oxford, head coach Kyle Faulk kept utilizing the words stepped up.
The 11-player Dothan American all-stars went 4-1 overall and captured the state title, beating fellow city program, Dothan National, in the finals 3-1 at the Rookie Ozone (11-12 ages) tournament June 24-28.
"I know it is kind of cliché, but our whole team stepped up at different times during the tournament," Faulk said. "I could run down the list of every one of them that at some point in the tournament they stepped up when we had to have a hit, had to have a run or have a play on defense. So I am so proud of them to be able to put it all together in a tournament."
In taking the state crown, Dothan American earned a spot in the Rookie Ozone World Series in Texarkana, Ark., starting on Friday, July 23. The team is seeking donations for trip expenses and has set up a website at www.gofund.me/68e2fb46 for those wishing to donate.
The Dothan team opened the state tournament beating Southeastern Montgomery 6-5, winning on a walk-off extra inning hit. The American team then beat Alexandria, a team from near Oxford, 5-2, before losing to Dothan National 7-3.
Dothan American rebounded with a 3-2 win over Hueytown to get a rematch with Dothan National in the finals and claim the 3-1 title-game win.
"We are all our friends with those guys," Faulk said, referring to Dothan National. "It was crazy how two Dothan teams made it to the finals of a state championship in Oxford. It was pretty awesome to play for a state championship game against all your friends."
Dothan American jumped out to a 3-0 lead after two innings and pitcher Whit Price contained the National offense.
In the opening inning, Daniel Guin walked and scored on a Grayson Creel single before Hagan Holloway scored Creel with a RBI double.
An inning later, Jamauri Hart and Nix Leger both walked. Leger got caught in a rundown between first and second and Hart, at third after stealing second and third, stole home during the rundown.
Dothan National scored in the sixth inning. Barron Cowart walked and later scored on a Griffin Bush single.
Price went all six innings on the mound for Dothan American, allowing just one run and two hits. He had only four strikeouts.
"That (only four strikeouts) just shows you they were putting the ball in play and we were making plays on defense," Faulk said. "We didn't have a single error and Dothan National didn't have a single error in the field. Both teams played great defense."
Dothan National pitchers Greer Collins and Grady McGee also had strong pitching efforts in the game, combining to allow just five hits and three runs.
"That last game was a fight the whole game," Faulk said. "Dothan National played great. They pitched good and played good defense behind their pitchers too."
Dothan American rode the pitching of Price and Creel most of the tournament, but Guin, Holloway and Jeremiah Dean also got key outs during the five games.
"I was a little worried about pitching (going in)," Faulk said. "Always when you go into a tournament like this, you are limited on rest rules and not being able to throw them as much as you normally would in a game, but our pitching stepped up. At different times, guys that haven't pitched as much were able to step up and throw strikes. More of our go-to pitchers, they stepped up every time they had to and we were able to lean on them, but the others stepped up too."
Offensively, Rylan Wozniak had a team-high six hits at the tournament and Guin and Holloway five each, but every player had a hit and nine of the 11 players drove in at least one run.
Dothan American had to persevere to win close games as all four victories were by three runs or less with three wins coming in the last at-bat.
In the opener against Southeastern, the teams were scoreless through four innings before both broke through with two runs in the fifth. One of the Dothan runs was supplied by a solo homer by Simon Nguyen, but even that was tempered as he injured his knee during a home plate celebration.
Though he remained in the game – and added a two-run double – Nguyen was unable to compete in the other games because of the injury.
Southeastern seized momentum with three runs in the top of the sixth, but Dothan stepped up and tied it with three in the bottom half to force extra innings.
After holding Southeastern scoreless in the top of the seventh, Dothan American won it in walk-off fashion in the bottom half. Kasey White singled, moved to second on an Andrew Simmons fielder's choice and scored on a Hart RBI single.
Creel, the fourth American pitcher of the game, was the winning pitcher, recording 1 1/3 scoreless innings. Price started and struck out 10 over 3 2/3 innings.
The Dothan squad beat Alexandria 5-2 behind strong pitching from Creel and Guin and a three-run top of the sixth. Creel worked three no-hit innings with five strikeouts and Guin, the winning pitcher, threw three innings of relief, striking out four and allowing two hits.
Dothan broke a 2-2 tie with three runs in the top of the sixth off a RBI single each from Dean, Simmons and Guin. Guin retired the side in order in the seventh.
Guin had three hits and Holloway and Simmons two each to lead the offense.
After losing to Dothan National, Dothan American rallied past Hueytown, overcoming a 2-1 deficit with a run in the fourth and one in the top of the fifth. Hart scored the go-ahead run as he singled, stole second, moved to third on a wild pitch and came home on a Leger RBI single.
Creel was the winning pitcher, striking out six over 4 1/3 innings. Price earned a save, working the last 1 2/3 innings.
That set up the championship showdown with Dothan National.
Members of the Dothan American team are Whit Price, Grayson Creel, Kasey White, Simon Nguyen, Daniel Guin, Jeremiah Dean, Rylan Wozniak, Andrew Simmons, Hagan Holloway, Nix Leger and Jamauri Hart. Assistant coaches are Keith Creel and Brandy White.
Dothan National, which finished as state runner-ups, was coached by Nick Collins (head) and Doug Cowart and Jason McGee. Team members are Carson Heisner, Briggs Mendheim, Bronner Faulkner, Ryan Carothers, Grady McGee, Michael Elliot, Griffin Bush, Blake Murdock, Barron Cowart, Greer Collins, Kingston Sims and Cam Collins.
Dothan National went 4-2 at the tournament, beating Prattville 11-7, Troy 6-0 and Dothan National 7-3 before losing to Troy 12-8. It rebounded to beat Troy 5-3 to advance to the finals against Dothan American.