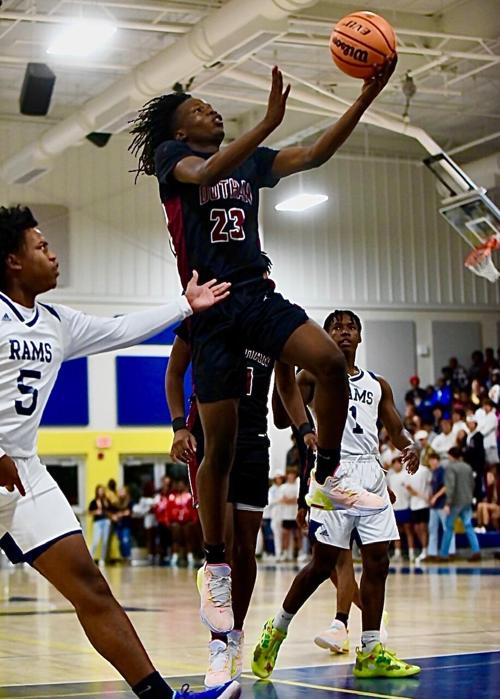 HEADLAND—Though Dothan and Headland are in different counties and different AHSAA classifications, Wolves' boys basketball coach Janasky Fleming refers to the Rams as a rival.
"I call this game Game 7 because Headland is the closest to us," Fleming said of the schools located seven miles apart. "They are right here and they have a lot of pride in basketball."
It is especially big to Fleming.
"I have been getting calls all week from my relatives from Headland – the Flemings are originally from Headland. It has been a fun week getting ready for them."
Fleming and the Class 7A Wolves had the fun at the end of Tuesday's meeting against the Class 5A Rams.
Sparked by an 11-3 run in the final four minutes, Dothan pulled away to a 64-53 win over Headland before a near capacity crowd at Headland's Steve Williams Arena.
Dothan improved to 1-1 and Headland dropped to 1-1 on the young season.
Headland raced to a 13-2 lead in the first three minutes and 20 seconds, but Dothan gradually clawed back, eventually cutting it to one by halftime before seizing the lead in the third quarter and maintaining it the rest of the way, though the Rams stayed close.
Fleming said he was not too concerned about the Ram onslaught in the early minutes.
"They have a bunch of great athletes that can shoot, so we wanted to let them run a little bit early and get into their legs and maybe we could weather their storm," Fleming said.
"They have a strong offensive team, but we wanted to make them guard and jump on the defensive end."
After a slow start, Dothan's superior height began to play a role during the second quarter. Behind 6-foot-9 J.D. Palm, 6-foot-7 Thomas Dowd, 6-foot-4 AJ Porter Jr.and 6-foot-3 Jayvis Moton, the Wolves had a significant advantage over the Rams, who have no player above 6-foot-2.
"The lack of height has hurt us, but we will get better as the year goes along," Headland head coach Sammy Jackson said. "We started the same way last year and we turned it around. As the year goes along we will figure out how teams will play us and figure out what we need to do."
Dothan earned 34 total rebounds in Tuesday's game, including 18 on the offensive glass. They turned the offensive boards into 21 points with several points coming on free throws.
"Just the size in the offensive rebounds was big," Jackson said. "They got offensive rebounds and we put them on the line and that changed things."
Doing the most damage was the 6-foot-9 Palm. After a scoreless first period, he erupted in the second quarter, shortly after coming out briefly with a wrist injury. He scored all 13 Wolves points in the period and finished with 28 points plus 14 rebounds, including 11 on offense.
"He has great teammates who can find him," Fleming said. "When things get like that, they look for him. When they are looking for him that gives him energy. He did seem to get some energy after kind of hurting his wrist."
Headland seized its quick lead behind three 3-pointers and strong play from senior guard Patrick Burke, who would finish with a game-high 29 points. Burke hit two of the threes and had 10 of the 13 points in the spurt. Kell Brown added the other 3-pointer.
Burke kept the momentum going, taking a charge on defense from Dothan's Porter with 4:31 left, but the Rams couldn't capitalize on building their lead, missing two straight 3-pointers.
Dothan, which missed its first six shots and also had three turnovers in the first four minutes, finally began to find an offensive rhythm following a 3-pointer by Quinton Norton. The Wolves sliced the deficit to five late in the first period, but a putback and free throw by Caleb Dozier gave the Rams a 20-12 lead at the quarter break.
Headland pushed the lead to 10 following two free throws by Dozier, but Palm and the Wolves dominated the rest of the period.
Dothan's defense began to wear down the Rams, who scored only four points during the half's final six minutes. Burke, Headland's standout guard, had to go out of the game during the spell.
"I had to take Patrick out with some cramps (thigh) and we went into a little bit of a scoring drought and that changed some things," Jackson said.
Dothan cut the margin down to one by the half at 26-25.
Headland led 30-27 early in the third quarter when Dothan went on 13-0 run to seize a 40-30 advantage. Dowd ignited the surge with a 3-pointer off the dribble and a turnaround jumper off the fastbreak. Palm had a couple of nice layups, including a nice finger-roll driving one. Porter added a driving layup and Norton added two free throws.
The Rams made a surge before the end of the third quarter off three Burke baskets plus a free throw to help cut the margin to three. However, a Palm dunk right before the buzzer gave the Wolves a 43-38 lead going to the fourth quarter.
The game stayed tight in the first three minutes of the final quarter with a Burke 3-pointer making it 50-48 Wolves with 5:05 left.
Dothan then scored 10 straight to open up a 60-50 advantage with 1:41 left and eventually pull away. Palm scored on a drive after the ball kicked outside off a missed shot, Norton knocked down a floater, Palm made two free throws after an offensive rebound, Bryson Berry earned a fastbreak layup and Palm finished the flurry with a layup.
In addition to the 28 points from Palm, Norton had 11 points and Dowd nine for DHS.
Tee Hardamon and Brown followed Burke for Headland with eight points each.
Dothan girls 46, Headland 45: Dothan's Amiyah Rollins scored six of her game-high 30 points in the final four minutes and the Wolves held off Headland in the final minute for a 46-45 win.
Rollins, Dothan's 5-foot-9 center, scored down low with 1:07 to go to put DHS up 46-43. Headland's Jayden Blackmon scored with 41.5 seconds left to cut the margin to one.
The Rams had three offensive possessions in the final 30 seconds but had two turnovers and a missed shot with the last turnover coming with 6.2 seconds remaining.
Jayla Franklin and Kamri White added five points each to back Rollins' output for Dothan, which improved to 1-1.
For Headland (0-2), Alexus Neal had 18 points and 10 rebounds and Blackmon had 17 points, 12 rebounds and seven blocked shots.