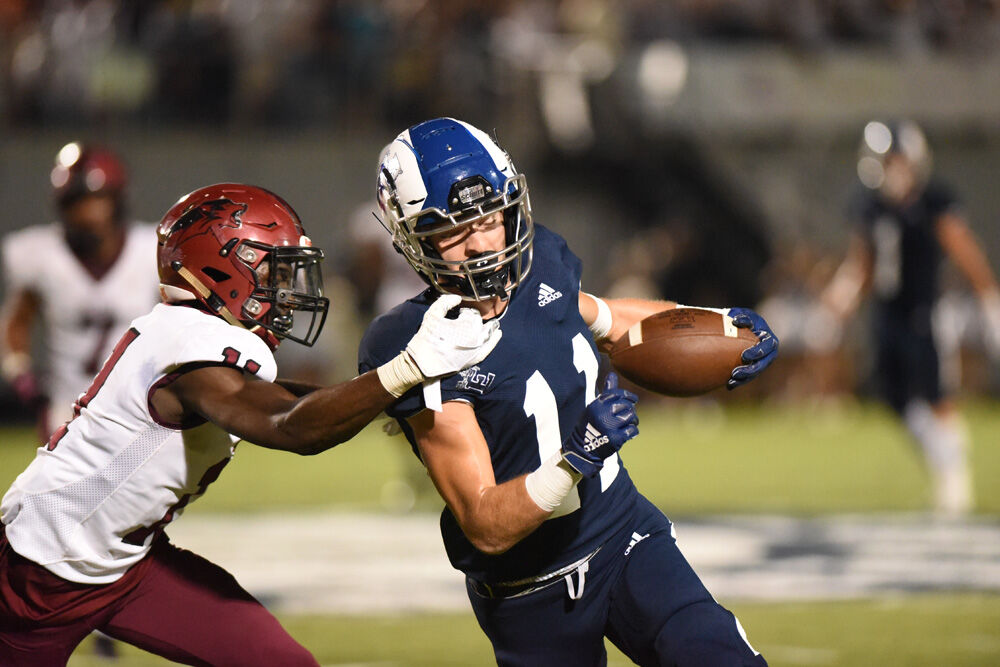 Both Enterprise and Early County have filled an opening on their schedules with a match-up against each other, confirmed both Enterprise head coach Rick Darlington and Early County coach Joel Harvin on Monday.
The Bobcats from nearby Blakely, Ga., will travel to Enterprise on Sept. 25 to face EHS at Wildcat Stadium. The game is scheduled as a one-year deal between the two schools.
Both schools lost a game in the schedule because of long travel and COVID-19 issues.
Enterprise lost its season opening game versus Miami (Fla.) Somerset Academy on Aug. 21. Also, the status of the Wildcats' season-ending game on Oct. 30 against Navarre (Fla.) is up the air, pending on how the Florida High School Athletic Association decides next week to proceed with its season.
If Enterprise is able to keep the Navarre game, it will have a complete 10-game schedule with an open date in the opening week. If the Wildcats are unable to keep the Navarre game, it will have nine games with two open dates (Aug. 21 and Oct. 30) to possibly fill one game.
Early County, meanwhile, was originally scheduled to play Charles Henderson on Sept. 25 but lost that game when the Georgia High School Association decided to move its season back two weeks, creating a situation with no common date for CHHS. Enterprise now fills that mid-season hole, completing a 10-game season for the Bobcats.
Dothan still searching: Dothan, which lost three games against Georgia teams when the GHSA moved its season back two weeks, is still searching to fill a void in the middle of its season, said head coach Smitty Grider on Friday.
The Wolves lost games against Bainbridge (Aug. 28), Callaway (Sept. 25) and Tift County (Oct. 2) with the Georgia mandate.
They replaced the Bainbridge game by bumping back Park Crossing a week from Aug. 21 and adding Hoover on Aug. 21. However, they have been unable to fill the other two dates, leaving them with nine games and two open dates (Sept. 25 and Oct. 2).
Grider was hopeful that Dothan and Callaway would be able to move its game to Oct. 2, a common open date for the two teams, but logistics couldn't be worked out, leaving the Wolves searching for another opponent.
Headland-Wicksburg change date: Headland and Wicksburg have changed the date of their scheduled game, moving from the end of the season to the first week of Aug. 21, said Headland coach Toby Greene on Monday. The two are still scheduled to play at Headland's J.J. Yarbrough Stadium.
Greene said he requested the change to avoid two open dates in the first three weeks of the season. The Rams lost a Sept. 4 game against Seminole County (Ga.) and if the Rams didn't play on Aug. 21, they would have practiced six weeks with just one game during the time frame.
With the date change, Headland now nine games with open dates on Sept. 4 and Oct. 30 on the schedule. Greene said the program is searching to see if it can find a game on either of the open dates to get to a maximum 10-game schedule.
Dale County-Daleville site change: Dale County and Daleville were originally scheduled to play in Midland City on Sept. 11, but the installation of new light fixtures at the Dale County campus stadium might not be complete in time, thus the two teams have decided to move the site.
The two will now play at Daleville on that date. Next year, the two will play at Dale County in the second year of the two-year deal.
Get in the game with our Prep Sports Newsletter
Sent weekly directly to your inbox!