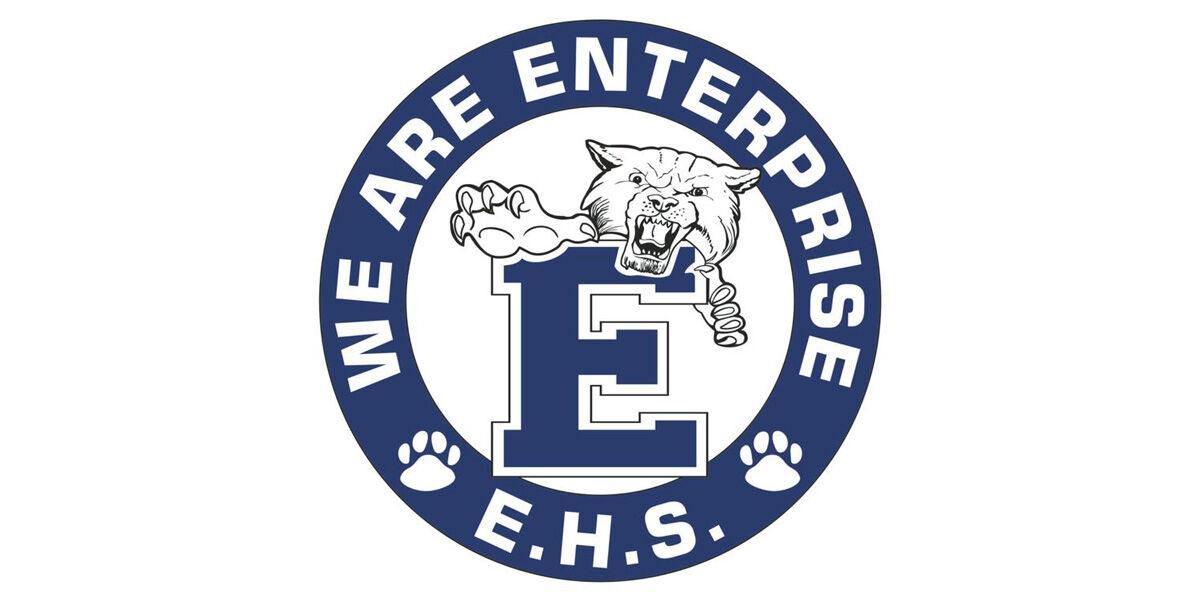 Enterprise defeated Dothan 72-6 and T.R. Miller 66-12 during a tri-match Tuesday at Dothan High's Dr. James Smith Convocation Center.
T.R. Miller defeated Dothan 45-6 in the other dual.
In the Enterprise-Dothan match, the Wolves forfeited eight weight classes to the Wildcats, who forfeited one class to Dothan. There was one double forfeit (195 weight class).
Enterprise won all four contested matches – all by pins, including three in the first period.
Evelyn Holmes-Smith pinned Caleb Ham in the 106-pound weight class, Cody Kirk pinned Olivia Piasecki at 126 pounds and Michael Wyrosdick pinned Brian Mitchell Jr., at 285 for the three first-period enders.
At 182 pounds, Enterprise's Brandon Messmer continually earned takedowns with Dothan's Garrett Holland escaping danger. Messmer had six takedowns overall in leads of 7-1 after one period and 13-3 after two and eventually up to 16-6 in the third period before winning on a pin. Holland had four escape points and two points off one takedown.
Receiving the forfeits for Enterprise were Zach McFarland (113), Trace Woodward (120), Loriah Castor (132), Austin Davis (138), Samuel Lynon (145), Ian Gillis (152), Will Gottsacker (160) and Kaden Franke (171).
Will Peacock received a forfeit at 220 for Dothan's lone points of the dual match.
Two exhibition matches were held after the regular dual and Enterprise wrestlers won both of those. Castro pinned Piasecki and Franke pinned Holland, both coming in the first period.
In Enterprise's win over T.R. Miller, the Wildcats earned seven wins by pinfalls and four by forfeits in the victory. All the pins were in the first period.
Earning victories via a pin were Holmes-Smith (106), McFarland (120), Woodward (126), Gillis (160), Franke (182), Messmer (195) and Wyrosdick (285). The winners by forfeit were Grier Hunt (113), Kirk (132), Davis (138) and Lynon (152).
T.R. Miller wins came at 170 and 220, the later a forfeit. In the 170 match, Miller's Earl Dolihite and Enterprise's Gottsacker had a back-and-forth battle in the opening period with Dolihite earning a 6-5 lead off a takedown and two reverses before earning a pin before the end of the period.
In exhibition matches, Hunt, wrestling for the first time after missing a couple of weeks with an ear injury, took an 8-1 win over a Tiger opponent and Austin Walker, another wrestler returning after an injury, earned a pin over his T.R. Miller foe.
Holland pin leads Dothan: Garrett Holland earned a pin in the 182-pound weight class for Dothan's lone points in a 45-6 loss to T.R. Miller on Tuesday.
Holland earned his pin over Elijah Carpenter early in the second period after a takedown. He had a 5-0 lead after the first period off a takedown and three-point near fall.
The Wolves' Olivia Piasecki, competing at 126 pounds, went the distance in her match with Miller's Copelan Glass before falling in an 11-6 decision. Piasecki briefly had a 3-2 lead in the second period after a reverse, but Glass tied it with an escape. Glass took control with a takedown and three-point to start the third period. Piasecki answered with an escape and takedown but Glass matched it to take the 11-6 win.
In other matches, Dothan's Caleb Ham lost on a pin in the first period at 106 pounds and William Peacock (220) and Brian Mitchell (285) also lost on first-period pins.