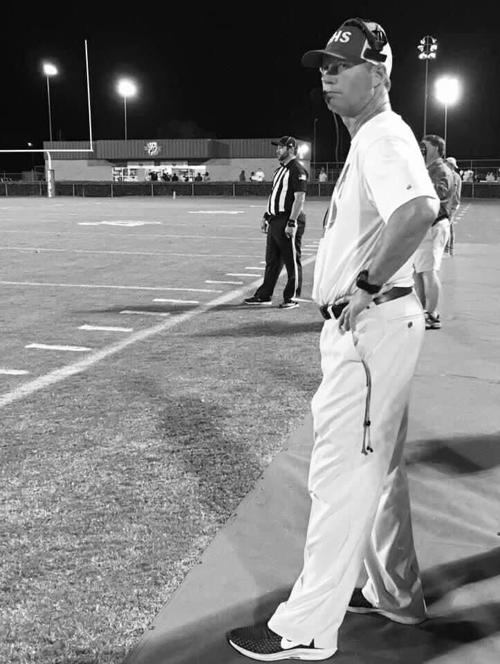 Duane Mock is in the record book as an American qualifier for a U.S. Olympic Bobsled team and as Lakeside School's winningest football coach by percentage.
But some of those who remembered the longtime coach in Eufaula on Friday, less than 24 hours after his passing Thursday afternoon following an illness, spoke more of the man and the mark he left on others than his athletic and coaching career.
"When you talk about a Christian, he was a textbook of what you would think one would be in your thoughts – Bible reader, prayers," current Eufaula head coach Ed Rigby, who worked with Mock the last four seasons.
"There is no human on earth that could say one negative thing because of who he was. That is just the way he was. He is a true legacy. His life and how he had an effect on people and what people thought about him is the pure definitive of legacy. He is the genuine article of what the definition of what a man is of caring and loving other people."
A native of Atmore, Mock has been fixture in Eufaula the last 23 years, 10 at Lakeside School and the last 13 at Eufaula High School, where he served as the defensive coordinator and track coach. He also coached at Quitman County (Ga.) Middle School across the state line in Georgetown. He coached football, baseball, basketball and track/field.
He remains Lakeside football's winningest head coach by percentage (.667) after a 28-14 record from 2004-07. The wins are second most behind legendary Johnny Shoemaker. He was also a member of a two-man U.S. Bobsled team that qualified for the 1998 Winter Olympics in Nagano, Japan, and was noted as a serious tournament bass fisherman.
A funeral service for Mock is Sunday at 2 p.m. at the Eufaula football stadium to accommodate what is expected to be a significant crowd. Burial will follow in Fairview Cemetery. In lieu of flowers, donations may be made to the Duane Mock Athletic Scholarship Fund, c/o Eufaula High School, 530 Lake Dr., Eufaula, AL 36027.
Lakeside was planning a moment of silence before Friday's game and was inviting former players of Mock from Lakeside, Eufaula and Quitman County to come on the field and help release balloons with colors of the three schools.
There was also a planned moment of silence before Eufaula's game at Stanhope Elmore on Friday night. Rigby indicated there would likely be some form of remembrance of Mock at a future Eufaula home game.
Like Rigby, others recalled Mock more as a person than as a coach.
"He was an asset to the community," former Eufaula head coach Dan Klages, who hired Mock as an assistant coach at Eufaula in 2008 and fished together with him numerous times. "Typically when somebody passes, there is all these good things that are said and most are true, but with this guy here, it is all true for sure and some.
"I can't think of enough good things to say about him. He had such a good heart. He was a Christian example of how to live your life as a man, as a husband, as a daddy and as a coach."
Tom Clements, a Eufaula native, grew up knowing of Mock because of his Olympic experience, but didn't know him personally until he was hired by Mock as offensive coordinator at Lakeside in 2004. The two worked together there through 2007 and later at Eufaula in 2011-12.
"First thing that comes to mind is class act and character," Clements said. "He was truly a class act on and off the field, just a great person. He definitely will be missed. He was an asset to so many people."
In addition to coaching and teaching kids, both at the high school and elementary level, Mock was often known to help kids with off the field training, including explosive footwork that came from his background as a bobsledder.
In the coaching arena, Clements described Mock as passionate, organized and focused on helping players be better athletes, but more importantly, be better individuals.
"His passion to be the best he could be for the kids," Clements said when asked about Mock the coach. "He was very unselfish, wanting to make sure he was giving the kids the best possible chance to succeed, whether it was in athletes or in life in general. He took that very seriously.
"When it comes to him as a coach, he was very organized and very focused on the task at hand and it wore off on the kids. They were a mirror image of him and that is one of the reasons we had a lot of success when he was here."
In addition to his Christian values – Klages noted Mock routinely used another word instead of profanity when he was mad – he was also known for his positive outlook on things.
"Always positive, always lifting up people, no matter what the situation," Rigby said. "He was, 'Hey, it's going to be OK.' He never, ever gave up on kids, no matter the situation. He was in their corner, pushing to better them.
"He is a pillar of the community and to me a pillar of this program. That is the way our kids see him. He has been a true blessing to the community."
After Mock developed health problems in the summer and couldn't actively coach with the Tigers, the team developed the motto of #Mockstrong. The players will continue that through the rest of the season, said Rigby.
"He wasn't in it for himself," Klages said. "He didn't do it to build any kind of reputation as a coach. He did it strictly because he loved it and he loved the kids. That is rare, very rare."
All three coaches said Mock left a legacy and mark on kids coming through Eufaula that will be hard to duplicate.
"An unbelievable legacy he has left on the Eufaula community," Rigby said. "From boys to girls that he taught at the primary school as P.E. coach to guys he coached on the football field or in baseball field or in track, he has left a mark. The way he approached you and the way you could hear his voice that he actually cared for you. He was a truly amazing human. It was an honor and pleasure to have been his friend."