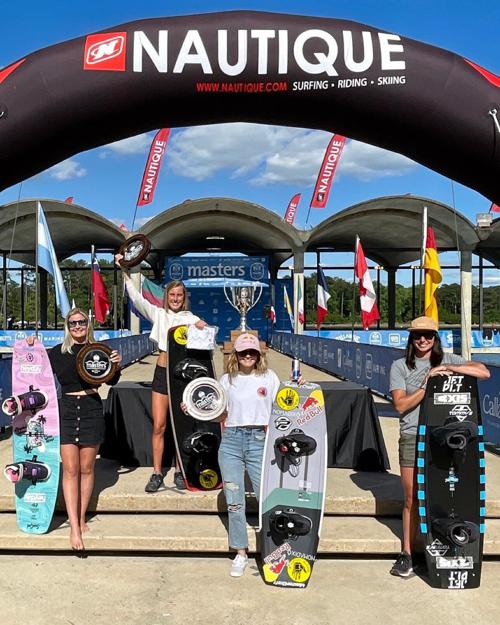 The church sermon before the finals of the 61st Masters Water Ski & Wakeboard Tournament in Pine Mountain, Ga., resonated with Dothan's Mary Morgan Howell.
It was something the 18-year-old wakeboarder who turned professional four years ago needed to hear on a day she would earn her most cherished victory.
"No matter what is going on, I have to start my day with the Lord," Howell said. "It has to happen; I have to get my head screwed on straight. I feel like that's something that's absolutely non-negotiable for me."
It was Sunday a week ago that former champion wakeboarder Kristi Overton Johnson was delivering the message as part of a Christian-based ministry called In His Wakes that she founded in 2003.
"When I woke up that morning, I felt really excited, but at the same time I guess I felt my nerves kick in a little bit," Howell said. "The first thing she said, and I will never forget and I put it in my notes, she said, 'I don't know who needs to hear this today, but if you go out on Robin Lake scared, the lake will eat you up. But if you go out there confident, you can have victory.'
"When she said that, I was like, 'Wow.' I hold my sport and my abilities with open hands, because it's God who gave me the ability to do what I do. I know that He is going to give me the ability for what He calls me to do, you know?"
Later that day, Howell would win in the women's professional division for the first time in what's considered one of the most prestigious tournaments and venues in water sports.
"This particular day I didn't have any falls," Howell said. "I was able to do all of my tricks perfectly, which is just the best feeling in the world.
"Winning is really, really cool, but being able to do what I sweat, blood and tears work for every single day – to be able to put that down in a competition, that was an awesome feeling."
Howell has performed regionally, nationally and internationally since beginning competitions as an 8-year-old. Among her highlights includes winning a silver medal in the 2019 Pan American Games in Lima, Peru.
Yet being crowned a champion at the Masters tournament, especially it being her first win as a professional, was like no other.
"At this particular competition, the crowd is insanely big," Howell said. "I mean, it's crazy. With it being kind of local for us, I had a ton of support from friends and family coming to watch me and that doesn't normally happen."
The tournament also holds a special place in the heart of the Howell family.
"The Masters is very, very special to our family because my dad grew up watching it and like idolizing these skiers and always wanted to go to the Masters, but just never had the opportunity," Howell explained. "So to be able to take him to the Masters in 2019 was really special, but this is another level of coolness – it was really special for us."
Howell would have to fend off some of the world's top wakeboarders on the way to victory.
In Heat 1 with Howell was Rebecca Gange (Australia), Dallas Friday (USA) and Eugeniade Armas (Argentina). In Heat 2 was Megan Ethell (USA), Carro Djupsjo (Sweden), Tarah Mikachch (USA) and Taylor McCollough (USA).
Wakeboard competitors are judged on different tricks and routines while being pulled behind a boat, which creates the wake – or track of turbulence left by the boat moving through the water. A wakeboard is similar to a surfboard, but with boots attached that you slip your feet into, similar to snow skis.
"The first day of competition I was in the first heat, the last rider," Howell said. "I had been riding really, really well and the first day I was going through my first pass and I got through my first two tricks. On my third trick, I fell. It's called a KGB (a back roll with a backside 360 rotation), and I never fall on that trick, ever.
"We always say in wakeboarding, it's not who is the best wakeboarder, it's who can put their tricks down in a competition. So, I may be a better wakeboarder, technically than some of them, but if I fall, they win, you know? One bobble can let someone have the edge over you.
"So when I fell on that trick, I was like, 'Well shoot, I'm going to really have to put the hammer down now because I would like to make it to the finals.'"
Howell had to change her routine on the fly.
"My second pass, I had to totally re-wire it and do it a different way. I started off my pass with two tricks, and then my third trick, I was like, 'I'm going to get my KGB, because that's something I need in order to get my points up.' So I landed it and finished it off with a very technical trick called a crow mobe. So I had a solid second pass, which put me winning my heat that day and into the finals."
The finals the following day would consist of Howell and Gange advancing out of Heat 1, and Ethell and Djupsjo out of Heat 2.
"The second day I was third off the dock," Howell said. "Carro went first and had a really good pass, but did fall twice in her pass but got some good tricks in. Rebecca went next and she did not have the best day.
"But bear in mind I'm not watching them before I go. I can sometimes hear the announcer talking, but at the end of the day, I'm going to go out there and do what I trained for. I don't base what I do off what other people do, so I don't like to watch other people."
Howell completed her routine without a noticeable flaw, earning a tally of 88.33 points, well ahead of second-place finisher Djupsjo at 66.67.
"This was definitely the biggest win," Howell said. "My fiercest competitors were there and the Masters is like a huge deal. The support from friends and family – I feel so overwhelmed from it and are very thankful for it.
"I can remember my dad always making me watch the pro women's division and he was like, 'You're going to be there some day.' I could never ever imagine even being in the pro women's division, so the fact that I'm not only in it and with these girls I've looked up to my whole life, but the fact that I was able to do my best and was able to win is pretty insane. It was a full circle minute."
With winning the title comes some other perks, such as a championship ring and being able to ride in what's called the parade of champions with the other finalists.
"Basically they play this song called Stars on the Waters and there are four little ski boats that take us in pairs of two and flies the country's flag and everybody is standing on the banks and waving at you," Howell said. "That's something over the years I've always wanted to do."
"Also you get your name etched in a huge trophy they keep at Callaway Gardens resort," Howell said. "It's been there 61 years, and so I will get my name etched in this big trophy."
After the competition, Howell found herself signing autographs for young wakeboarders.
"You get to sign their little wakeboards, or sign their shirts, or sign their forehead – whatever they want," Howell said. "I actually had a family come up to me and they had a bunch of little girls, and they were all like, 'Oh my gosh, Mary Morgan Howell.'
"The kids were like stair steps – there was one that was like 6, and 8 and 10 and 12 – and I can remember I was 8 when I first started competing.
"I thought to myself, 'Oh my goodness. It's so cool these little girls are seeing me achieve this goal of mine.' And that's going to propel them because it propelled me. I remember being there."
Howell has some words of encouragement for them and others of all ages.
"I think if you would have told me when I was younger that I would one day even be a pro wakeboarder, much less win the Masters, I would 100 percent not have believed you," Howell said. "I think it just goes to show you what working hard and using the abilities and talents that God has given you can do for you and where it can take you.
"I think you have to stay in your lane and you have to do what He has called you personally to do and trust Him along the way with all of the ups and all of the downs.
"You can't just give up because it's not going to be easy all of the time. Keeping your eyes set on not just winning, but doing what He's called you to do and loving it along the way."
Jon Johnson is sports editor of the Dothan Eagle and can be reached at jjohnson@dothaneagle.com or 334.712.7965. Support his work and that of other Eagle journalists by purchasing a digital subscription today at dothaneagle.com. Follow Jon Johnson on Twitter @eaglesportsed