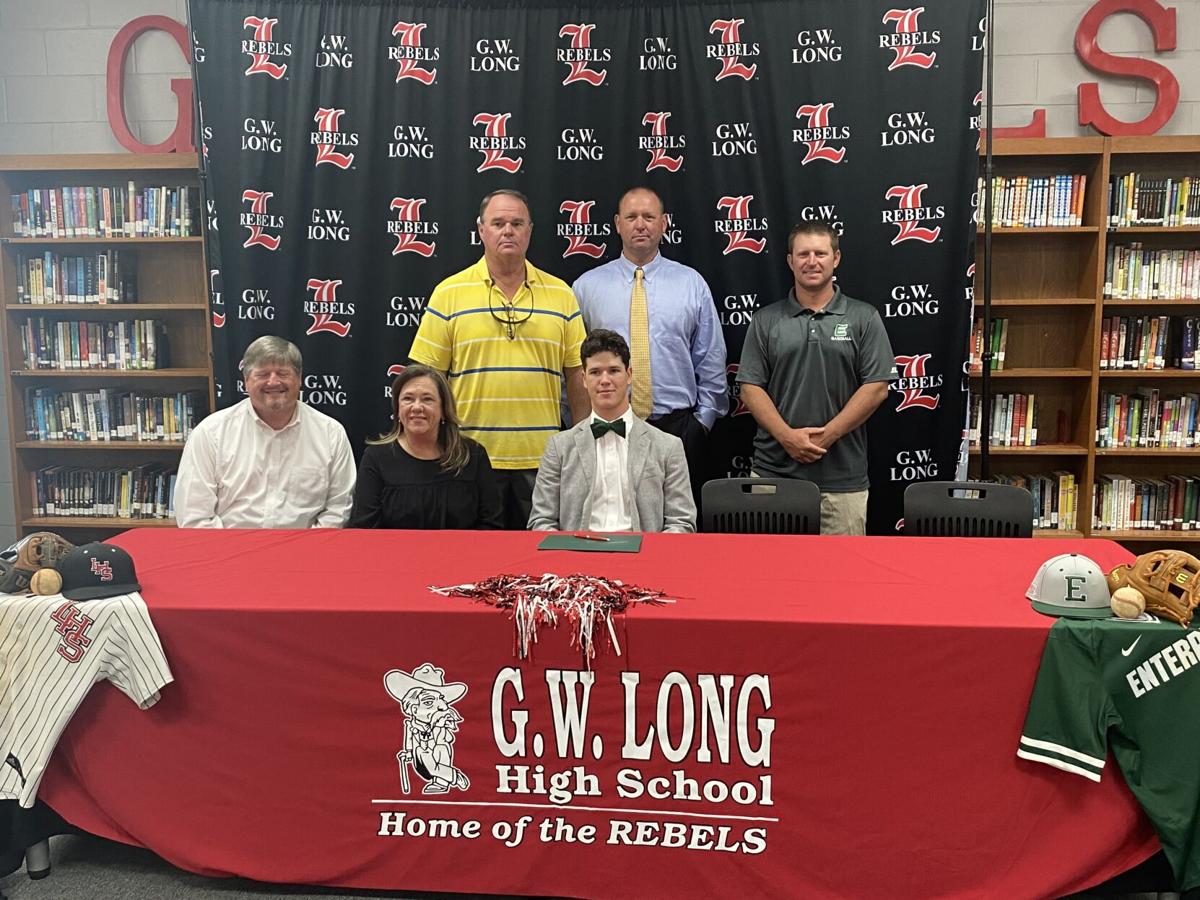 G.W. Long's Drew Miller says Carson Dunlap is among the top versatile players – both defensively and offensively – he has had in his 15 years as the Rebels head coach.
Dunlap, a senior, will now have a chance to showcase his versatility at Enterprise State Community College after signing with the Boll Weevils Monday in a ceremony at the G.W. Long campus in Skipperville.
"He played all four of the infield positions at one time during this season," Miller said. "He has caught for us as needed in the past. His versatility is huge. Going into playing at the next level, that is definitely a big plus on his part.
"He handles the bat well. He will probably be asked to do things that I didn't ask him to do much. He can do multiple things as a hitter when it comes to moving runners, a hit and run guy, and he bunts well. Those are things we didn't ask him to do because he hit in the middle of the order and we wanted him to drive in runs.
"That versatility not only defensively but at the plate will be beneficial."
Dunlap, who had labrum surgery last fall, was relieved at getting a chance to sign for the next level.
"It really took a load off me because I had been stressing out a lot," Dunlap said. "I was running out of time. Now it feels great."
Primarily a third baseman and pitcher this past year for the Rebels state runner-up team, Dunlap said ESCC coach Bubba Frichter invited him for a tryout in early April and a couple of days later he got an offer from the Boll Weevil coach.
The Boll Weevil signee said he was impressed with Enterprise State and their plan for the future.
"I think it is definitely on the come up," Dunlap said. "They have a lot of good things going over there and I am excited to be a part of it."
While he played all four infield positions – first, second base, shortstop and third – this past year at G.W. Long because of injuries and game situations, Dunlap said he prefers to play shortstop. He started several seasons at the position for the Rebels until this year but moved around as he recovered from labrum surgery and other players were hit by injuries.
"Right now, we waiting to see how my shoulder is going to be, but the plan is to get to shortstop," Dunlap of his desired defensive position at ESCC.
Miller admitted Dunlap, as the only Rebel senior and one of the few with varsity experience, probably could have used a few more months of recovery after the surgery, but had to be thrown into the fire.
He did quite well despite the shoulder concerns.
In 35 games, he was second on the team in hitting at .427 with team-high of 3 homers, 42 runs batted in, .573 slugging percentage and 1.091 on-base plus slugging percentage (OPS). He scored 37 runs, second most on the team. He also pitched in seven games, amassing a 2-3 record with 18 strikeouts in 23 2/3 innings.
While he excelled on offense, Dunlap feels his forte is on defense.
"I feel like recently I started hitting a lot better, but my glove and my defense has always been my strong suit I feel like," Dunlap said.
Miller said once Dunlap gets to 100 percent in health, the Boll Weevils will find a gold nugget in the Rebel standout.
"They will see a more complete player as he goes through this recovery process," Miller said.
Miller said Dunlap wasn't just a solid player on the field, but a leader for the Rebel program.
"Carson was raised in our program and he is what we look for in a player we want – he has been a great leader on and off the field, the hardest worker we had as he put in a lot of time to reach goals that he was able to reach like this morning, but also to help our program," Miller said. "He has been a mentor to different players throughout his time as he got older. We are proud of the example he set for our younger kids."