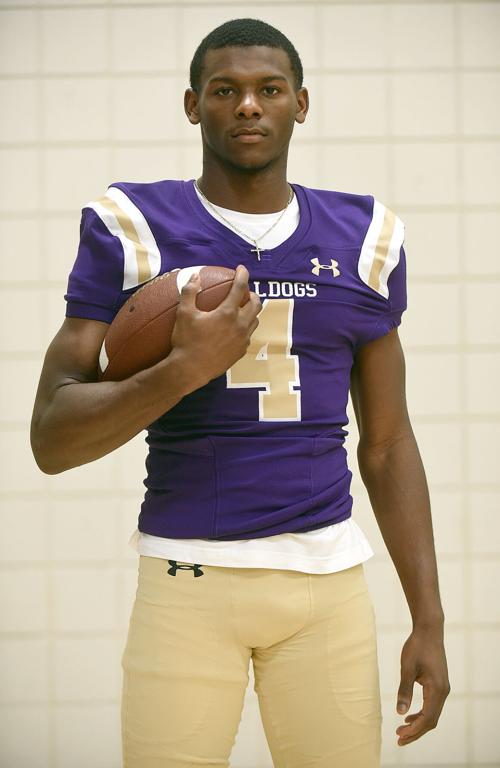 MONTGOMERY – Geneva County star running back Emmanuel Henderson was named to the 12-member Super State team on Thursday, recognizing what Alabama Sports Writers Association members believe are the 12 best players throughout the state encompassing all classifications.
The Dothan Eagle coverage area had two finalists for ASWA Player of the Year awards—Henderson and Keith Williams of Pike Liberal Arts—but neither were selected a winner during Thursday's presentation of awards at a banquet in Montgomery.
Henderson, an Alabama signee, was one of three finalists for the Class 2A Back of the Year honor and Williams was a finalist for AISA Lineman of the Year.
The Class 2A Back of the Year winner, as selected by the ASWA, was senior quarterback Logan Washburn of state runner-up Cleveland while the AISA Lineman of the Year winner was senior defensive lineman Kross Colley of Chambers Academy.
All of the class winners as well as the Mr. Football winner were announced during the ASWA's Mr. Football and Players of the Year Banquet presented by the Alabama High School Athletic Directors & Coaches Association at the Renaissance Montgomery Hotel.
Thompson's Ryan Peppins was named Mr. Football. Peppins, a senior receiver, helped his team win a third straight Class 7A championship. He totaled 80 receptions for 1,379 yards and 23 touchdowns for the Warriors, who finished 13-1. His career featured 172 receptions for 2,755 yards and 43 touchdowns, plus 326 return yards with a TD and 11 rushes for 94 yards.
Geneva County's Henderson, in just 10 games, led the Wiregrass in rushing with 1,879 yards, averaging 187.9 yards per game. The 6-foot-1, 190-pound senior also rushed for 25 touchdowns during the Bulldogs' 5-6 season.
He was a 2A Back of the Year finalist along with senior defensive back Jammarian Johnson of state champion Clarke County and Cleveland's Washburn.
Henderson, recently named the Dothan Eagle Super 12 Player of the Year, was unable to attend Thursday's ceremony, staying instead back in Hartford for school and basketball practice. Bulldog head coach JimBob Striplin did attend and was honored at Henderson being a member of the Super State team as well as a finalist for 2A Back of the Year.
"It shows what kind of athlete he was and is," Striplin said of Henderson's latest recognition. "He was just consistent the whole way through and put up great numbers every year he was in our lineup.
"I couldn't be more proud of him because the better you do each year, the higher the stakes get and the weight starts bearing down on your shoulders but he handled it with pride and grace. Alabama is getting a great player."
Pike Liberal Arts' Williams, a 6-foot-2, 295-pound junior, was a dominating offensive lineman with 57 pancake blocks through nine regular season games. He helped anchor an OL that paved the way for the Patriots to average an AISA-leading 43.2 points a game in winning the AISA Class AAA state title.
Williams was the second Patriot player to be an AISA finalist in as many years. A year ago, quarterback Mayes White was a finalist for the back of the year award.
"It means a lot to me to be here," Williams said after the banquet. "I was honored to be nominated. I want to thank God for allowing me to have the ability to do everything I did and I want to thank the people who know me and I like to thank my coaches and teammates for all they did."
A junior, Williams is already gearing up for next year.
"I want to start earlier," Williams said. "Last year, I started late. This year, I want to spend more time in the weight room and I want to get my team out and be an even better leader than I was this year."
Pike Lib's Williams was an AISA Lineman of the Year finalist along with Chambers' Colley and Bessemer Academy senior offensive lineman Trevor Hill.
Award winners from Thursday
Lineman: Kross Colley, Chambers Academy
Back: Landon Sims, Escambia Academy
Class 1A lineman: Kedrick Brown, Brantley
Class 1A back: Brayden Kyle, Decatur Heritage
Class 2A lineman: Caden Story, Lanett
Class 2A back: Logan Washburn, Cleveland
Class 3A lineman: TJ Dudley, Montgomery Catholic
Class 3A back: Jack Hayes, Piedmont
Class 4A back: Walter Taylor III, Jackson
Class 4A lineman: Michael Towner, Vigor
Class 5A lineman: Khurtiss Perry, Pike Road
Class 5A back: DeMarcus Lacey, Pleasant Gove
Class 6A lineman: Trevon McAlpine, Saraland
Class 6A back: Earl Woods, Hueytown
Class 7A lineman: Jeremiah Alexander, Thompson
Class 7A back: Thompson's Ryan Peppins
Mr. Football: Ryan Peppins, Thompson
(top players regardless of school's classification)
Khurtiss Perry, Pike Road
Jeremiah Alexander, Thompson
Will Stokes, Madison Academy
Walter Taylor III, Jackson
Emmanuel Henderson, Geneva Co.
Khalib Johnson, Clay-Chalkville
TJ Dudley, Catholic-Montgomery
Justice Finkley, Hewitt-Trussville