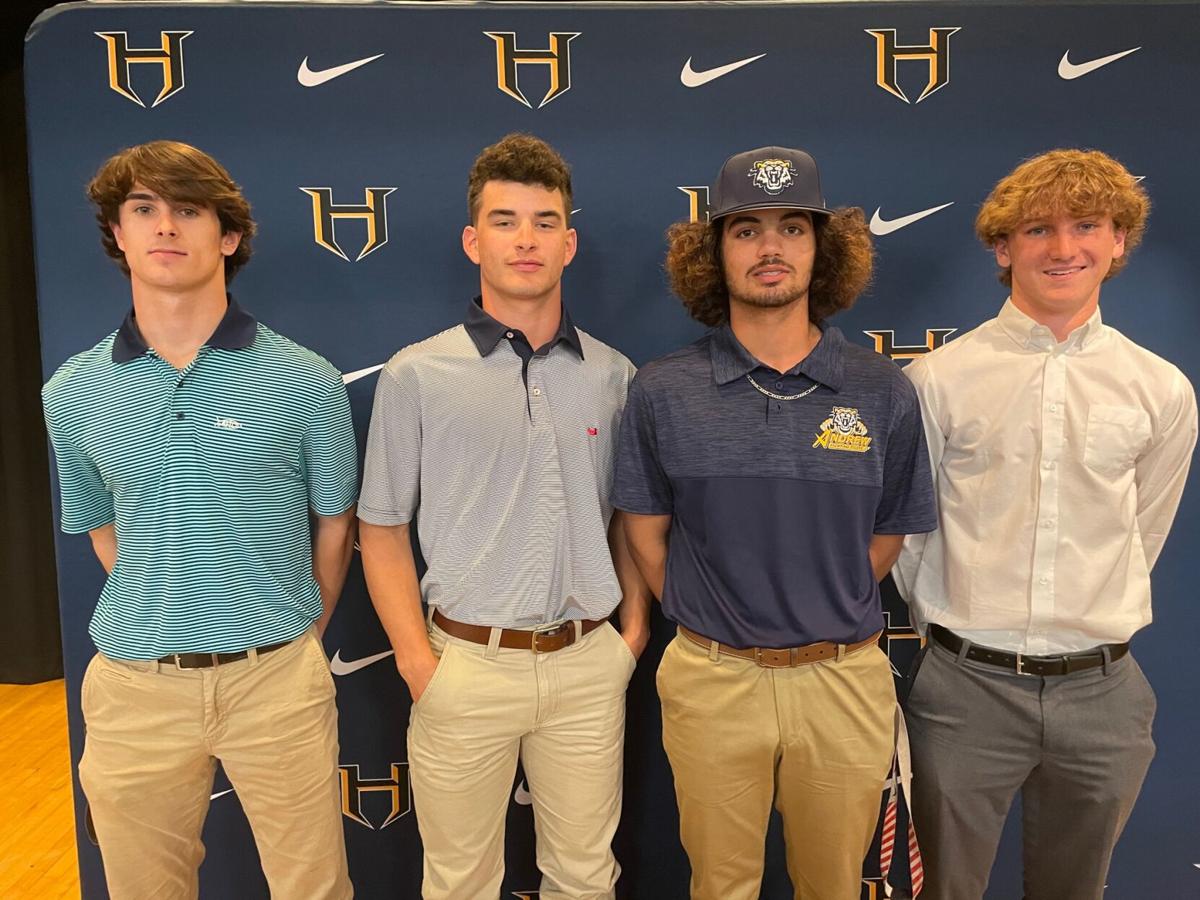 HEADLAND – Jacob King became the first player from Headland to sign a soccer scholarship and a trio of Rams' baseball players – Nate Aplin, Tyson Kirkland and James Evan Trammell – signed with junior colleges during a ceremony at the school on Wednesday.
King, a midfielder who scored 18 goals this season, inked with Huntingdon College. This marked the second season Headland has fielded a varsity soccer program.
Aplin, a pitcher/outfielder, and Kirkland, a centerfielder, each signed with Lawson State in Birmingham, while James Evan Trammell, a pitcher, signed with Andrew College in Cuthbert, Ga.
King on signing with Huntingdon: "It means a lot. I just hope I can represent Headland well in being the first one (soccer signee). For sure I couldn't have done it without the coaches and family."
On being part of the initial Headland soccer teams: "It is pretty special. My dad (Jamie) was a big part of starting all of this and is one of the coaches, so that's another real cool part of it."
On inking with Huntingdon: "My aunt Alison King actually played there about 15 years ago and now I have a good relationship with the coach and have seen them play a couple of times. I like the school in general and I like the program."
Assistant coach Billy Richards on King: "Jacob just has a unique ability of moving the ball where it needs to go. He also transitions well offense to defense. He's a heck of a scorer, but he's an unselfish player. He distributes the ball well. If he has the chance to score, he'll score, but most of the time he passes the ball to other players. That speaks well of the type of player he is."
Aplin on signing with Lawson State: "I went up there to Birmingham this spring and I really liked the campus and coaches. I couldn't think of anywhere else I'd rather be going."
On signing next to teammates: "Me and Tyson have been pretty good friends for a long time, so I think it will be good for us to get to go up there together. We (the three signees) have played together for long time and it's just a blessing for us. I just want to thank all of the coaches and teammates that have helped me along the way."
Coach Les Lancaster on Aplin: "Nate is a two-way guy. He's my starting left fielder and one of our top pitchers. The reason we're in round two (of playoffs) is because of him. He got the base hit to in the bottom of the seventh inning to win it.
"He's a competitor who has a good arm. He's a good outfielder on our team, but I'm sure when he goes to Lawson State he will go primarily as a pitcher. He's got a good, live fastball and a real good curveball and change-up. He should compete real well right from the get-go."
Trammell on signing with Andrew: "Andrew is about an hour away from home and they've got what I want to go to school for to be in the physical therapy program there. It's a small college and I think it fits me best."
Trammell on what the day meant: "It means a lot because I've been playing baseball year round since I was about 7 years old and just to finally be able to turn it into reality means a lot to me."
On signing alongside teammates: "It means a lot to see it's not just me, but it's with other people on the team getting to go play on the next level."
Lancaster on Trammell: "This spring we dropped his arm down to a different angle that created a whole different opportunity for him. From a coaching standpoint you like to see those different arm angles from a pitcher. The coach at Andrew saw that and now he's going to have an opportunity to take it to the next level and pitch there."
Kirkland on signing with Lawson State: "As soon as I went up there it felt like a place I could stay and play ball. Playing ball has always been a dream of mine, even since playing T-Ball, so when I go up there and feel at home with a nice field, nice facilities, nice coaches, nice players – I couldn't be more excited."
On signing alongside teammates: "I've known all of them since I was young. It's kind of sentimental signing with your childhood friends. When you sign with your friends and know they are going to the next level to play is just a good feeling.
"I just want to thank all my friends, family, coaches, teammates that helped me get this far."
Lancaster on Kirkland: "Tyson is our starting centerfielder and three-hole hitter. He's another outstanding defensive guy with a plus arm. He's going to be able to get up there and have a chance to start right away, and you can't ask for much more than that."