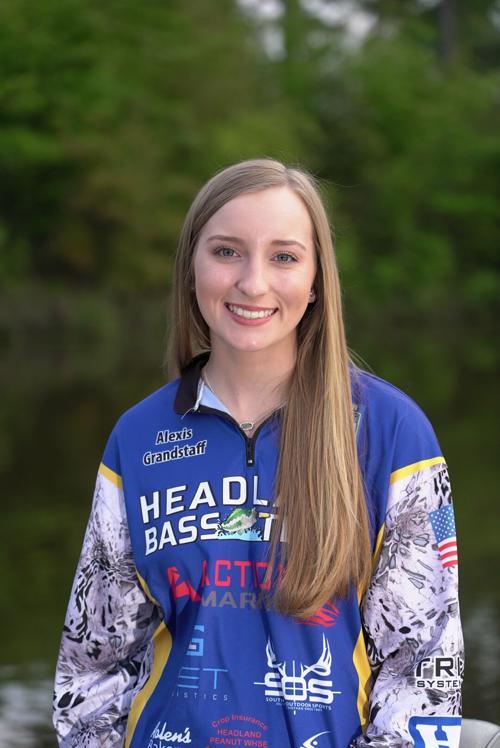 Alexis Grandstaff made it back-to-back years the Headland High School Bass Team has produced a Bassmaster All-American.
On Wednesday, Grandstaff was one of two female fishermen named to the prestigious 12-member national squad, joining Laindree Richardson of Benton, Ill. Grandstaff and Hayden Marbut of Vestavia were the lone Alabama representatives.
A year ago, Headland's Aaron Cherry, a freshman now on the University of Montevallo Fishing Team, was named a Bassmaster All-American.
Grandstaff, a senior, was also was named to the Bassmaster High School All-State team two weeks ago, something Cherry also accomplished during his final year at Headland.
"We're really putting Headland on the map," Grandstaff said with a chuckle. "It's such an honor and I'm really grateful for this opportunity.
"I was in complete shock that I even got All-State, and today I got an email that confirmed I was All-American."
According to a press release from Bassmaster, over 300 applications nominating students in grades 10-12 were submitted from 34 states across the nation. Of these, 47 students were chosen as Bassmaster All-State anglers. After considering tournament résumés, conservation efforts, community service activities and recommendations from school officials and coaches, a panel of judges consisting of representatives from the sportfishing industry, media and conservation groups further narrowed the field to the Top 12 high school anglers in the country.
Grandstaff captured two wins in the 2020 tournament season as well as 10 Top 5 finishes and 10 Top 20 finishes. She is a two-time Bassmaster High School National Championship Qualifier (2019 and 2021) as well as the recipient of two Big Fish Awards at Lake Wedowee and Lake Eufaula.
"She has proven herself a fierce competitor in the field of high school bass fishing," Headland coach Shannon Smith was quoted in the release. "She has continuously excelled in her academics and leadership roles.
"She has been a trusted friend and Bass Team member to many. All of these qualities and more are what make Alexis Grandstaff a top candidate for the Top 12 Bassmaster High School All-American."
Grandstaff began fishing on the Headland team as a seventh grader after Cherry's father suggested she might enjoy being part of the squad.
"I've always fished with my dad," Grandstaff said. "We've had a boat as long as I can remember. Aaron's dad called me and was like, 'Hey, I think you'll really love this team.' And I was like, 'You know, you might be right.'
"So I tried it out my seventh grade year and I loved it. I really like fishing against the guys and being on an equal playing field."
High school tournaments consist of two fishermen per boat. Grandstaff has been partners with James Quinlivan, a sophomore, for the past four years.
"It really is awesome to have a partner you really bond with, so you're always on the same page and really know what you want to do," Grandstaff said.
The 2021 All-American team has been invited to participate in an exclusive Bassmaster High School All-American Tournament, which will be held in conjunction with the 2021 Bassmaster Elite at Neely Henry Lake, scheduled to take place May 6-9 in Gadsden. Each All-American angler will be paired with an Elite Series pro for the one-day derby to be held on a nearby fishery.
She plans to attend Auburn University in the fall and hopes to join the Auburn University Bass Fishing Team, which competes as a club sport.
Jon Johnson is sports editor of the Dothan Eagle and can be reached at jjohnson@dothaneagle.com or 334.712.7965. Support his work and that of other Eagle journalists by purchasing a digital subscription today at dothaneagle.com. Follow Jon Johnson on Twitter @eaglesportsed