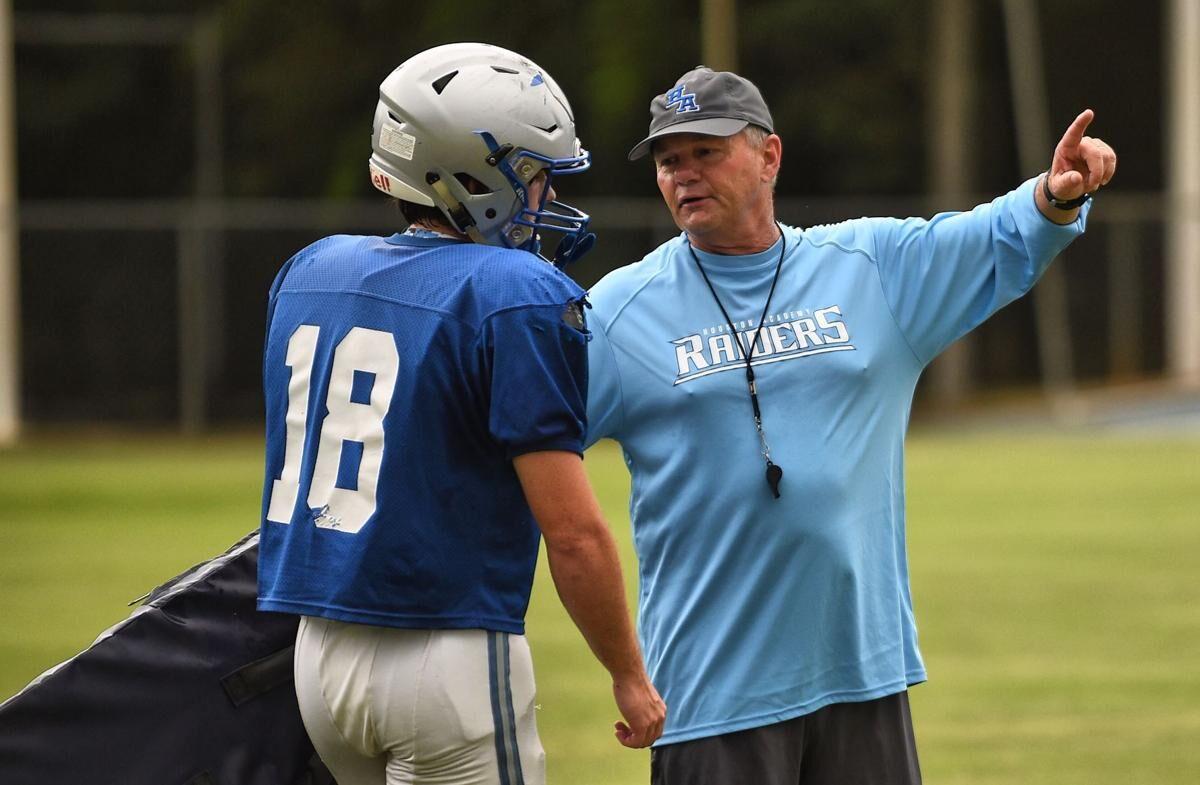 After three seasons at Houston Academy, Jamie Riggs, one of the winningest coaches in the state's history, has resigned his head football coaching position at the Dothan private school.
The Raiders went 11-20 during his three-year tenure, including 3-7 this past year. The program was 1-9 in 2019.
Houston Academy has named veteran assistant Eddie Brundidge as the new head coach. Brundidge, a head coach at Jackson from 1998-2003, has been an assistant coach at HA the last three years and has 28 years of coaching experience overall.
"I had some things come up from a personal nature the last couple of months that I need to attend to," Riggs said of his resignation, stressing it was not any health related issues, but rather other family matters that he needed to leave Dothan to attend to.
"Houston Academy was very kind to me and allowed me to go ahead and resign and they turned around hired and Eddie to continue what we started over there.
"We are not where we like to be with football at Houston Academy, but thank goodness we are not where we used to be. Most of our team will be returning next year and I think the future looks bright."
Overall, Riggs completed his 33rd year as a head coach and has a career record of 316-101 with most of the success coming during his 27-year tenure at T.R. Miller where he directed four state championship teams. The 316 wins is the fourth most in Alabama state history.
"He has got family situations that he wants to take care of," Houston Academy head of school, Dr. Scott Philllipps said. "This was under his terms and what he wanted to do. It had nothing to do with me or anybody at the school. Some things got in the way (back in Brewton) and he decided it was time.
"He had planned on staying originally four years. He had a three-year contract, so he fulfilled the terms of his contract and decided it was time."
Phillipps said Riggs' resignation became official on Thursday.
"I got his formal resignation today, but I knew it was coming," Phillipps said. "We had talked earlier in the week."
Riggs, who maintained his home in Brewton while at HA, feels the Raider program is on better footing than the record book indicates and that the future is bright.
"We return most of our team," Riggs said. "We basically had four seniors that played for us this year, so we return a lot of guys. We have a real good sophomore class that we hope to build on there. All our skill players but one return.
"It is much different than a year ago when we basically returned nobody. All our sophomores played a lot as we were extremely young. Our JV team has been more competitive than they have been in the past. We are looking forward to the next few years."
Phillipps didn't feel the losing aspect the last two years had anything to do with Riggs' decision. He added he felt Riggs leaves the program set up to win in the next few years.
"He knew – and we all knew – that this was going to be a process and it wasn't going to be overnight," Phillipps said. "In fact, everybody was shocked when he won seven games his first year. We didn't expect that. We knew it would be a rebuilding process that, especially in Class 3A, would take four to five years before we got it to where we wanted it to be.
"He put us on a terrific path to that direction. He did a great job. He is one of the best coaches ever. He definitely put our football program on firm footing and left a fantastic foundation for the future."
The Raiders now turn to Brundidge, a former Troy running back standout in the 1980s who grew up in the south Crenshaw County town of Dozier. He has spent of his coaching at T.R. Miller, though he guided Jackson for six seasons from 1998-2003.
Phillipps said Brundidge was not hired on an interim basis and is the full-time coach for next season.
Brundidge has been on the HA coaching staff the last three years and also been the head track/field coach.
During his first year at Houston Academy, he was the offensive line coach. During his second year, he moved to running backs coach and offensive play-caller after the Raiders had to shift coaching duties around when another coach became ill. This past year, he coached outside linebackers.
"There was no need for an interview process," Phillipps said. "He has had a three-year interview already. He has been stellar in the classroom and been all-in for the boys.
"I have boys tell me, 'They would run through a wall for coach Brundidge.' He has earned the respect of the team, the parents and the faculty here. He is an incredibly knowledgeable football coach."
Riggs has known Brundidge for more than 25 years, first meeting him in the early 1990s when Riggs was at Miller and Brundidge an assistant coach at Jackson.
"He will do well," Riggs said. "He is probably one of the most respected coaches around. Everybody thinks a lot about Eddie."
Riggs said the new Raider head coach has experienced coaching virtually every position on the football field.
"He has done a little bit of everything," Riggs said. "That is one thing about Eddie – he is very knowledge about all areas of football. He has coached just about everything you could coach.
Riggs thinks so much of Brundidge that he hired him three different times.
"Eddie has been with me on different occasions," Riggs said. "If I am not mistaken, I hired him the first time in 1995 and he worked for me about four years at T.R. Miller before he became the head coach at Jackson.
"After he was through at Jackson, we hired him back at T.R. Miller, I think in 2004, and he worked another decade with me until I finished there. When I took the job here, he was one of the first persons I went to about coming over here."
Brundidge is also a respected coach in the track and field community. He won seven state championships and two runner-up finishes while leading the T.R. Miller girls team.
Get in the game with our Prep Sports Newsletter
Sent weekly directly to your inbox!