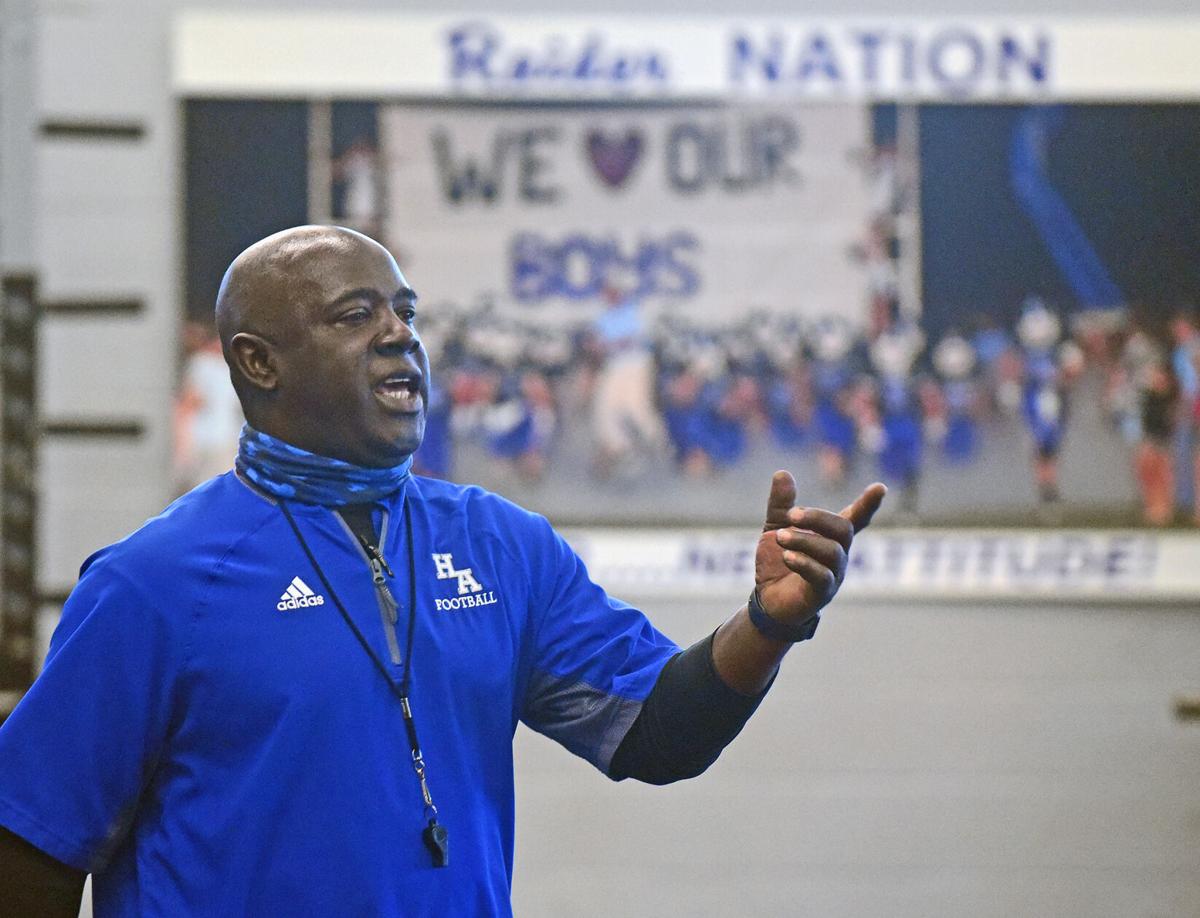 Eddie Brundidge laughs when asked about the nickname of "Chief" given to him during his days as a football player at Troy University in the 1980s.
"There was an old man who was a janitor up there and his wife was related to my family," Brundidge said. "He walked around kind of real slow and everybody talked to him, and he called everybody 'Chief.'"
Mike Turk was the quarterback at the time for the Trojans and was a close friend of Brundidge, who played fullback. When he informed Turk that he was related to the gentleman calling everyone Chief, the Troy QB and now longtime head coach at Huntingdon College pinned the nickname on Brundidge and it stuck.
"I don't even know if Turk knows my real name," Brundidge said with a smile. "A lot of people still call me Chief."
Brundidge is the new chief in charge of the Houston Academy football program after being elevated to head coach when Jamie Riggs stepped down in mid-November after three seasons at the school.
The 56-year-old who served various roles as an assistant the past three years for the Raiders is a head coach for the second time in his career, the first being at Jackson (1998-2003) where he compiled a 19-43 record.
"It was kind of a tough situation," Brundidge said of Jackson. "The program over there had fallen off a little bit and I was also assistant principal, so I had a full-time plate."
Brundidge, a native of Dozier, has spent 28 years as a coach, much of it as an assistant for Riggs at T.R. Miller before coming with him to Houston Academy.
When it became apparent Riggs would be stepping down at HA, Brundidge and two other veteran assistants – Marc Edge and Jack Whigham – conversed about the opening. Like Brundidge, Edge and Whigham both have head coach experience.
"We started to kind of feel it that he might not be back and I told them, 'Let's one of the three of us go at the job,'" Brundidge recalls. "I said, 'If one of y'all want to go get it, I'll be glad to stay on in whatever capacity and work for either one of y'all.' They both had their reasons (for not going after head coach position).
"Having Marc and Jack to commit and saying, 'We'll stay on and help you,' and saying, 'We want you to go for it,' I said, 'That's fine.' I had no idea it would be offered to me or how soon."
The day Riggs announced his resignation, Houston Academy headmaster Dr. Scott Phillipps offered Brundidge the job.
"From being so many years in public school, I was a little bit unaware of how the hiring process happens," Brundidge said of now being at a private school. "Jamie had told us he was fixing to announce it that afternoon. Well, Dr. Phillipps called us and wanted to talk, and I thought just to get a feel for continuing the program on. I didn't realize he was fixing to offer me the job."
Brundidge didn't hesitate in accepting the responsibility.
"I really didn't even have to think about it," Brundidge said. "I immediately said, 'Yes sir, I accept the job.' I didn't even ask what the salary was or talk to my wife, whatever.
"I'm a praying man and I try to let God lead me. I've always believed that good coaches are led by the Lord."
Brundidge believes he's much better equipped to be a head coach now than when he was at Jackson.
"They say what don't kill you will make you stronger, and I learned a lot during those six years," Brundidge said. "One of the things that has kind of kept me from getting back on the other side of the desk all these years is it's hard to get good quality help – somebody you know that's on board with you 100 percent that you can trust and put a lot of confidence in.
"And not to mention that are worthy to be over kids. These kids are such a valuable commodity, you don't want just anybody dealing with them and coaching them and teaching them."
Edge will be the defensive coordinator and Whigham will serve as the offensive and defensive line coach. Don Jacobs, a longtime coach in the high school and college ranks, was hired last week as the offensive coordinator.
"Those three guys have a world of experience and all three have been head coaches," Brundidge said. "I'm really elated to be able to have the caliber of people that I've got on my staff."
Describing himself as an "old-school" coach, Brundidge has been overly pleased with how the players have responded during off-season workouts.
"I have been absolutely floored with the love and everything the kids have shown me, especially the football team," Brundidge said. "They're working hard and pretty much doing everything I'm asking them to do. It's an excitement I hope we can keep around and build on."
The Raiders went 11-20 the past three seasons, including 3-7 last year. Brundidge knows there is plenty of work to do.
"HA has grown on me," Brundidge said. "The academics are second to none and the challenge for us is to get the football program back.
"I don't know if we'll ever get up to the same standards that academically HA possesses, but it's a challenge that I gladly accept."