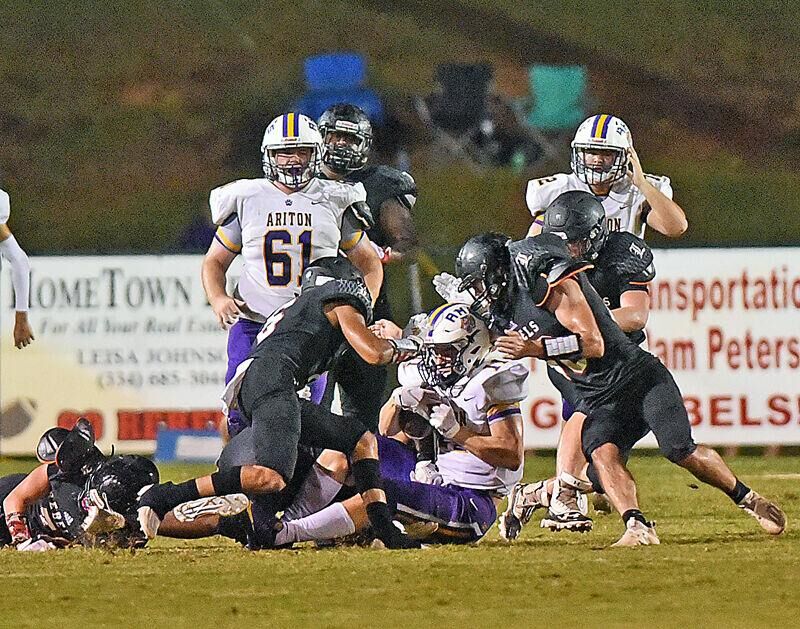 The Dothan Eagle coverage area had its best opening-round postseason showing in high school football since 2016 last week.
Of 21 coverage teams that played last week, nine earned first-round wins, the most since 10 of 22 teams won four years ago.
Last year, only six teams out of 21 won playoff openers. The two years before featured seven and eight opening round winners.
Of the nine remaining teams left, seven are in the Alabama High School Athletic Association with the other two in the Alabama Independent Schools Association.
The seven AHSAA teams left are Eufaula in Class 6A, Opp, Pike County and Slocomb in Class 3A and Abbeville, Geneva County and G.W. Long in Class 2A. No teams advanced out of Class 7A, 5A, 4A or 1A.
In AISA, Pike Liberal Arts remains alive in Class AAA and Abbeville Christian in Class A.
Home sweet home: Seven of the nine local teams that advanced last week, did so playing in the friendly confines of home as the Wiregrass was a perfect 7-for-7 in winning on home turf in the opening round.
The local home winning teams were Eufaula, Opp, Slocomb, Abbeville, G.W. Long, Pike Liberal Arts and Abbeville Christian.
The two other remaining teams – Pike County and Geneva County – won on the road with Pike winning at Hillcrest of Evergreen and Geneva County at Highland Home.
The coverage area went 2-10 in road playoff openers last week.
Overall in the state, the home team won 82.5 percent of the games (104-22), including 11 of the 12 games in the AISA.
Home sweet home part II: Four area teams are at home for this Friday's second round of the state playoffs – Slocomb, Pike County, Abbeville and Geneva County.
Slocomb (10-1) entertains Trinity (9-2) at Newton-Tew Field and Pike County (6-3) hosts Montgomery Academy (11-0) at Bulldog Stadium in Brundidge in Class 3A games.
Abbeville hosts B.B. Comer in a battle of 9-1 teams and Geneva County (8-3) welcomes in Leroy (9-1) to Dixie Howell Stadium in Hartford in Class 2A games.
On the road: The other five coverage teams hit the road for second-round action – or state semifinals as in the case of AISA, which has only three rounds of playoffs compared to five for the AHSAA.
Eufaula (9-2) travels to Blount (7-4) in Class 6A, Opp (8-3) travels to Montgomery to play at Catholic (9-2) in Class 3A and G.W. Long (9-1) visits Lanett (9-2) in Class 2A.
In AISA, Pike Liberal Arts (8-2) visits Bessemer Academy (8-2) in a Class AAA semifinal and Abbeville Christian (9-2) travels to Jackson Academy (11-0) in a Class A semifinal.
Battling ranked foes: Seven of the area teams face a state-ranked opponent in the second round with four involved in a battle of ranked teams.
The four state ranked match-ups are No. 8 Abbeville versus No. 7 B.B. Comer and No. 9 G.W. Long against No. 3 Lanett in Class 2A plus No. 7 Pike Liberal Arts versus No. 4 Bessemer Academy and No. 10 Abbeville Christian against No. 3 Jackson Academy in AISA.
The other area teams and their ranked opponents are Opp (No. 9 Catholic, 3A), Pike County (No. 5 Montgomery Academy, 3A) and Geneva County (No. 3 Leroy 2A).
Eufaula, ranked No. 10 in Class 6A, and Slocomb have non-ranked foes in Blount and Trinity.
The rankings are based off the final regular-season poll from the Alabama Sports Writers Association.
Back in the second round: Two of the area's nine remaining teams – Eufaula and G.W. Long - are back in the state's second round for the second straight season.
Eufaula is actually in the second round for the fourth time in the last six years. Long is in its seventh in the last nine years, but the Rebels have actually won seven straight openers as it missed the playoffs the other two years in the stretch.
Pike Liberal Arts is ending the longest drought past the first round back to 2010.
The others and their last second-round appearance: Slocomb (2014), Geneva County (2014), Opp (2015), Abbeville Christian (2017), Abbeville (2018) and Pike County (2018).
Familiar foes: Eufaula and Abbeville Christian played their second-round opponent last year with both earning a win. Eufaula beat Blount at home in the first round of the playoffs 35-6, while Abbeville Christian beat Jackson Academy 28-0 in a regular-season game in Jackson.
Overall, Eufaula is 1-1 in its history with Blount, also losing a 1998 playoff game, while ACA is 3-3 versus the Eagles, including 2-0 in the playoffs.
Opp is 1-1 against Catholic with the meetings in 2008-09, Pike County is 6-2 versus Montgomery Academy with the last meeting in 2017, G.W. Long is 2-0 against Lanett with the previous meetings in 2004-05, Geneva County 0-1 against Leroy (1992) and Pike Liberal Arts is 7-7 versus Bessemer Academy with the last meeting in 2014.
Abbeville has not faced B.B. Comer and Slocomb has not played Trinity before.
Special memories: For Abbeville Christian and Pike Liberal Arts, this week's opponent brings about special memories for both.
Abbeville Christian last played Jackson Academy in the playoffs in 2015, winning 45-20 on way to a state title the next week. Pike Liberal Arts won its last state championship in 2009, beating Friday's opponent, Bessemer, in the finals 36-20. Current Ariton head coach Steven Kilcrease was Patriot coach at that time.
Flashback to past: Geneva County has faced Leroy only once, but current Bulldog head coach Jim Bob Striplin is familiar with that meeting. The game, a 25-7 Leroy win, came in 1992, a year when Striplin was a sophomore at GCHS. He did not play in the game.
Long shutout streak: G.W. Long recorded its second straight opening-round playoff shutout last week when it beat Luverne 17-0 last week. It blanked Cottage Hill Christian 31-0 last year.
In fact, it was Long's fifth-opening shutout in its last seven playoff openers since 2012. The Rebels also blanked Southern Choctaw (27-0) in 2012, New Brockton (35-0) in 2014 and Francis Marion (55-0) in 2015.
Playoff points: Eufaula and Abbeville Christian both set school playoff records for most points in a postseason game last week. Eufaula's 52 points versus Stanhope Elmore is the most in any of its 72 playoffs games, surpassing the previous high of 49 set last year and also in 2011. Abbeville Christian's 63 points in a playoff win over South Choctaw was the most in the Generals' 31 playoff games in their history. It was also only six points off the overall school scoring record of 69 points versus Taylor Road in a 2003 regular season game.
Playoff points II: Geneva County's 48 points in last week's playoff win over Highland Home were its most in a postseason game since 63 in a 1995 playoff win over Linden … Pike Liberal Arts' 45 points over Monroe Academy were its most in the playoffs since 55 points in a 2009 playoff game … Slocomb's 39 points in last week's win over Southside of Selma was its most in a playoff game since scoring 46 against Straughn in 2008 … Opp's 14 points were its fewest in a playoff win since a 14-7 win in 1991 over Hillcrest of Evergreen.
Get in the game with our Prep Sports Newsletter
Sent weekly directly to your inbox!