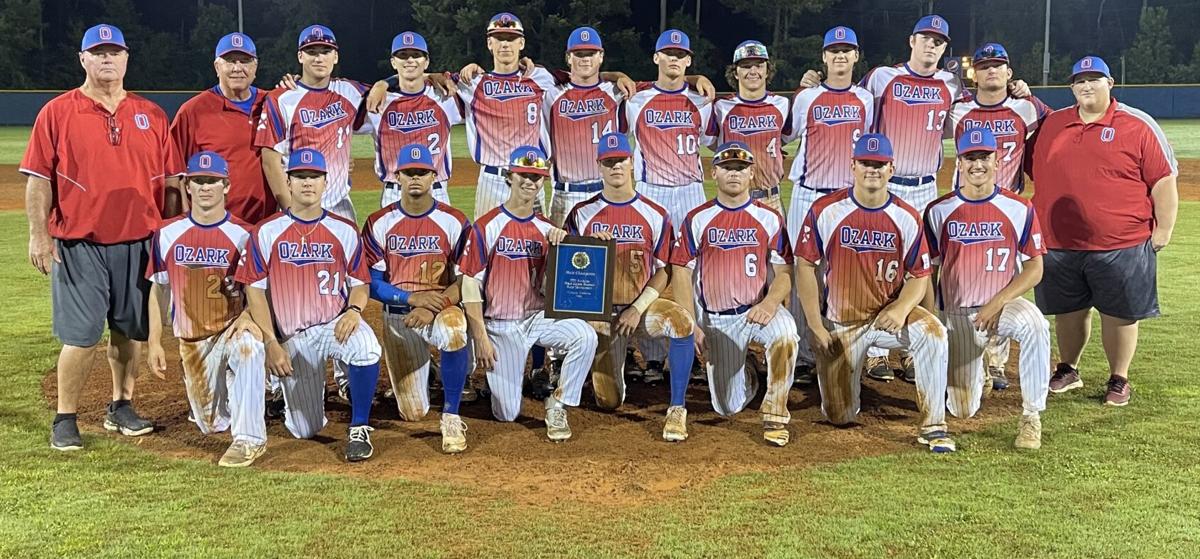 Ozark baseball coach David Heath recited a line from the movie Forrest Gump in assessing his team's chances in the upcoming Dixie Majors (19U) World Series beginning Saturday in Sterling, La.
"It's like a box of chocolates. You never know what you're going to get," Heath said.
What Heath hopes to get this time is a championship which has eluded the veteran coach in the past seven trips he's taken Ozark to the World Series from 2014 through 2020.
It would certainly be a sweet reward.
"In my seven trips I've got second, second, three thirds and two eights," Heath said of the prior finishes. "We've got a legitimate shot."
The Ozark team is comprised of players from throughout the Wiregrass, along with a couple of junior college pitchers from outside of the area – Prattville native Will Pruitt who pitched at Wallace College this past spring and Auburn native Trey Watson, who pitched at Bishop State.
Ozark compiled a 17-6-1 record during the summer. The team won the state championship by winning a best-of-three series against East Montgomery by the scores of 14-3 and 13-0.
"We've been playing pretty well," Heath said. "I'm actually shocked we got in as many games as we have due to the weather this summer."
Heath has been encouraged for the most part.
"From top to bottom, I think we're comparable to other teams I've had in the past," Heath said. "I think hitting-wise I'm probably better than I was last year and pitching-wise I'm probably on the short end."
But Heath does say he's got four quality starters on the mound in Pruitt, Watson, rising G.W. Long senior Jackson Chancey and Abe Chancellor, who recently graduated from Providence Christian and signed with L.B. Wallace in Andalusia.
While the team may be a bit short on pitching arms, Heath said his team is dangerous on the base paths.
"From top to bottom, this is the most team speed I've ever had," Heath said. "I think this summer we've stole 35 out of 37 attempts, so we've been very efficient on the base paths.
"The number one base stealer is Trevor Morris, who is from G.W. Long. Then Ethan Black from Eufaula, Slade Seaborn from Eufaula, Abe Chancellor and Landon Thrash (Ariton) – I think they are the top base stealers.
"We run the bases well. I've only got like two who clog them up. I do not like the hit and run game. I do try to bunt a little bit."
The team will leave for Louisiana on Thursday and open up play against Florida (Hernando County) at 10 a.m. on Saturday in the 12-team, double-elimination tournament.
Heath believes his team will get tested early.
"I think we can compete, but we do open up with Florida and Florida always brings a good team," Heath said.
Louisiana state champion Southland and South Carolina champion North Charleston, winners of five of the last seven World Series, are likely the next two opponents for Ozark if it wins the opener.
"We're going to give it a shot," Heath said.
Team roster: Landon Thrash, J. D. Wilson, Trevor Morris, Brody Walker, Carson Dunlap, Carson Brannon, Don Williams, Will Pruitt, Brant Brady, Ethan Black, Abe Chancellor, Jackson Chancey, Tanner Johnston, Slade Seaborn, Brooks Olive, Trey Watson and Brandon Leroy. Head coach David Heath with assistants Steve Sherrill, Brett Reid and Morgan Heath.