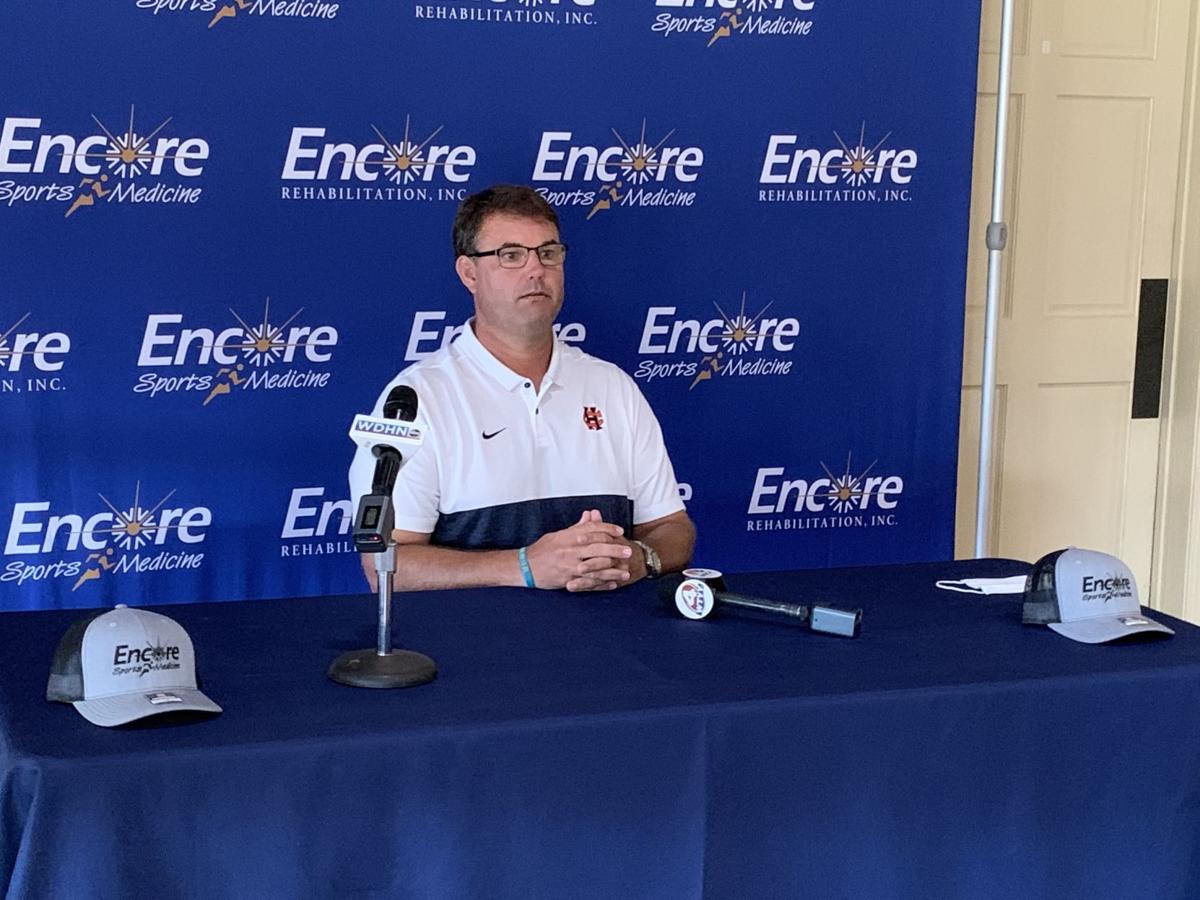 The scheduled start of the high school football season is still 32 days away, but the coronavirus has already made an impact on schedules.
Charles Henderson has shifted two games from Friday to Thursday in a COVID-19 related move, while Enterprise's scheduled season opener has been canceled.
Brad McCoy, head coach at Charles Henderson, said games against Greenville and Andalusia have been moved up Thursday night, Sept. 3 and Sept. 17, respectively. Both games are at Veterans Memorial Stadium, which is also the home stadium of Troy University and the college has Saturday home games both of those weeks.
The changes came after meetings between McCoy and Troy athletic director Brent Jones.
"He explained that the NCAA put out clear guidelines that they needed 24 hours of disinfecting time with the locker room before their contest, so two of those games we had on Friday night Troy has a game on Saturday," McCoy said. "They didn't feel there was adequate time to get that (cleaning/disinfecting) done on their side (if we played on Friday) with the all the protocols and guidelines they will have, so we moved the games to Thursday to give them more time to clean."
Enterprise opener canceled: For the second straight year, Enterprise was set to host a team from Miami, Fla., at Wildcat Stadium to begin the season. However, Wildcat head coach Rick Darlington confirmed in a text Saturday to the Dothan Eagle that Miami Somerset High would not be able to come to Enterprise as scheduled on Aug. 21 because of the COVID concerns plus the long distance.
Darlington also texted that the Wildcats have not yet picked up a replacement to fill the void and that EHS has only nine games on its schedule as of Saturday afternoon. He said the final game of the regular season against Navarre (Fla.), located nearby in the Florida Panhandle, was still on as schedule.
Games against Georgia: Dothan head coach Smitty Grider, Headland coach Toby Greene and Northside Methodist coach Jason Hurst confirmed Saturday that scheduled games against out of state teams were still on as planned for now despite rumors that the Alabama High School Athletic Association might not allow such contests.
Dothan has games against Georgia teams Bainbridge (Aug. 28), Calloway (Sept. 25) and Tift County (Oct. 2) with the first one on the road and the last two at home at Rip Hewes Stadium.
Headland has a game on Sept. 4 at home at J.J. Yarbrough Stadium against Seminole County of Donalsonville, Ga., and Greene said the game is still scheduled to be played.
Northside Methodist, which is entering its first year in the AHSAA after playing in the Alabama Independent Schools Association, has a scheduled Thursday, Sept. 17 game at Calhoun County in Edison, Ga., and an Oct. 2 game at Baconton Charter in Camilla, Ga. Hurst said in a text Saturday both games were still scheduled to be played.
Practices: Pending any changes, teams in both the AHSAA and AISA open preseason practices on Monday, July 27.
The AISA has announced that the first week of practices would be 7-on-7 drills and that the start of full-squad practices would begin on Aug. 3 followed by three days of acclimation in shorts before starting full-gear practices on Aug. 7.
The AHSAA is expected to announce its schedule and other health guidelines on Wednesday morning after its Central Board meeting.
Ga. workout with helmets: The Georgia High School Association announced this past week it is allowing teams to implement the use of football helmets in workouts starting Monday with the stipulation that schools must sanitize the helmet before and after each practice.
Teams have been allowed to have 7-on-7 and 3-on-3 intra-squad drills since July 1.
The GHSA still is requiring that teams do not use locker rooms.
The association has tentatively set an acclimatization period beginning July 27 and the first date for practice August 1. First contests are set for Aug. 21, but teams are allowed to have a jamboree either Aug. 7 or Aug. 14.
Dothan Eagle coverage team Seminole County has a jamboree set for Aug. 7 at home against Berrien, while Early County, the Eagle's other coverage team, has a jamboree Aug. 14 at home against Miller County.
David is sports writer
for Dothan Eagle.
Get in the game with our Prep Sports Newsletter
Sent weekly directly to your inbox!