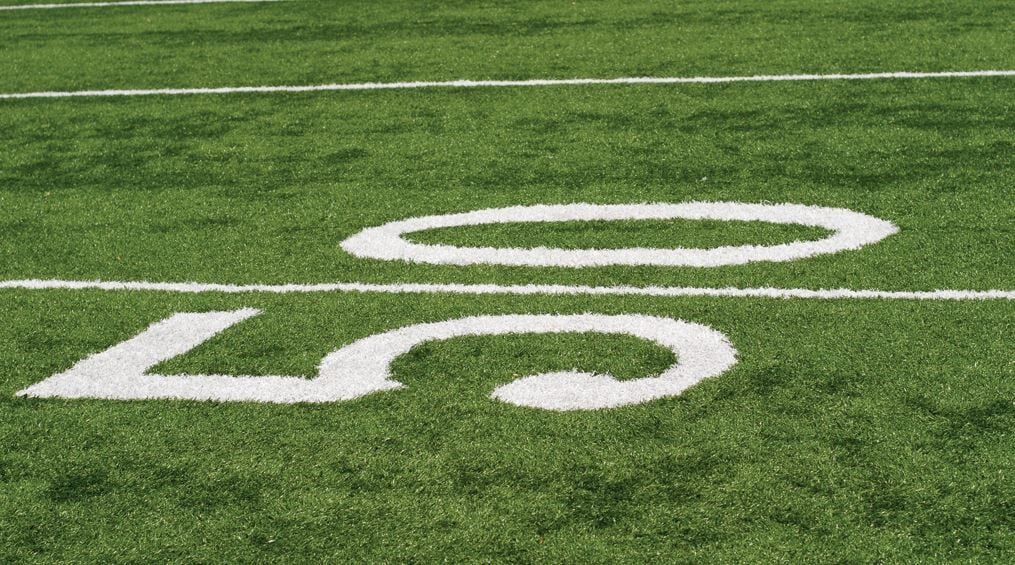 There were plenty of individual standout performances last week among Wiregrass high school football teams.
So many, in fact, that 20 area players were honored in this week's AHSAA Prep Spotlight.
Dothan wide receiver Braxton Hornsby was honored in the buzzer beater section after catching a game-winning 18-yard touchdown pass with 2.2 seconds left in the Wolves' 20-18 win over Jeff Davis.
Five players were honored at quarterback, including Houston Academy's Kadyn Mitchell. The Raiders QB accounted for seven touchdowns, six passing and one rushing, and 271 total yards in helping HA score on all eight possessions and end a six-game losing streak to city rival Providence Christian, 54-0. He completed 13-of-18 passes for 219 yards with touchdowns of 7, 23, 69, 13, 6 and 22 yards and added 52 yards rushing with an 18-yard TD run.
Also honored at QB were Dale County's Alex Banks, Charles Henderson's Parker Adams, Enterprise's Quentin Hayes and G.W. Long's Kobie Stringer.
Dale County's Banks completed 20-of-31 passes for 316 yards and two TDs in a 45-20 loss to Saint James.
Charles Henderson's Adams finished 11-of-19 passing for 275 yards and four touchdowns (44, 66, 17 and 32 yards) and rushed for one TD as the Trojans beat Rehobeth 40-7.
Enterprise's Hayes accounted for 236 yards passing and rushing with three touchdowns in a 49-35 win over Smiths Station. He was 9-of-14 passing for 175 yards and two scores and rushed for 61 yards and one TD.
Long's Stringer was 7-of-10 passing for 141 yards and two TDs, rushed for 65 yards on eight carries and another TD in the Rebels' 38-12 win over Cottonwood.
Five others were honored at running back – Geneva County's Emmanuel Henderson, G.W. Long's Trevor Morris, Samson's Braxton Brooks, Enterprise's Mykel Johnson and Goshen's Szemerick Andrews.
Geneva County's Henderson had 10 carries for 220 yards and three touchdowns (65, 17 and 33 yards) to lead the Bulldogs to a 40-21 win over Houston County.
G.W. Long's Morris gained 199 yards rushing with TD runs of 67 and 2 yards in a 38-12 win over Cottonwood
Samson's Brooks rushed for 173 yards and completed 6-of-8 passes for 87 yards with a 20-yard TD as the Tigers downed Red Level 30-8.
Enterprise's Johnson accounted for 228 all-purpose yards and five touchdowns in a 49-35 win over Smiths Station. He rushed for 106 yards and three touchdowns on 11 carries, caught four passes for 78 yards and two TDs and had 44 yards in punt/kick returns.
Goshen's Andrews had 138 rushing yards on 19 carries and scored the game-winning touchdown on a 26-yard run as the Eagles beat Pike County 15-13 for their first win of the season. He also had seven tackles on defense.
There were also five wide receiver stars highlighted, including teammates at Houston Academy and Dale County.
For HA, Will Wells had five receptions for 117 yards and two touchdowns (7 and 69 yards) and Chapman Andrews had three receptions, all for TDs (23, 13 and 22 yards) in the Raiders' 54-0 win over Providence Christian.
Dale County's Christian Ross had nine receptions for 147 yards, including a 50-yard TD, and Derrion Crossley had seven catches for 124 yards, including an 82-yard TD catch.
The other wide receiver honored was Dothan's Raymon Blackmon, who caught five passes for 152 yards and one TD in the Wolves' win over Jeff Davis.
Three defensive players were honored in the prep spotlight, including Charles Henderson teammates Zion Grady and Damien Hart. Both had 12 tackles with Grady also earning two QB sacks in the Trojans' 40-7 win over Rehobeth.
Elba's Chrystyile Caldwell had a 76-yard interception return for a TD, recovered a fumble and was in on 11 tackles in the Tigers' 82-14 win over Abbeville. He also ran for a 24-yard score on offense.
One player was honored in special teams – Artion's Andyn Garris, who returned a punt 77 yards and converted 6-of-6 extra-point attempts while also scoring on a 22-yard run in the Purple Cats' 42-0 win over Zion Chapel.
Henderson chosen for All-Star Classic: Geneva County senior standout running back Emmanuel Henderson will represent the Wiregrass at the 35th Annual Alabama-Mississippi All-Star Classic in December.
The AHSAA announced the Alabama 40-man roster for the game on Wednesday. All 40 players are current seniors. Henderson is the lone player from the Wiregrass on Alabama's team.
Henderson, an Alabama verbal commitment, has rushed for 1,230 yards over six games, averaging 205 yards per contest. He missed one game with an injury. He also has rushed for 18 touchdowns and has averaged 14.3 yards per carry, amassing his total on 86 carries. He is also 2-of-3 passing with one TD.
Alabama's head coach for this year's game is Adrian Abrams of Minor High School.
The All-Star Classic is set for Saturday, Dec. 11 at the University of Southern Miss' Carlisle H.H. Roberts Stadium in Hattiesburg, Miss.
Thursday football: This week's action starts with a Thursday night game at Dothan's Rip Hewes Stadium as the Northside Methodist Knights face Daleville.
Northside Methodist is coming off its first win of the season, last week's 19-13 victory over New Brockton. Daleville is 0-8.
Elba lights up scoreboard: Elba lit up the scoreboard last week, earning a school-record for points in a game during an 82-14 win over Abbeville. It broke the previous Tiger high of 80 against Red Level (80-6) in 2011.
The Tigers, who led 62-6 at halftime, scored 12 touchdowns – nine rushing, two passing and one of an interception.
The 82 points are the most by any team in the state of Alabama this year, according to Stacy Long of the Florence Times Daily. The next highest total is 79 by Isabella against Calhoun, which was also done last week.
HA defensive shutouts: While Kadyn Mitchell's seven-touchdown performance for Houston Academy caught most people's eyes last week, the Raider defense quietly accomplished a feat the program hasn't done since 1989.
In blanking Providence Christian during a 54-0 win, Houston Academy's defense earned its second straight shutout, matching the previous game against Florala (49-0). HA had not had back-to-back shutouts since blanking G.W. Long (19-0) and Coffee Springs (28-0) in consecutive games in 1989.
The two shutouts are the most in a season for the Raiders since the 2006 state semifinal team earned three shutouts.
On the flip side, HA's 54 points in the win were the fourth most in school history and most since scoring 56 on Samson in 2006.
Ashford falls: Ashford was a quarter away from its first win last Friday, but everything fell apart in the fourth quarter as Bullock County scored 27 points to rally past Ashford for a 46-26 victory in Union Springs.
Ashford led 20-13 at halftime and 20-19 after three periods, but the Hornets pulled away with their explosive fourth quarter, capped by two interception returns for touchdowns.
The Yellow Jackets (0-7) seized their first-half lead off touchdown runs from Peyton McBride (6 yards), Michael Knight (11) and Will Hart Lawrence (6). Ashford converted one of the three conversions, doing so on a Lawrence run for a two-point conversion.
Lakeside falls: Lakeside fell to region foe Lowndes Academy in Eufaula last Friday, 36-6, dropping to 2-4 overall and 1-3 in region play.
The main highlight for the Chiefs was a 67-yard touchdown pass from Tripp Swain to I'Leek Quinn.
Wicksburg JV finishes season 6-0: Wicksburg's junior varsity team defeated Slocomb 28-8 on Tuesday to finish the season with a 6-0 record.
Mason Burkhardt passed for 88 yards, including a 10-yard TD pass to Reggie Peoples, and Gabe Glover threw a 30-yard TD pass to Cooper Morrison. Peoples rushed for 91 yards and a touchdown.
Jamien Ward had a 38-yard interception return for a touchdown for the other score.
Defensively, Aiden Rice had six tackles, Aiden Steinmetz five tackles and Brody Campbell and Peoples had four tackles each for Wicksburg.
Cottonwood 44, Northside Methodist 0: Klete Meadows earned 185 yards rushing and three touchdowns and Ethan Simmons threw for 101 yards, ran for 70 yards and accounted for a touchdown both passing and rushing to lead the Bears' win.
King Campbell rushed for 60 yards and a touchdown, while Taylor McCord had 50 yards receiving with one TD and Ethan McNeil had 40 yards receiving plus six tackles on defense.
Kain Campbell converted three two-point conversions for the Bears.
Cottonwood's JV team finished the season with a 6-2 record.