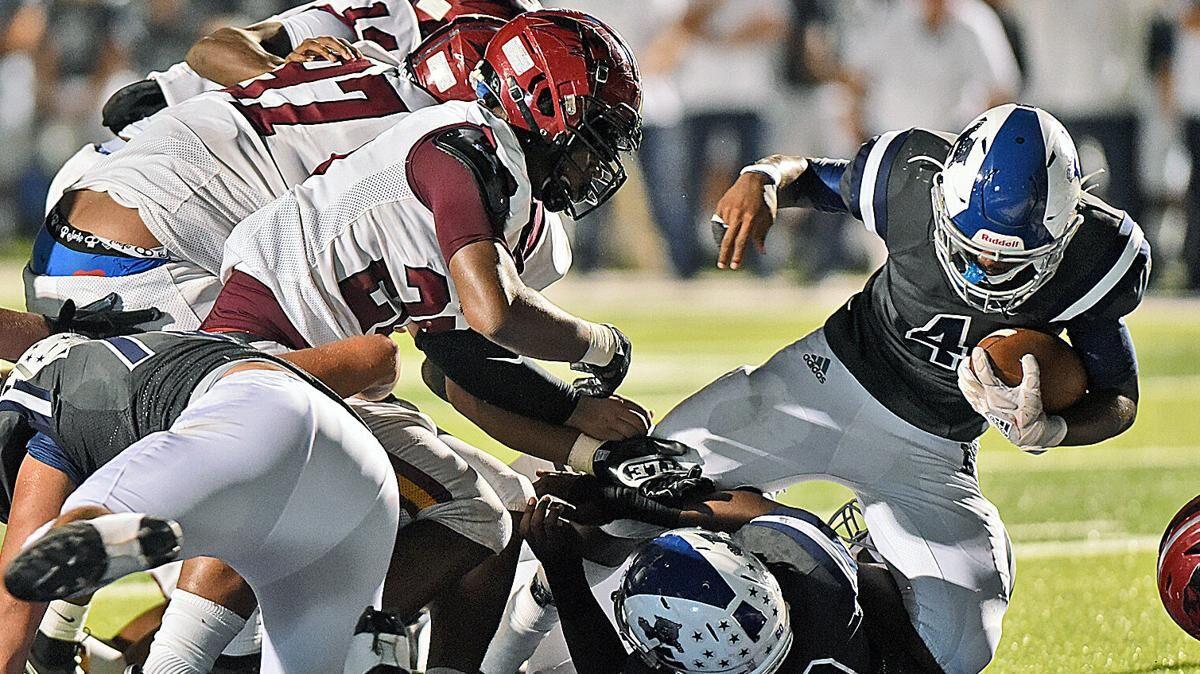 Two top 10 games and a forfeit highlight this week's high school football schedule in the Wiregrass.
One of the top 10 battles takes place at Enterprise's Wildcat Stadium where the No. 8 Wildcats welcome in No. 5 Central of Phenix City for a Class 7A, Region 2 showdown. Both teams are 4-0 overall.
The visiting Red Devils, led by coach Patrick Nix, a former Auburn quarterback standout and father of current Auburn QB Bo Nix, enters with a 2-0 region mark. The host Wildcats, meanwhile, bring a 1-0 region mark to the contest after playing outside the region last week.
The game marks only the third between two top 10 teams in the 12-year history of Wildcat Stadium, which first opened in 2010. The two previous came at the end of the 2016 season when the No. 7 Wildcats beat 5A No. 6 Demopolis 42-0 and 7A No. 10 R.E. Lee 31-26 on consecutive weeks.
Interestingly, this year is the eighth straight season that Enterprise plays against a ranked Central team. The Red Devils were ranked 6, 3, 1, 1, 4, 4 and 3 in the state poll the week of the previous seven meetings since 2014.
Showdown in Ariton: Another big-time game this week happens at Ariton's Robert F. Zumstein Memorial Stadium where longtime rivals Artion and G.W. Long meet as ranked foes for the first time.
Both joined the ASWA state rankings this week in Class 2A with 4-0 Ariton jumping in at No. 7 and 2-0 G.W. Long vaulting in at No. 10.
It is the first battle of top 10 teams in the history of the rivalry which has been played 55 straight years since Long began football in 1966.
Ariton has faced nine previous G.W. Long ranked teams and is 2-7 with wins in 2019 and 2000. Long has faced six ranked Purple Cat teams and is winless, though it hasn't faced a ranked Ariton team since 1994.
Four 2A, 2 ranked: Class 2A, Region 2 has been well-known in the Wiregrass as a tough, competitive one. The latest state voting reflects that as four of the eight teams are in the top 10 and two others received a vote.
Ariton and G.W. Long, after unbeaten starts, jumped in at No. 7 and No. 10, while Elba (3-1 with loss to Long) stayed in at No. 5 and Geneva County (2-1 with loss to Ariton) remained in at No. 10.
Abbeville, last year's region champ and a state runner-up, received five votes for 11 points and Cottonwood received one vote.
Eufaula wins by forfeit: Eufaula head coach Ed Rigby announced Monday on Twitter that his Tigers have received a forfeit win for this Friday's game against Park Crossing.
"Due to a forfeit by Park Crossing, Friday's game at Tiger Stadium has been cancelled," said Rigby in his tweet.
With the forfeit, Eufaula improves to 2-2 overall and 1-1 in Class 6A, Region 2 play. The Tigers return to action next week at Stanhope Elmore.
Thursday football: Two games involving Dothan Eagle coverage teams are on Thursday night this week, including Barbour County's first home contest in nearly two years.
The Jaguars are set to host Verbena in Clayton, the first game on their home field since Oct. 25, 2019 against Daleville in the second to last game of that season.
Barbour County did not have football last year and had this year's initial home opener three weeks ago canceled with a forfeit win from Stewart County (Ga.). The Jaguars had two lengthy road trips the last two weeks, racking up 470 miles on the bus to trips to Maplesville (123 one-way) and to Notasulga (62 one way).
After facing No. ranked 4 Maplesville and No. 10 Notasulga, the Jaguars finally face an unranked team in Verbena (2-2).
The other Thursday night game this week has Early County visiting Westover at Albany's Hugh Mills Memorial Stadium. Kickoff for that game is set for 6 p.m. central time.
Ariton shutout streak: In beating Geneva County 42-0 last week, Ariton earned its third straight shutout, a first for the Purple Cats since 1983. The latest shutout followed consecutive 49-0 victories over Goshen and Houston County.
In 1983, Ariton registered three straight shutouts against Zion Chapel (27-0), Houston Academy (35-0) and Louisville (32-0). It was part of six shutouts for the 1983 team.
Last week's shutout over No. 3 Geneva County was the first over a ranked team in Ariton history.
Bears on the growl: Cottonwood's 57-24 win over No. 5 ranked and last year's 2A runner-up Abbeville raised some eyes. The win was the first over a ranked team for the Bears since beating No. 10 ranked Geneva County 41-12 on Oct. 10, 2014. It snapped a nine-game losing streak to ranked teams.
The 57 points were the most on Abbeville since a playoff game in 2017 when St. Luke's scored 68 on the Jackets. It was the most points for Cottonwood since 2019 when it scored 65 on Barbour County.
The win pushed Cottonwood to 2-2, its best four-game start since going 3-1 in 2018.
Big turnarounds: Two games involving Wiregrass teams last week had big turnaround margins from last year's meeting between the teams.
A year ago, Pike County, behind a late surge, beat Dadeville by 46 (60-14). On Friday, Dadeville turned around and won by 40 (46-6), marking an 86-point difference from the two games.
Cottonwood-Abbeville saw a similar thing. Last year, Abbeville won 41-0, but Cottonwood won this year by 33 (57-24), making it a 74-point turnaround from last season.
Lot of points: Geneva continued its trend of high-scoring games Friday, falling in a 47-42 shootout to Dale County.
The combined 89 points marked the sixth Panther game in the last 14 contests with 80 or more total points going back to the 2019 state playoffs. It's the second straight week of such a game as Geneva and Booker T. Washington combined for 83 the week before (47-36 Geneva win).
That 2019 playoff game featured 85 points in a 49-36 loss to Mobile Christian. Last year, Geneva had three games with 80 plus – Opp (81, 67-14 loss), Slocomb (89, 48-41 win) and American Christian (86, 65-21 loss).
The school record for points in game (119) came in 2018 when the Panthers fell to Slocomb 63-56.
The 89 points were the most in a Dale County game since 104 were scored in the Warriors' 2014 state championship 70-34 loss to Madison Academy and star back Kerryon Johnson.
Dothan Freshman 28, Headland JV 14: On Monday, Kyler Cullen threw two touchdowns and Asim White returned two interceptions for touchdowns to lead Dothan's freshman team to a 28-14 win over Headland.
Cullen threw a 24-yard score to JD Palm and an 18 to Nick Johnson. Andrew Anners and Palm caught 2-point conversion passes.
Zach Walker and Ty Vickers led the rushing game for the Wolves.
Walker led the Dothan defense in tackles. Zeke Scott had a sack.
Wicksburg 24, Providence Christian 8: Jackson Daughtry rushed for 124 yards and two touchdowns lead the Panther win over the Eagles.
Mason Burkhardt rushed for 56 yards and a touchdown and Reggie Peoples have 65 yards rushing.
Aiden Rice led Wicksburg's defense with six tackles, Peoples followed with five and Gabe Glover four.
Opp 8, Geneva 0: Colby Ballard threw a 33-yard touchdown pass to Keenan Forsyght and the Opp defense made the score hold up in an 8-0 win over Geneva.
Ballard threw for 61 yards on 4-of-7 passes. Zeb Green led the ground attack with 41 yards rushing on 10 carries.
Defensively, Hank Messer, Landon Langley and Jamaryon Allen had four tackles each with Messer also recovering a fumble.
Cottonwood 22, Ashford 8: Klete Meadows rushed for two touchdowns and Kain Campbell rushed of one in the Bears' win over Ashford.
Jowaughn Campbell led the Cottonwood defense in tackles.