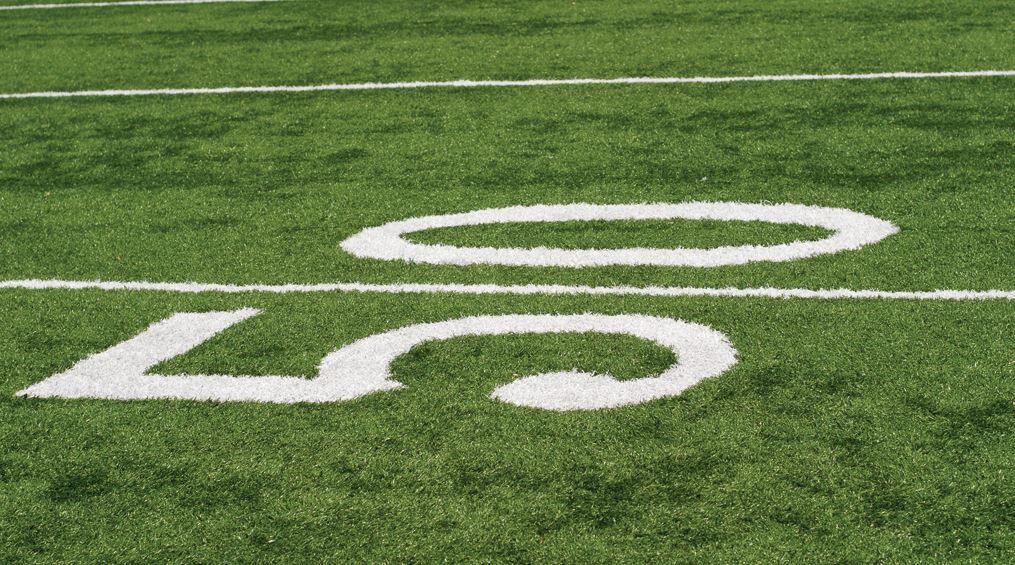 OZARK – Carroll earned the 21-14 region win over Rehobeth in high school football on Friday night.
Midway in the first quarter, Brandon Robinson went 57 yards to give Carroll the early 6-0 lead. Later in the quarter, quarterback Keyshawn Cole threw a 17-yard touchdown pass to Raquille Reed and Cole followed with the 2-point conversion for the 14-0 lead.
Midway in the second quarter, Rehobeth's Brandon Austin scored on a 1-yard touchdown run. Quarterback Payton Stephens added the 2-point conversion on a nice scramble. The touchdown was set up after a 4th-and-12 conversion.
Rehobeth tied the game on a 1-yard Stephens touchdown run.
In the third quarter, Carroll's Cole hit Devin Bryant on a 50-yard pass to the Rehobeth 5-yard line.  Robinson punched it in from 2 yards out for the score. Sammy Spivey added the extra point for the 21-14 lead and final score.
Jordan Killings sealed the game with an interception and 20 yard return on Rehobeth's last possession.
J'Kwon Cooper, Terry Williams, Jakerion Ware and Karmelo Overton all had fumble recoveries for Carroll.
Trychon Mchellon had a fumble recovery for Rehobeth.
Enterprise 52, Davidson 13: In Mobile, the Wildcats got on a roll and never let up in rolling to the easy victory.
Enterprise led 38-0 by halftime.
Enterprise got on the scoreboard first on an 18-yard touchdown by Sam Whitaker early in the opening quarter. Josh McCray ran in the 2-point try.
Quentin Hayes threw a 32-yard touchdown pass to Jared Smith late in the first quarter to make it 16-0 after a 2-point conversion run by McCray.
McCray scored on a 44-yad run with 11:40 to go in the second quarter and Hayes ran in the 2-point try. Hayes connected with Cole Hooper on a 62-yard TD strike with 9:16 to play before halftime to make it 31-0 following the PAT by Matthew Sheehan.
The Wildcats made it 38-0 when Hayes connected with Aiden White on a 78-yard touchdown pass.
After Davidson scored on its opening possession of the second half, McCray returned the ensuing kickoff 90 yards for a score to make it 45-6 with 7:19 left in the third quarter.
Mykel Johnson scored the final TD for Enterprise on a 27-yard run.
Dale County 28, Geneva 22: Dale County overcame a 14-0 halftime deficit to edge Geneva in a Class 4A, Region 2 contest in Midland City.
The Warriors (3-1, 2-0) took the lead at 20-14 with 9:08 left in the game on a 1-yard touchdown run by quarterback Ethan Teal then surged ahead 26-14 when Alex Banks scored on a 35-yard scoop and fumble return for a score.
Earlier, Tra Marshall scored on a 36-yard run and Teal on a 5-yard run.
The Panthers (2-2, 0-1) cut the gap to 26-22 with 6:23 left when Damion Kemmerlin threw a short touchdown pass to Noah Johnson and Kemmerlin added a two-point conversion.
The Warriors moved to the Panther 15 on the ensuing series, but fumbled. However, Dale County's Christian Ross tacked a Geneva player in the end zone for a safety, making it 28-22.
Teal rushed for 172 yards on 19 carries and Marshall rushed for 149 on 24 carries for Dale County.
Kemmerlin connected with Timothy McReynolds on an 80-yard touchdown pass and Kemmerlin ran in the 2-point conversion to give the Panthers a 14-0 lead with two minutes before halftime.
Slocomb 44, Providence Christian 14: Jaylen Nobles rushed for 237 yards and three touchdowns on 23 carries and Rashawn Miller earned 109 with one score on nine carries and added another on defense as the RedTops routed the Eagles in a Class 3A, Region 2 contest.
Slocomb (2-1, 1-0) seized a 16-0 halftime lead off a 20-yard Nobles touchdown run, a 17-yard interception return for a score by Miller and a 27-yard field goal by Asael Morino.
Miller scored on a 21-yard run and Nobles on runs of 5 and 39 yards before Braylon Miller tallied the final Slocomb score on a 4-yard run.
Providence Christian (1-3, 0-2) had a 5-yard run from Gus Goldsborough and a 93-yard TD run from Christian Durden.
Defensively for Slocomb, Morin had eight tackles and Braylin Miller and Brodie Campbell had seven stops each.
Opp 35, Houston Academy 0: Hal Smithart threw three touchdown passes and ran for another to help Opp ease past Houston Academy 35-0 Friday in Dothan.
Smithart connected on touchdown passes of 22 and 14 yards to running back Peyton Ellis in the second quarter to help the Bobcats take a 21-0 halftime lead.
Smithart added an 8-yard touchdown run and a 24-yard touchdown pass to Dada Stoudemire in the third quarter.
Smithart was 23-of-35 passing for 326 yards. Ellis had 12 catches for 183 yards.
Opp's other score came in the first quarter on a 1-yard plunge by Cole Jennings.
Opp overcame more than 200 yards in penalties.
Kadyn Mitchell and Austin Carpenter had interceptions for Houston Academy.
Defensively for Opp, Cole Jennings had 11 tackles and Prent Huggins had nine. Jesse Coon had seven tackles and two sacks, Jackson Pierce had seven tackles and Zack Hill, Thomas Glisson and Robbie Gafford each had six.
Geneva County 54, Ariton 41: Emmanuel Henderson ran for 367 yards on 30 carries and scored five touchdowns in leading the Bulldogs to the win.
Henderson scored on runs of 21, 85, 1, 35 and 36 yards.
Quarterback Will Birdsong also had a big night by connected on 7-of-7 passes for 203 yards and touchdown passes to Colby Fuller of 60 and 31 yards. Fuller caught five passes for 133 yards.
Birdsong also had a 2-yard touchdown run.
Defensively for Geneva County, Grayson Bell had 8 ½ tackles, Sammuel Parker and J'Quan Broxson each had 6 ½ tackles and Chico Cotton had four tackles and an interception.
For Ariton, Ian Senn completed 10-of-22 for 205 yards and three scores with Cade Webb, Isaiah Johnson and Hayes Floyd catching the TD passes.
Senn also rushed for 106 yards and a TD and Jordan Smith rushed for the other Purple Cat score.
Landon Thrash had 126 yards rushing and also led the defense with 17 tackles. Trevor McLaughin had 15 tackles, Dewayne Riley 12 and Kryon Danzy and Senn 11 each.
New Brockton 47, Daleville 8: Quarterback Kaden Cupp threw for more than 200 yards and ran for more than 120 in a first half full of big plays in New Brockton's victory at Bates Memorial Stadium in Enterprise.
Cupp had three completions for 50 yards or more in the first half, when he completed 7 of 13 passes for 225 yards, unofficially. Two of those bombs went to Colton Marsh for an 80-yard touchdown and to Julian Noble for 50 yards and a TD. He also completed a 68-yard strike to Damarion Holt that set up a 6-yard touchdown run by Jordan Tacey. The big play to Marsh came on New Brockton's second play from scrimmage. Jacob Bustamante made the extra point that gave the Gamecocks (1-1) a 7-0 lead.
Daleville (0-4) answered just two plays later. Cedreon Wiley raced around left end and motored 74 yards to the end zone. The Warhawks converted on the 2-point conversion to take an 8-7 lead with 6:30 left in the first quarter.
Cupp again drove the Gamecocks into the red zone. He got loose on a 37-yard keeper up the middle for a first down at the Daleville 17. But he tried to force a pass and Daleville's Omarion Pinckney intercepted the pass.
Cupp's "pass" to Tacey on a speed sweep around right went for seven yards and a touchdown for a 14-8 lead with 1:41 left in the first quarter. Cupp then found Noble behind the secondary for the 50-yard touchdown pass with 10:02 left in the half. The bomb to Holt produced Tacey's 6-yard TD run and a 28-8 lead at the 7:12 mark.
Cupp later ran for 17 yards, hit Brandon Johnson for 14 yards to the 3 and then finished the march with a 1-yard run with 46 seconds left in the half.
At halftime, Cupp had, unofficially, 11 carries for 123 yards. He finished the game with 14 rushes for 131 yards. Passing, he was unofficially 8 for 16 for 229 yards.
After a scoreless third quarter, New Brockton added two scores. Cupp scored on another 1-yard run with 10:30 left in the game for a 41-8 lead.
Tra Boland picked up a fumbled kickoff and set up the final score. Jamarcus Brown added a 5-yard touchdown run with 7:05 remaining.
Elba 38, Zion Chapel 7: The Tigers raced to a 38-0 lead by halftime in recording the victory and improving to 3-1.
Jacquez Prince scored on a 50-yard run to open the scoring on Elba's first offensive play. Iverson Lane raced in from 61 yards out and Collin Harrison scored on a 52-yard run as Elba pulled away early.
Prince connected with Trent Hamilton on a 60-yard scoring toss and Harrison ran for a 69-yard touchdown to complete the scoring in the first half.
Zion Chapel's lone score came in the third quarter when Brockston Bragg scored on a 1-yard run.
Harrison had 121 yards on just two carries, Prince 62 on three carries and Lance carried the ball just once, resulting in the long TD run.
G.W. Long 42, Houston County 21: Kobie Stringer threw for 177 yards and three touchdowns and added 69 yards and two scores to lead Class 2A No. 8 G.W. Long over Houston County in a Class 2A, Region 2 game.
Hunter Whitehead caught touchdown passes of 78 and 44 yards from Stringer, who completed 5-of-6 passes. Trevor Morris added a 32-yard TD reception.
Stringer rushed only twice, but made those count for TD runs of 63 and 6 yards.
Jackson Chancey added a 6-yard touchdown run and Tanner Patton converted all six points after touchdown kicks.
Defensively for Long (2-0, 2-0), Morris and Whitehead had seven tackles each and Chancey had five tackles. Stringer blocked a punt and Austin Kerchner had a fumble recovery.
Jeremiah Hardrick and Kenzerick Barber had rushing touchdowns for Houston County (0-4, 0-2) and Kahleel Johnson and Ladarius Maybin connected on a 25-yard touchdown pass.
Greenville 18, Headland 6: The Rams fell to 1-3 overall and 0-1 in Class 5A, Region 2 with the road loss at Greenville.
Austin Cook had a 35-yard interception return for a touchdown for Headland's lone score.
All the scoring in the game came in the first half.
Childersburg 54, Goshen 12: The host Tigers seized a 41-0 halftime lead, scoring 27 points in the second quarter, of the Class 3A, Region 4 game.
Tiquan Martin had an 80-yard kickoff return for a touchdown and a 15-yard TD run for Goshen (0-3, 0-2). He finished with 69 yards on 17 carries.
Defensively for Goshen, Jeff Warrick and MaraQuavious Coleman had eight tackles each.
Pike Liberal Arts 56, Lee-Scott Academy 0: Mayes White threw for 237 yards and five touchdowns and rushed for 177 and two scores – all in the first half – to lead AISA No. 5 ranked Pike Liberal Arts to a Class AAA, Region 1 rout of Lee-Scott.
White complete 10-of-15 passes with TD passes of 64 and 23 to Jay Taylor, 21 and 32 yards to Javon Christian and 12 to Elijah Caldwell. He added rushing TDs of 55 and 65 yards.
Aaron Greenwood scored on a 36-yard run for the other score.
Taylor caught four passes for 106 yards for PLAS (3-0, 2-0).
Defensively, Marx Copeland had eight tackles and a caused fumble. Davis Kilcresase and Frankie Jefcoat both had a fumble recovery.
Abbeville 41, Cottonwood 0: Martavious Glanton rushed for 253 yards and two touchdowns and added a touchdown passing to lead the Yellow Jackets, who stayed unbeaten at 3-0.
Rico Dozier rushed for 101 yards and two touchdowns and also scored on two 2-point conversions. Randy Glanton rushed for a touchdown and caught a TD pass from Martavious Glanton.
For Cottonwood, Marco Alvarez had 50 yards rushing on five carries. Defensively, Ethan Gilley and Caleb Hamilton had three tackles each.
Pike County 60, Dadeville 14: Zakevin Pennington rushed for six touchdowns and added two 2-point conversions, sparking the Bulldogs to a 60-14 win over Dadeville in a Class 3A, Region 4 contest.
Pennington scored on runs of 16, 13, 22, 7, and 7 in the first half and earned a 43-yard TD in the third quarter. He finished with 114 yards on 14 carries while playing only three quarters.
The Bulldogs scored 42 unanswered points after holding a slim 18-14 lead late in the first half. Included were three quick scores in the final 3:15 of the first half off a pair of Pennington 7-yard TD runs sandwiched around an Amaghie Lampley interception. Quarterback Dequavius Coleman threw a 32-yard touchdown pass to Ian Foster with 18 seconds left in the half, making it 40-14 at halftime.
Jaquavion Meadows intercepted a pass and returned it 2 yards for a PCHS touchdown with 7:25 to go in the third, and JhaNauris King ran in a 28-yard TD with 3:38 left in the game for the final score of 60-14.
Kinston 21, Red Level 19: Kinston edged Red Level in a Class 1A, Region 1 game, improving to 2-2 overall and 1-1 in region play.
Dylan Davis intercepted a pass on the final series with Red Level at midfield with 30 seconds left on a 4th-and-9 play. It was Davis' second interception of the game.
Addison Hudson rushed for 109 yards on 20 carries and Jeb Crosby rushed for 48 yards on 11 carries with touchdown runs of 13 yards and 1 yard. Hunter Hughes scored on a 21-yard run for the other score. Konner Walker added 44 yards rushing.
Samson 12, Pleasant Home 7: Francisco Laureano kicked two field goals and Braxton Brooks had a touchdown rushing as Samson held off Pleasant Home in a Class 1A, Region 1 contest.
Samson improved to 2-1 overall and 1-1 in region play.
Laureano hit on field goals of 32 and 36 yards, one in each half, and Brooks scored on a 5-yard run.
The Tigers led 9-7 at halftime.
Early County 35, Pelham 21: LaDarius Ceasar scored on a 10-yard run and a 95-yard kickoff return in the Bobcats' victory.
Jay Ealy had touchdown runs of 14 and 2 yards. Ealy also had eight tackles. Braveon George added a 33-yard TD run.
Baylen Tedder kicked through the extra points.
Get in the game with our Prep Sports Newsletter
Sent weekly directly to your inbox!