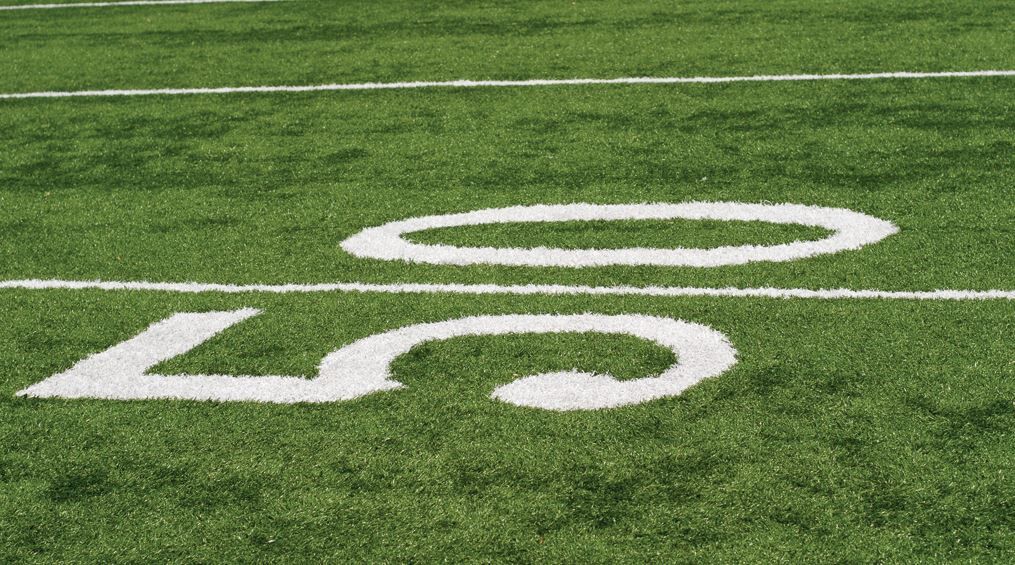 GENEVA – Damion Kemmerlin connected with Tre'von Kemmerlin on a touchdown pass on a 4th-and-15 play with 35 seconds left in the game to give Geneva a 26-21 comeback victory over Straughn in high school football on Friday night.
The Panthers were down 21-6 at halftime before rallying for the victory.
Damion Kemmerlin got the Panthers on the scoreboard with a TD run with five minutes left in the opening period. Straughn responded with a 51-yard touchdown pass and took the lead with the extra point kick in making it 7-6. Straughn then made it 14-6 following a 1-yard run and extra point kick.
The Tigers scored on the final play of the first half to lead 21-6 at the break.
Geneva got rolling early in the second half with the first Kemmerlin to Kemmerlin connection on a 39-yard touchdown pass to make it 21-12 with 7:30 left in the third.
Late in the quarter, Noah Johnson took it in from 3 yards out for a score, trimming the lead to 21-20 after a 2-point conversion before the dramatic game-winning touchdown.
Rehobeth 19, Greenville 16: Rehobeth senior quarterback Peyton Stephens scored on a 6-yard run on the game's final play, diving into the end zone at the right pylon to give the Rebels a dramatic 19-16 come from behind win over the Tigers in a Class 5A, Region 2 game in Rehobeth.
The final-play score capped a furious 69-yard drive in the final 1:06 and helped Rehobeth (3-3, 1-3) rally from 16-7 down with two scores in the final two minutes. Mason Rivers scored on a short run with 2:06 left.
Rehobeth tried an onsides kick, but Greenville recovered. However, the Rebels stopped the Tigers three and out and forced a punt.
Starting at its own 31, Rehobeth pulled out the hook-and-ladder play on the first snap with Stephens throwing to Rivers, who caught the pass at the 38-yard line and flipped back to Brandon Austin, who took it down the Rebel sideline to the Greenville 36 before being tackled.
A long pass play to Rivers got inside the 15. After a spike, a short complete pass and a roughing the passer on Greenville, Rehobeth had the ball at the 6 with 7.6 seconds left.
With the ball on the left hash mark, Stephens rolled out to his right and sprinted to the plyon for the game-winning score, diving in as a couple of Tiger defenders hit him.
Rehobeth's first score in the game came on a 6-yad pass from Austin to Kase Kessler.
Austin led the Rebel running game with 89 yards on 18 carries and Rivers had 51 on six carries with the TD. Stephens completed 9-of-21 for 136 yards and rushed for 19 yards on six carries, including the game-winning score.
Defensively, Dustin Roberts had 12 tackles, Kellen Smith nine tackles and an interception and Trychon McHellon had 11 tackles with one quarterback sack.
Elba 50, Geneva County 22: Jacquez Prince ran for three touchdowns and threw for another as the Tigers got the victory.
Prince rushed the ball 14 times for 152 yards – scoring on runs of 25, 18 and 21 yards.
He threw a 19-yard touchdown pass to Chrystyile Caldwell.
Collin Harrison scored on runs of 28, 1 and 14 yards for Elba, which led 34-22 at the half.
For Geneva County, KenLi Preyer ran for 76 yards on six tries and had a 74-yard touchdown run.
Will Birdsong was 7-of-15 passing, which included an 86-yard TD throw to Colby Fuller, who caught four passes for 172 yards in the game. Chico Cotton had a 6-yard scoring run.
Geneva County star running back Emmanuel Henderson did not play in the game while nursing an injury.
Omari Holmes had eight tackles for the Bulldogs, while Sam Parker and Grayson Bell each had seven.
Opp 34 Providence Christian 12: Opp quarterback Hal Smithart ran for two scores and passed for two in a region win over Providence.
After Grant Weatherford scored on an 8-yard run late in the first quarter, Opp scored the next 27 points.
Smithart hit Lane Ballard for a 23-yard touchdown pass and Peyton Ellis scored from 3 yards out in the last minute of the first half to make it 14-6.
Smithart scored on 6-yard run late in the third quarter and connected with Ellis on a 25-yard reception early in the fourth to make it 27-6.
Gus Goldsborough scored on a 1-yard run for Providence to make it 27-12 with 6:10 left in the fourth. Smithart scored with 18 seconds left on a 1-yard run for the final margin.
Smithart was 27-of-41 passing for 367 yards. Ballard caught 10 passes for 189 yards and Jackson Pierce caught nine for 65.
Brady Lester had nine tackles for Opp, while Kevin Parreria had eight. Brady James had six tackles and blocked two PATs. Cole Jennings had six tackles and a fumble recovery.
Slocomb 55, New Brockton 21: Jaylen Nobles rushed for 133 yards on seven carries and scored three touchdowns for the RedTops.
Nobles scored on runs of 10, 55 and 30 yards.
Rashawn Miller also had a big night rushing with 118 yards on eight carries with TD runs of 26, 42 and 11 yards.
Braylon Miller scored on an 8-yard run. Caulin Thomas scored on a 67-yard run.
Braylon Miller had seven tackles and Rashawn Miller had two sacks. Zachary Beshears had one sack.
For New Brockton (1-4, 1-3), Kaden Cupp threw for 127 yards and two touchdowns and rushed for 51 yards and a 25-yard touchdown on 20 carries.
Both of Cupp's touchdown passes were to Brandon Johnson, covering 4 and 68 yards. Johnson caught four passes for 88 yards in the game.
Defensively, Karyus McNabb, John Clay Reynolds, Trawick Boland and Michael Siniard had five tackles each. Colton Marsh had four tackles and a forced fumble and Jack Royce had four stopes and a fumble recovery.
G.W. Long 56, Zion Chapel 0: G.W. Long, ranked No. 5 in Class 2A, raced out to a 44-0 lead by halftime in improving to 5-0.
Quarterback Kobie Stringer threw touchdown passes of 16 yards to Hunter Whitehead, 12 yards to Trevor Morris and 14 yards to Dalton Caraway.
Stringer also had a 48-yard punt return for a score.
Trey Patton had a 21-yard interception return for a touchdown.
Morris scored on a 46-yard run and Grant Horne scored on a 3-yard run.
Defensively, Jaeden Jackson, Mekhian Jackson and Whitehead each had five tackles.
Eufaula 44, Valley 13: Hess Horne threw for 276 yards and four touchdowns to lead Eufaula over Valley in a Class 6A, Region 2 game.
Eufaula improved to 5-2 overall and 2-2 in region play.
Ethan Black caught five passes for 150 yards and one TD for the Tigers. Rodarius Thomas threw a TD pass and caught one and Jay Townsend also had a TD reception.
Wicksburg 52, Daleville 6: Jaylen Murry had 124 yards rushing and three touchdowns in the Panthers' victory.
Jackson Glover was 7-of-12 passing for 163 yards and a touchdown to Clay Morrison. Glover also ran for a touchdown.
LaPatrick Murry had 89 yards in catches and Morrison had 47.
Zeke Kelley had a touchdown run.
Defensively, Eli Williams returned an interception 56 yards for a touchdown.
Mike Albertson had eight tackles, while Holden Wade and Justin Wilbanks each had five.
Dale County 14, Bullock County 12: Tra Marshall had 138 yards rushing and a 9-yard touchdown run for the Warriors.
Ethan Teal scored on a 3-yard run with six minutes left in the game to give Dale County the lead. He had 54 yards rushing on 11 attempts.
Christian Ross blocked a punt at the 20-yard line that set up the go-ahead score.
Northside Methodist 49, Cottondale 42: Cason Eubanks completed a 30-yard touchdown pass to Aiden Rayne with seven minutes left to put NMA in front, the Knights added a two-point conversion and Jayden Porter sealed the win with a late interception.
Eubanks had a big night, completing 14-of-17 passes for 330 yards and six touchdowns. Kennard Miller had six catches for 137 yards and two scores and Tyler Smalls had 112 yards in receptions with three scores. Tyler Grantham earned 129 yards rushing and a TD.
In the second half, Northside scored on a 65-yard hook-and-ladder play from Eubanks to Miller to Smalls and on a 45-yard Eubanks to Miller to TD pass.
In the first half, Eubanks threw TD passes of 45 to Smalls and 35 to Miller and Grantham had a 12-yard TD run.
Defensively, Carter Stevens had 11 tackles and Miller and Porter five each with an interception each.
Montgmery Catholic 13, Pike County 12: Pike County led Class 3A No. 9 Montgomery Catholic 12-6 in the fourth quarter, but the Knights scored on a touchdown pass with 7:24 left and held off a last-minute Bulldog drive to take a 13-12 win in Brundidge.
Pike County (2-3, 2-2 in 3A, Region 4) seized the lead with 1:48 left in the third quarter on an Horando Wheeler 5-yard TD run.
However, the Knights (5-2, 4-0) scored on a 35-yard Caleb McCreary touchdown pass to Dechion Carter to ease ahead 13-12 with 7:24.
Pike County moved to the Catholic 21 before turning the ball over on downs with 34 seconds left.
Zakevin Pennington rushed for 204 yards on 32 carries, highlighted by a 93-yard touchdown run in the first quarter.
Pike Road 50, Charles Henderson 0: The Trojans fell on the road at Class 5A No. 7 Pike Road, dropping to 0-5 on the season and 0-3 in 5A, Region 2 play.
Andalusia 42, Headland 0: The Rams trailed just 14-0 at halftime, but the host Bulldogs pulled away in the second half to earn a 42-0 win in a Class 5A, Region 2 game.
Headland fell to 1-6 overall and 0-3 in region play with the setback. Andalusia improved to 4-3 and 3-1.
Alabama Christian 49, Ashford 14: Antwuan Brooks scored on a 13-yard run and Emanuel Pittman had a 75-yard kickoff return for a touchdown for Ashford, which fell to 1-5 overall and 0-4 in Class 4A, Region 2.
ACA improved to 5-1 overall, 4-0 in region.
Brantley 50, Samson 0: Samson fell behind 30-0 in the first quarter to Class 1A No. 1 Brantley on way to a 50-0 loss to the Bulldogs.
The Tigers fell to 3-3 overall and 1-3 in Class 1A, Region 2.
Florala 50, Kinston 7: Addison Hudson scored on an 8-yard run with two minutes left in the first quarter to help Kinston pull within 12-7, but it was all Wildcats after that.
Florala, ranked No. 9 in Class 1A, led 26-6 at halftime and cruised to the win to stay unbeaten at 6-0 overall and 4-0 in Class 1A, Region 1.
Kinston fell to 2-4 and 1-3.
Abbeville Christian 33, Banks Academy 0: Ryan Ledford threw three touchdown passes for the Generals.
Ledford connected with Daniel Blalock on a 65-yard TD, Dre Cobb on a 23-yard TD and Jackson Blalock on a 26-yard score.
Ledford was 6-of-11 passing for 149 yards.
Brandon Early, who scored on a 14-yard run, rushed the ball 11 times for 100 yards.
Jackson Blalock scored on a 3-yard run and also ran in the 2-point conversion. He also had three catches for 56 yards.
Edgewood 42, Lakeside 16: Darion Smith scored on a 65-yard run and Willis Jackson on a 4-yard run for Lakeside.
Pike Liberal 34, Tuscaloosa Academy 7: After getting in an early hole, the Patriots dominated.
Down 7-3, Mayes White threw a long touchdown pass to Jay Taylor. Scott Taylor Renfroe converted the PAT to make it 10-7 with 5:40 to go in the first half.
The Patriots scored on 5-play, 92-yard drive as Kam Bakers carried it in from the 2. Renfroe's PAT with 2:39 to go in the first half made it 17-7. Kam Baker capped off a 70-yard drive and the Patriots led 23-7 with 9:03 to go in the third quarter.
Dadeville 53, Goshen 0: Goshen was held to just 23 yards of total offense and two first downs in the game, while Dadeville piled up 342 yards.
Will Snyder had six tackles and Hunter Shaver five for Goshen.
Early County 21, Westover 20: The Bobcats held on for the victory to improve to 3-0.
Down 7-0, Jay Ealey punched it in from 1 yard out to get the Bobcats on the scoreboard. Baylen Tedder's PAT tied it up with 4:49 left in the half.
Emery Burden got an interception for the Bobcats and Ealey turned it into a 2-yard touchdown run. Tedder's PAT made it 14-7 with 23.9 seconds in the first half.
Westover tied it at 14-14 midway through the third quarter.
Landon White connected with Ryan Foster on a 34-yard TD and Tedder kicked through the PAT to make it 21-7 with 4:17 left in the third quarter before Westover battled back.
Get in the game with our Prep Sports Newsletter
Sent weekly directly to your inbox!