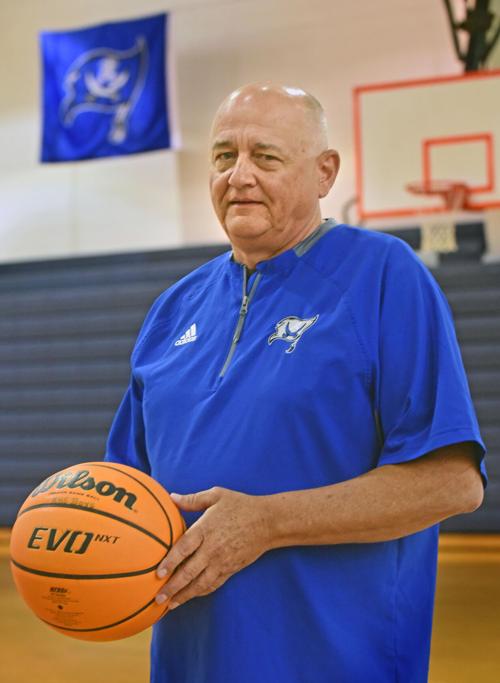 Sitting at his desk in the corner of the Rehobeth High School gym Wednesday afternoon, Larry Easterwood glances up at the wall to the right where hanging are framed photos of each of his 22 boys basketball teams at the school.
The veteran coach quietly recalls a story or fact about a particular team or a player or a game involving one of the teams.
After 22 seasons of guiding the Rebels, Easterwood is retiring from his role as head basketball coach, athletic director and physical education teacher at the southwest Houston County school to accept a contract part-time job in the newly created position of county wide athletic director. The position was created by new superintendent Brandy White and was recently approved by the county school board.
"I don't have all of the responsibilities yet, but mainly I will oversee the athletic programs at the five county high schools, dealing with eligibility," said Easterwood, who begins his new role July 1. "We are now doing the non-resident transfers (for next year in the county) and I will have to make sure those are done like that are supposed to be done. I will also try to help each AD (athletic director) at each school keep everything running."
While he is leaving the basketball court, he is not completely stepping away from athletics, which was a priority to Easterwood.
"I have been looking for something that could keep me involved in athletics," Easterwood said. "I have always loved it. This came along at an excellent time. I am grateful to Mr. White and the board for giving me this opportunity because I don't know if I could go cold turkey without ball games."
Easterwood has been a fixture at Rehobeth since the 1999-2000 academic year. The Rebels had a 250-369 record under his guidance with eight teams earning a winning record, topped by a pair of 20-win teams.
He earned Dothan Eagle Coach of the Year honors in both 2002-03 and in 2010-11. He served as the school's athletic director since 2006-07, the same year the school moved up from Class 4A to its current classification in 5A.
But the wins and losses don't reflect the true value Easterwood had on Rehobeth as a school and athletic program.
"I couldn't ask for anybody better," current Rehobeth principal Mike Linder, who also been a part of the school for 22 years and was the school's junior high school basketball coach when the two came to the program in 1999-2000.
"We worked well together. Easterwood is a perfectionist and you never had to worry about paperwork or the gym being clean. Everything was in order. You never had to follow up behind him because you knew it was going to be done right. He made it easy on a principal."
Linder said Easterwood played a lot of roles to help Rehobeth and always handled the role with a "perfectionist" approach.
"He was an organizer," Linder said. "If you gave him a job to do not dealing with athletics or anything else, it would be done and it would be done to perfection.
"If you needed a role for him to take, he would ask, 'What kind?' You would go to him for everything and everybody does go to him. Often he would do it better than you would be able to do it yourself."
The gym, almost a second home to Easterwood, was built like the rest of the current campus in 2003-04 and was a source of pride to the Rebel coach.
"I didn't build it, but I have cleaned it many a times," Easterwood said jokingly, but also showing his commitment to having the gym looking good and professional at all times.
Linder said that commitment to the 18-year-old gym was often noticed by others, a credit to Easterwood's pride.
"We get comments all the time that the gym looks exactly the way it did when we moved into the school," Linder said. "He has kept it that neat."
Easterwood had a highly-successful tenure as Dothan junior varsity boys basketball coach prior to going to Rehobeth, amassing a 109-39 record with the JV Tigers. He taught biology and coached for 10 years at Dothan High, assisting Wiregrass Sports Hall of Fame coach Jim Golden with the boys basketball program for nine of those years. He helped Eddie Barnes, another Wiregrass Sports Hall of Fame member, at Wallace College as an assistant for one season during the stretch.
While he didn't win liked he wanted to with the Rebels overall, Easterwood said it was honor to work at Rehobeth.
"It has been a privilege to work here," Easterwood said. "I have had support from the administration, the teachers, the support staff, bus drivers. This is an excellent place to work at and be the basketball coach. We didn't win like I wanted us to, but I never had anybody here say anything negative about what I did or the way we did it. Not many places can say that."
He added he especially enjoyed spending time with the athletes he coached and called those moments special.
"Each team is unique, even the ones where the record wasn't real good," Easterwood said. "I had some good people I worked with and we tried to make it an experience they would remember and enjoy."
Easterwood said there were plenty of highlights in his career at Rehobeth, including beating Northview in the annual Dothan Progress Tournament during his first year, winning the area and reaching the regional tournament in 2004-05 and winning 22 games, including 13 in a row, during the 2010-11 season.