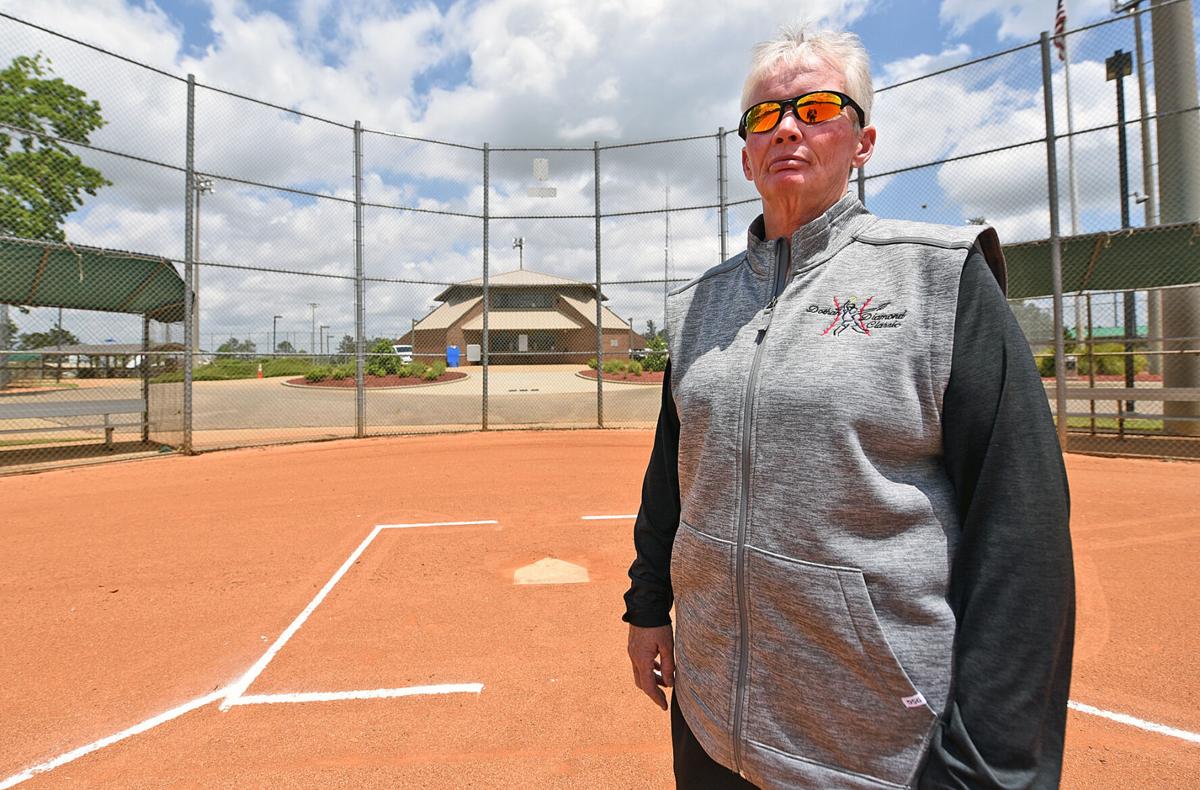 The football sits on a bookcase in the Westgate Softball Complex office of Rhonda Kirk, serving as a visual reminder of the last time she officiated a game.
The date was November 19, 2010 and the football game in Mobile pitted Stanhope Elmore against Davidson in the third round of the Class 6A playoffs.
Eleven seasons after calling that contest, Kirk received some huge news Monday night of being inducted into the Alabama Sports Officials Foundation hall of fame. An induction ceremony for 14 honorees in what will encompass the third hall of fame class of the organization is planned for August in Oxford.
"I'm embarrassed to say that I can't remember the gentleman's name that called me, because I was so shocked," Kirk said of being selected. "He just said that he wanted to welcome me to the hall of fame and that the committee had voted to put me into it. I was just really overwhelmed with the whole thing."
Kirk, the current supervisor at the Westgate Softball Complex, officiated football, basketball and softball for 13 years.
When the final whistle was blown in that 2010 playoff football game, Kirk approached Davidson coach Fred Riley to compliment him on how well-mannered his players were. She also informed him that she had called her last game.
"I told him I started to leave my cleats on the field because it was my last game, but I didn't want anybody to have to pick them up," Kirk said. "He thought that was kind of funny. He actually sent me that football about a week after the game. He had his coaches sign it."
Kirk would have further interactions with the coach in the years to follow.
"He's done a couple of officials conferences for Alabama high schools, and in those conferences, he's made mention – and I don't mean this to sound arrogant – that officials should have the same passion for football that I had," Kirk said. "In his words, I was in it for the kids and the kids alone.
"That means the world to me that somebody recognizes that you're in it for the kids, because if you're not in it for the kids, you should be doing something else."
Kirk was a four-sport athlete during her playing days at Stevenson High School in north Alabama – competing in basketball, softball, volleyball and track. After graduating from Jacksonville State, Kirk moved to Dothan and eventually took a job with the Dothan Department of Leisure Services.
Kirk decided to get involved in officiating after reading a newspaper ad.
"To be honest, I had been in Dothan a while and I was looking for something to do," Kirk said. "I picked up the Dothan Eagle and there was an ad in there for ASA softball officials.
"I came out and officiated slow-pitch (softball). You talk to those who officiate and they tend to lead you to different sports that they're involved in. When I first went into football, it was very well received. Those guys were really skeptical because I was the first female to come into their meetings."
It didn't take long for Kirk to prove she belonged.
"I guess when the guys saw I was serious and wasn't going anywhere – I was going to camps and clinics trying to better myself – that they finally said, 'Hey, she isn't going anywhere; we might as well get used to it," Kirk said.
Kirk became one of the top officials in the area, being named district football official of the year in 2007, district softball official of the year twice and state softball official of the year once.
Football was among her favorite sports to call.
"I absolutely love football," Kirk said. "I was an umpire and I would get behind the linebackers and talk just as much trash as they did. It's just fun to me.
"A lot of folks get humbled very quickly when they come out to officiate. At that time we had five officials on the field and everybody has a location and an area that they are watching. The average fan has no idea what you're doing and what you're seeing and the communication you have with the other officials."
Kirk knew when it was time to hang up the cleats.
"Your mind and your body will tell you when it's time to quit, and it was time to quit," Kirk said. "When folks start getting on your nerves and you don't have the tolerance to put up with the mamas and daddies, it's time to go."
As Kirk reflects on her career, those who helped her succeed quickly come to mind.
"Warren Bowren from Enterprise was our football district director and he encouraged me left and right to get to where I needed to be in the camps and clinics," Kirk said. "Bill Coker was a huge influence. He really pushed me when I first got started and taught me about softball and kept encouraging me."
She's proud to see so many more females involved in officiating now.
"That makes me extremely proud, especially when they work hard at it and aren't just out there to collect a check," Kirk said. "To officiate, you've got to work hard for your kids. You've got to want to train and go to camps and clinics and just do a great job for those kids."