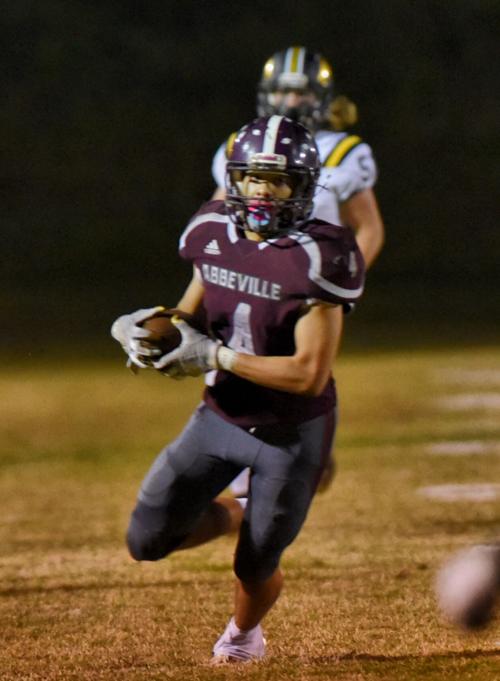 One of the first goals of the Abbeville football team was to gather and eat Thanksgiving dinner together at the high school stadium.
Oh, and with hopes the Yellow Jackets would still be alive in the playoffs.
Such has come true in what has been a magical season for LaBrian Stewart, who became the coach in July after Robin Tyra left for Ashford.
"I said if we're eating together in this stadium on Thanksgiving, we have put ourselves in a good situation to be playing for a state championship," Stewart said of the preseason talk. "They remembered that."
Abbeville is one win away from a berth in the Class 2A state championship game. The Yellow Jackets travel to perennial power Leroy on Friday night in a semifinal matchup. Both teams sport 11-1 records.
Stewart, a former head coach at Northview (2011-2016), knew about Abbeville's rich athletic history, but he's learned so much more about the community since coming aboard.
"I've been in some great places, but I have never seen a town that is so supportive from top to bottom," Stewart said. "And that helps, because the kids fight a little harder when they know people are behind them and they love them."
Stewart believes he's fortunate to have stepped into such a good situation.
"You can't take credit for genetics," Stewart said. "These are a bunch of kids that have been playing together since they were 5 years old. They've played a lot of football together and won a lot of games. The program was left in good hands."
When Stewart was hired, he didn't try to rearrange things; he simply went to work with the players.
"My first day on the job, I didn't come in with a suit and tie," Stewart said. "I came in with my athletic gear and we got out there in the weight room. That's where we met and that's where we've continued to spend a lot of time. And the staff has been great."
It didn't take long to see that the players form more than just a football team.
"We've got a bunch of kids that just love playing for each other," Stewart said. "They're like family – literally. We've got six sets of brothers.
"You've got a group of kids that care for each other. I've literally seen kids give other kids the shirts off their back. In our locker room, we don't have locks. We don't need them.
"I don't have managers, and not because they don't want to be here, but we don't need them because the kids do everything themselves."
Stewart realizes Leroy has the same kind of tight community support and players who have grown up playing the game together.
"Leroy is a good football team," Stewart said. "They have a very good quarterback (Avery Malone). He reminds me of B.J. Chitty (former Northview quarterback). He wears No. 10, he's long, they look just alike, same demeanor, rocket arm.
"And then they've got two receivers that can do it. No. 3 (Kelson Fikes) is probably one of the better running backs in the state. He's proven that in the last two years. The O-line is very gritty. They play with a lot of leverage and use their hands well."
Stewart implies the Bears' defense is just as impressive.
"Defensively, they don't give up much," Stewart said. "They swarm to the ball. The secondary is very athletic. They've got one of the quicker pass-run specialists, No. 15 (Malcolm Pugh)."
Stewart hasn't swayed from the normal routine this week. The formula has worked up to this point.
"We're doing the same routine that we would do if it was Week 1 or 51," Stewart said. "We've got a system and it's been working."
The Yellow Jackets must make more than three hour drive to Leroy on Friday afternoon.
Stewart isn't complaining.
"This game could be in Alaska," he said. "Tuscaloosa (state championship site) is a long road trip, too, but I bet a lot of people would like to be in that situation."