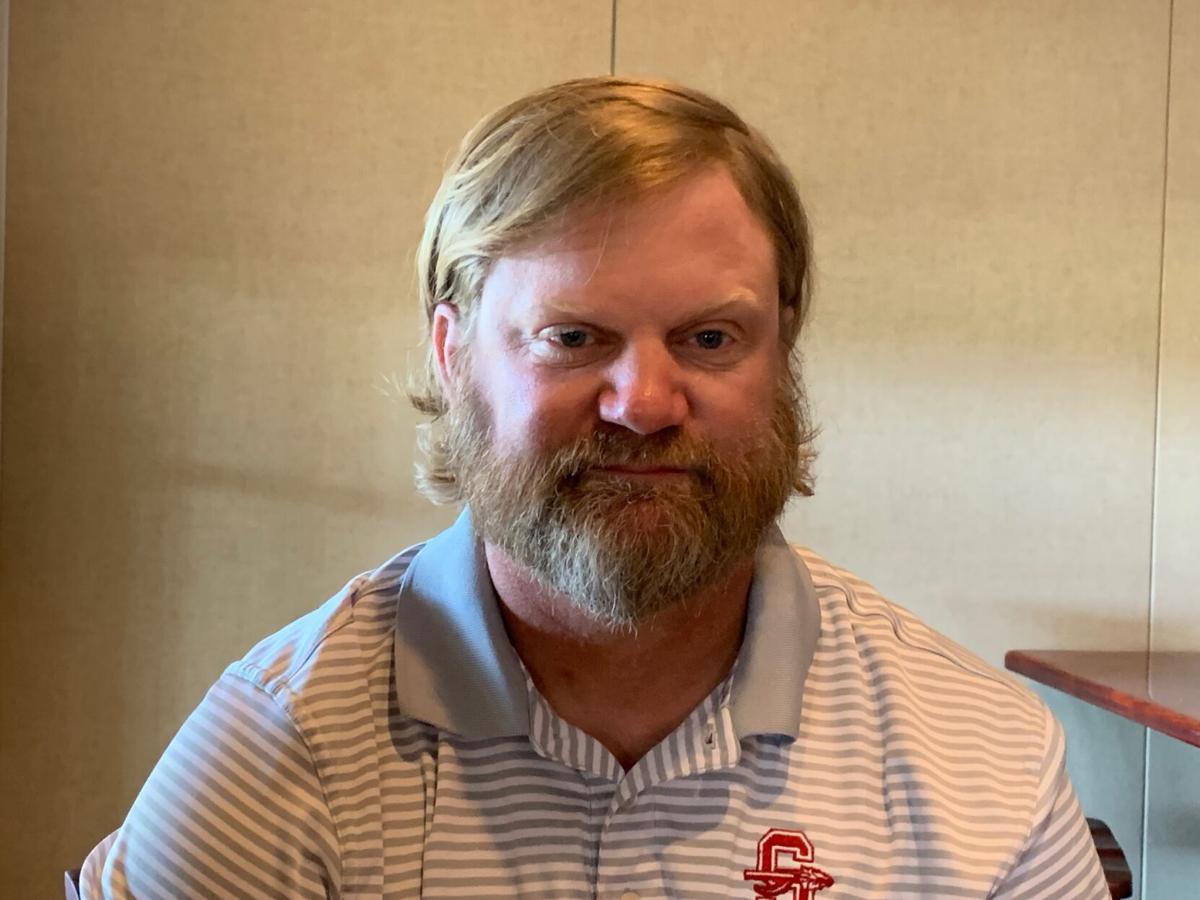 After a successful six-year tenure at Slocomb, RedTop head football coach Richard Tisdale is leaving the program because of family considerations.
Tidsale, who amassed a 36-29 record in his six years with three state playoff teams, said he was looking to stay in coaching as an assistant in the area, but has no official job yet. In addition to his football role, he will relinquish his duties as athletic director and as a physical education teacher at Slocomb.
"It is to spend more time with my boys," Tisdale said. "They are 11, 7 and 2. Being the head coach/athletic director takes a lot of time, so I am going to try and find something that is not so time involved to where I can spend more time with them. I am missing them grow up and before I know it I will blink and they will be gone (out of the house).
"There are a lot of times in the season where I leave, he (the youngest one) is asleep and when I get home, he is asleep. That's part of it (as a head coach) and that is why I am hoping to find something to where I can see him more often.
"This was one of the hardest decisions I have had to make. It was not an easy decision. It was not something that I was jumping up and down about leaving. It had to do with what is best with my family."
Tisdale's Slocomb tenure was highlighted by a 10-2 season in 2020 and an 8-4 record this past fall. Both teams reached the second round of the playoffs and both won region titles. The consecutive titles were the first back-to-back crowns for Slocomb since 1991-92.
The 2020 team set a school record for points in a season with 445 and was the first RedTop to win double-digit games since 2003.
Tisdale thanked Geneva County superintendent Becky Birdsong and former Slocomb principal Harold Birge along with his staff and the players for their roles while he was at Slocomb.
"The first thing is I am thankful for Mrs. Birdsong and Mr. Birge for taking a chance on me," Tisdale said. "It was my first head coaching job for football and they took us in like family. I thank the assistant coaches. I think we have one of the best staffs around, and I am thankful for all the players and managers. It is memories and relationships we will have the rest of our lives."
In fact, it is those memories that mean more to Tisdale than the wins and losses.
"I think about all the kids and all the things they go through – the tough home life and whatever is going on and they are sitting in your office talking about that," Tisdale said. "It trumps any football memories, just having an impact on these kids."
Though Slocomb is losing a strong senior class, including all-state player Jaylen Nobles, Tisdale feels a strong nucleus returns for next year, led by Rashawn Miller, Braylon Miller, Brody Campbell and Josh King and others. He feels the talent is there for another playoff team.
A 17-year veteran in the coaching business, Tisdale came to Slocomb in 2016 after serving as quarterbacks coach and assistant boys basketball coach at Rehobeth for three seasons.
Prior to that, he coached at G.W. Long for seven years, serving as offensive coordinator in his final three years in Skipperville. He was also the head girls basketball coach for three years and head boys basketball coach for four years at Long.
A graduate of Pleasant Home School, Tisdale began his coaching career at Daleville where he was assistant boys and girls basketball coach for the high school and an assistant coach on the middle school football team for one season (2005).
Tisdale earned an undergraduate degree from Troy in physical education and a graduate degree in administration at Auburn.
Superintendent Birdsong, when reached by the Dothan Eagle Tuesday, said the system has already begun the search for the next head coach.
"We are going ahead and posting (the job) because we know he is going and he told the team this morning," Birdsong said. "We will go through the applicants and do the interviews and hopefully, we can hire somebody in February."