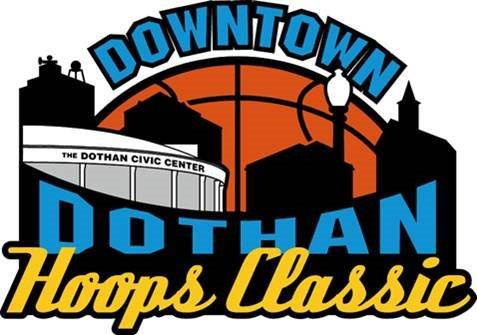 There will be a new path for basketball teams hoping to secure a spot in the Downtown Dothan Hoops Classic.
An eight-team, two-day tournament will be held in November the week of Thanksgiving for the final spot in the 16-team field of the Hoops Classic high school boys basketball tournament held annually in late December at the Dothan Civic Center.
Fifteen of the slots are already filled for the Hoops Classic, thus the 16th team will consist of the winner of what's being named the Dothan Turkey Classic, also to be held at the Dothan Civic Center the Monday and Tuesday before Thanksgiving.
"It's strictly a play-in tournament," tournament coordinator Rhonda Kirk said. "Whoever wins this eight-team, single-elimination tournament is the 16th seed into the Hoops Classic."
The Turkey Classic will begin with a four-game schedule of the participating teams on the Monday before Thanksgiving. The following day, there will be an early session for the semifinals and the two winners will advance to play again later in the day for the final slot into the Hoops Classic.
Kirk said teams wanting in the Hoops Classic have suggested such a tournament for years.
"I ran it by the committee every year when we tried to come up with something new to make it more exciting," Kirk said of the idea. "Our new (Leisure Services) director (Alison Hall) was all about it. When I brought it up, she said let's do it."
Kirk has sent out letters to a number of teams for consideration in the play-in tournament and has already received commitments from Pike County, Florala, G.W. Long and Andalusia. Teams from throughout the Wiregrass and the Florida Panhandle will be considered.
"I really figured that teams would jump on it that really wanted in the tournament, but it hasn't really been that way," Kirk said. "We're reaching out. We want folks who want to play in the tournament."
There will no money given back to the teams of the Turkey Classic, but Kirk said money raised from ticket sales will be added to the pot for the Hoops Classic.
Last year's Hoops Classic was canceled due to COVID-19. It would have been the 15th year of the event which has given back portions of $599,196 raised to participating schools in the Wiregrass over the years.
Schools interested in consideration for a spot in the Turkey Classic need to contact Kirk by email at rkirk@dothan.org.
Jon Johnson is sports editor of the Dothan Eagle and can be reached at jjohnson@dothaneagle.com or 334.712.7965. Support his work and that of other Eagle journalists by purchasing a digital subscription today at dothaneagle.com. Follow Jon Johnson on Twitter @eaglesportsed