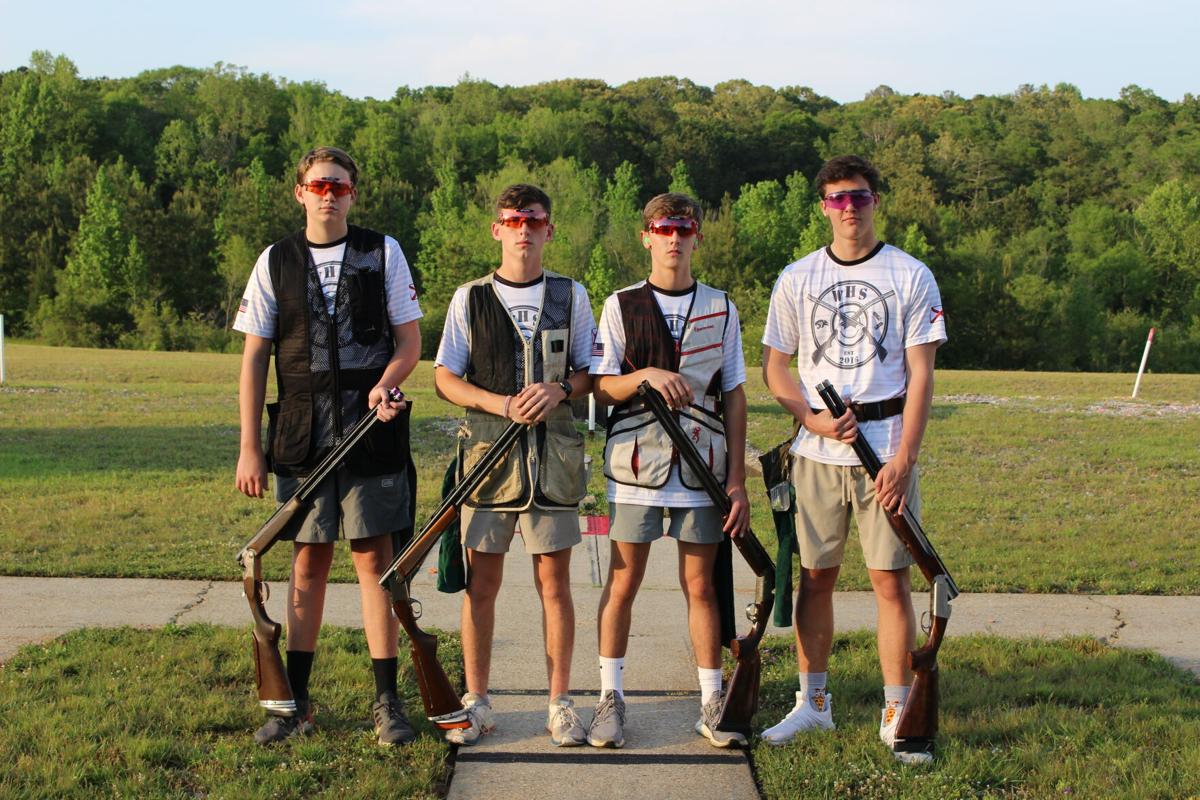 WICKSBURG – Fresh off a state championship in the senior division of the 4-H Shotgun Championship in Childersburg, the Wicksburg Skeet Team is aiming for an even higher accomplishment.
Four members of the squad have qualified to represent Alabama at the 4-H Shooting Sports National Championships in Grand Island, Neb., June 20-25.
It's been an impressive, and rather quick, journey to success for the team which formed in March of 2017 and took part in its first competition in February of 2018.
"We have friends that shoot in Florida and they hold a (state) competition and it's not the top team that goes (to nationals), they just pick the top four, which is kind of like an all-star team," Wicksburg coach Joanna Woodham explained.
"Alabama is considering doing that in the coming years, so we may be the last team that actually goes as a school team. Our top four are some of the top ones of the state, so we do have a pretty good chance this year going as a team and actually placing or winning in nationals."
Two Wicksburg seniors headed to the national competition – Dawson Williams and Trevor Woodham – have already signed scholarships to compete on college skeet shooting clubs, Williams with Jacksonville (Fla.) University and Woodham with the University of Alabama.
"It's very exciting and it's a great way to go out my senior year," Williams said of the national event. "At the beginning it was just a hobby and I had no idea I would be going to college to shoot.
"It took probably two years before I actually started winning. I had to practice every week and definitely had to stay determined. I got down every once in a while, but my teammates helped pick me back up."
Trevor Woodham hopes to leave his mark on the program with a good showing at nationals.
"It would mean a lot because it would be like leaving my legacy back here," he said. "All these younger kids joining the club can look up to my senior year and see that we won nationals and it would inspire them to do good."
Through hard work, Woodham believes his skills have increased during the course of the year.
"The only way to get better is to focus more and concentrate on where you need to shoot and how you need to shoot it, so I do feel like I've upped my mental game just a little bit," he said.
The other two Wicksburg competitors who qualified from the state competition are Hagen Seymour, a junior, and Mack Hollis, a sophomore.
Seymour is among those who have been with the program from the start.
"Trevor came to me one day at school and said, 'You should try shooting skeet, we've been doing it for a couple of months and it's really fun,'" Seymour said.
"I was like, 'OK, I'll come out there and try.' So I went out there and I instantly fell in love with it and have been shooting ever since."
He said having a supportive group of teammates has helped him improve.
"Oh yeah, 100 percent," Seymour said. "Like teammates encouraging you. If you don't know how you missed, they can tell you. They're just like, 'Come on, you know how to hit this bird, shoot it again.'"
Hollis began attending Wicksburg as an eighth grader and was looking for a sport to be involved with when he noticed the skeet shooting team.
"I had always grown up with guns and I figured it would be fun," Hollis said. "It's a team sport, but it's still more of an individual game. You're not relying on your teammates to predict your outcome."
But he does seek advice and encouragement from the others.
"Just consistent practice and accepting tips whenever you can – just asking for direction from anyone who is better than you," Hollis said of getting better.
While Joanna Woodham and her husband, Jeff, are the coaches of the Wicksburg team and the parents of Trevor, there is another coach who has also helped the team greatly in retired Army Col. Ralph Aaron.
"He is the president of the Fort Rucker Skeet Club, so when we started our team we were looking for a place to practice and he has taken all of these kids and just really worked with them and is proud to have them out there," Joanna said.
"He sees them as the future of the sport. He's making sure they know not only the sport, but the mental aspect of the sport and knowing how to compete at that level."
Williams agrees Aaron has meant a lot to the program.
"It's amazing how much he's helped us," Williams said of Aaron. "I feel like I definitely wouldn't be where I am today without him."
The team will continue to practice regularly in preparations for the national event.
"It's crazy," Seymour said of the opportunity. "I'm really nervous and just hope we do good. I know we can."
Going to the nationals will be expensive for the team, though there will be some funding from 4-H.
"We're going to figure out a way to get there," Joanna said. "4-H gives us $2,000, but out of that $2,000 they say you've got to buy your jerseys, pay your entry fees and what's left over your kids can use for room and board out there.
"Just the entry fees alone are $200 per kid, plus the hotel rooms and either an 18-hour drive or we could look at flying. They are representing the state of Alabama, so we're reaching out to whoever would like to help and support these kids to go out there and do this, because it's a pretty big deal for them to win state.
"Skeet is one of those where it's not a 2A thing or a 3A thing. They competed against 6A and 7A schools."
Anyone interested in helping with expenses can contact Wicksburg High School or the coach by email at woodham.joanna@hcboe.us.