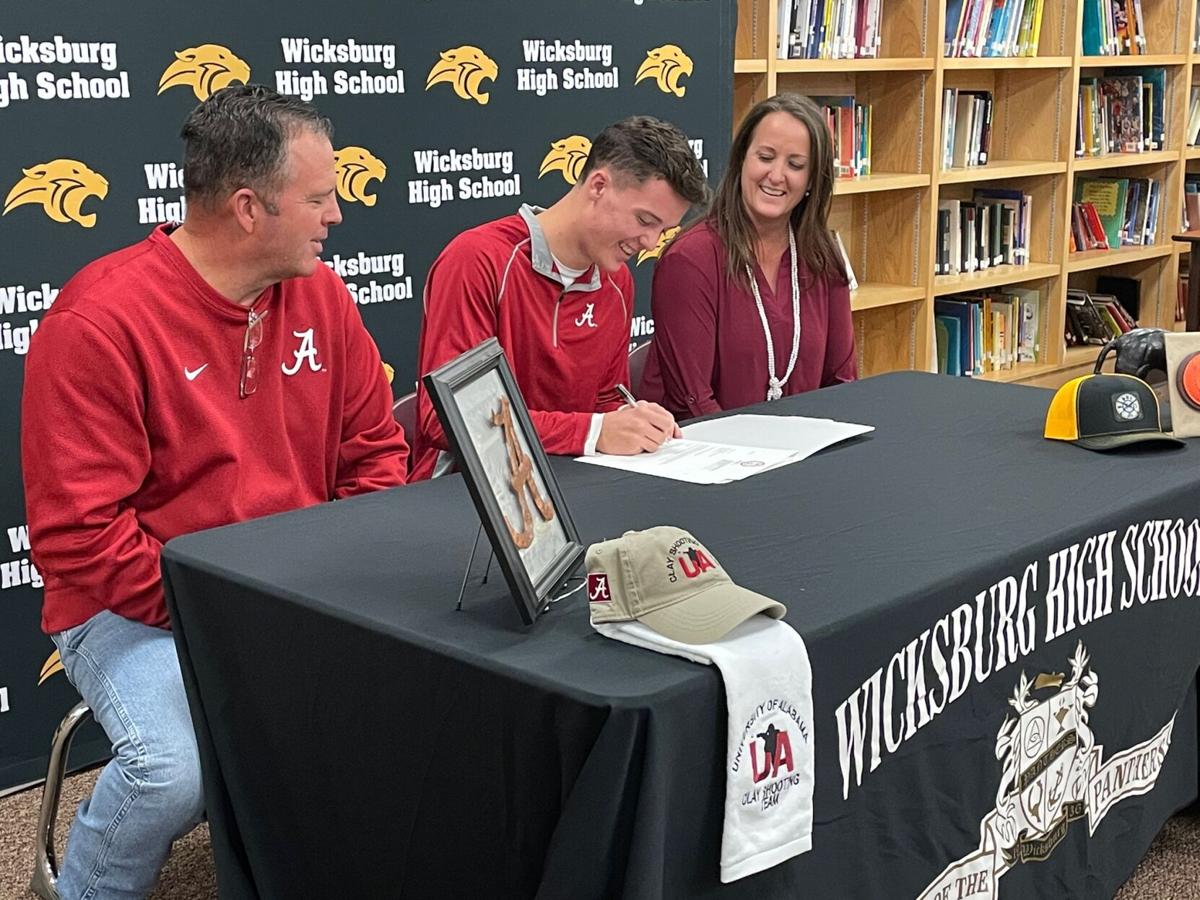 Trevor Woodham began hunting squirrels at a young age for the sport of it, but it's being able to shoot targets out of the sky that has landed him on the University of Alabama Clay Shooting Team.
Woodham, a senior at Wicksburg High School who also plays football, basketball and runs cross country, signed a letter of intent Wednesday to be part of the Alabama team, which is a club sport on campus.
"It's amazing because I never thought I would be able to play anything at Alabama," Woodham said. "Now that it's actually happening, I was like, 'I'm going do something at Alabama, which is a great school.' I'm so excited."
A trip over to Fort Rucker turned Woodham, his brother, Dustin, and father, Jeff, on to skeet shooting.
"I got into skeet shooting because one day after church we heard about a skeet range in Fort Rucker and we drove there to just see what it was about and we saw some guy shooting and it looked like a lot of fun," Woodham said.
"So we decided to try it ourselves. We started out in the backyard and just shooting clays out of the sky was a really fun time. We visited the range and it was even better then.
"It was pretty hard when I first started. I had to learn exactly what to do and where to shoot it at. After training, I've gotten a lot better."
Wicksburg started a skeet shooting club in 2017 and Jeff was asked to coach. His wife, Joanna, is a teacher at the school and serves as the official coach for the team.
"We had an interest meeting in the spring of 2017 and we started shooting in the backyard with skeet throwers right off the ground," Jeff said. "Trevor just got more excited about it. He actually saw he could hit the targets regularly and he was pretty good at it.
"So we kept pushing him to be in as many tournaments as he could be in and he's done well with that. He's won several categories in tournament. He's a class A shooter now after starting out being a class E. He worked his way up and created some interest with schools, particularly Alabama. We're all Alabama fans."
Trevor was named to the Scholastic Clay Target Program Alabama All-State team in 2018 and 2020. He helped Wicksburg win the 2019 4H Senior Skeet Team Championship and has attended numerous competitions.
"We went to the 4H state shoot in my second year I came in second place in the state," Trevor said. "At that time, I noticed I was starting to get better.
"I signed up for Alabama's skeet camp and performed really well. I've just been in contact with the coaches."
Venny Cable, one of the coaches on the Alabama team, saw the potential in Trevor.
"What we typically do is we try to have at least one, and possibly two and sometimes three invitations go out to kids from all over the country to come in and visit us as a shooting team as well as an opportunity to visit campus," Cable said. "As kids progress, we try to make a determination if we think they would be a good fit for the team. We felt Trevor would be a good fit after watching him two different times."
Cable said there hasn't been many from the state as part of Alabama's team.
"Interestingly enough, about 75 percent of our team is from out of state," Cable said. "It's primarily because Alabama hasn't done as good of a job as other states in promoting the shooting sports.
"There are pockets like down here (south Alabama) and up in north Alabama where there are some significant shooting programs with a lot of participation."
Trevor says the sport can be as much mental as physical.
"In the beginning, you have to get down all of the shots and get everything right," Trevor said. "From there, it's just a mental game.
"You have to concentrate the whole time and know exactly what you're doing, because if you mess up once, it's pretty much over. So you have to concentrate and hit every single shot."
Jeff Woodham is proud to see how his son has progressed.
"He was used to shooting as soon as we were able to get him old enough to hold a gun," Jeff said. "We started out shooting skeet with field guns – not skeet guns – and I saw the interest that he had in it and we updated a little bit.
"He has a lot of confidence when he shoots. He has a lot of mental discipline – all that it takes to hit 99 or 98 out of 100 on a regular basis."