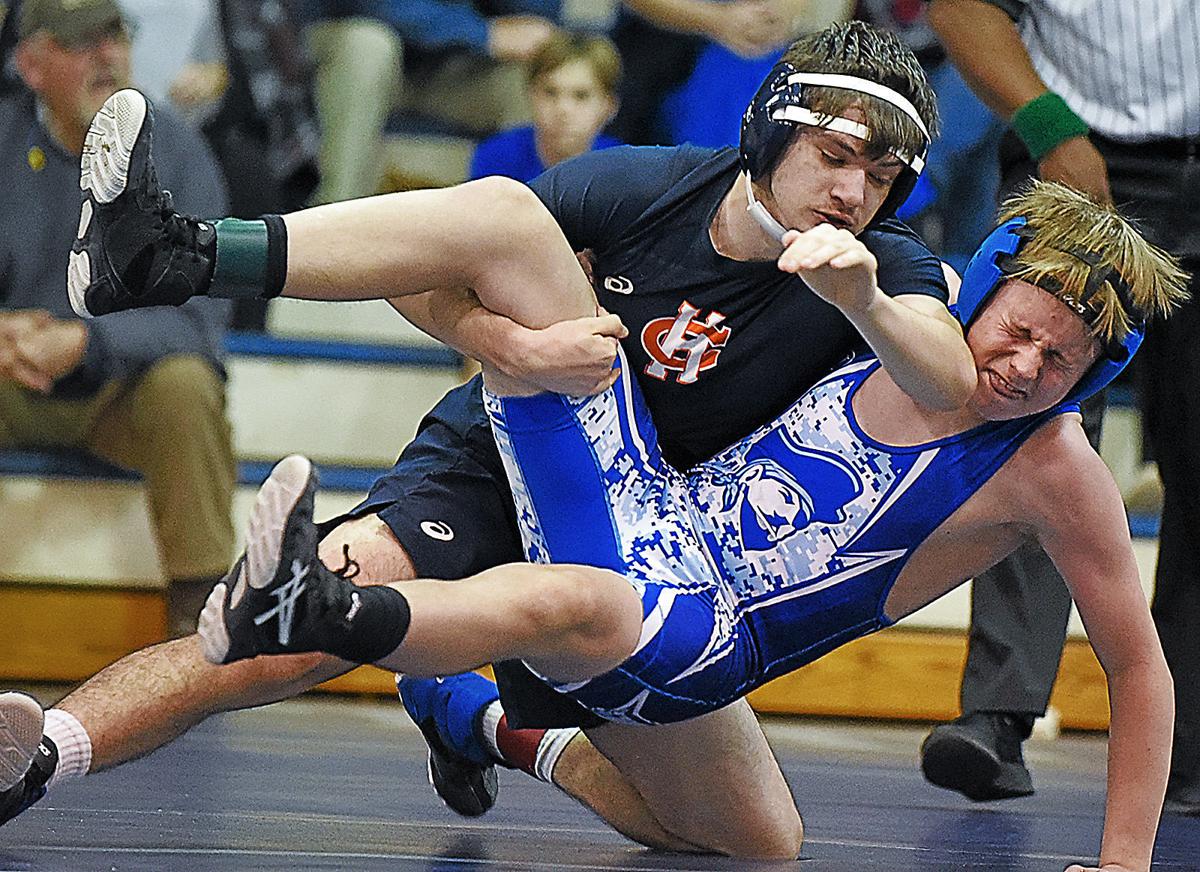 Charles Henderson assistant coach Tim Lewis sees the Trojan wrestling team hitting its stride at the right time, with the postseason less than two weeks away.
The Trojans won a pair of dual matches at Houston Academy's Killingsworth Gym Thursday, beating the host Raiders 52-24 and Dothan 50-24.
Dothan defeated Houston Academy 48-24 to finish the tri-match.
All three teams have a couple of dual matches next week and are gearing up for sectionals Feb. 7-8.
"We have improved tremendously," Lewis said. "John Hatler is doing real well, coming out of his shell. The same with Tyler Cooper. Those two wrestlers are key in our performance. Sam Knox did a good job with a tech fall over a kid that beat him earlier in the season.
"Throughout the team we are showing improvement everywhere, even the younger guys in middle school. They are learning and are getting better and that is why we are starting to win."
Both Houston Academy and Dothan coaches were also pleased with their kids' effort during the tri-meet. HA had only seven kids wrestling, while Dothan had just 10 available wrestlers.
"I thought the kids we had fought hard and got after it," Dr. Scott Phillipps, one of HA's coaches. "One of the things that is a problem for all these Wiregrass programs because we have so few programs around here is we are all wrestling each other all the time and the kids all know each other.
"They know their tendencies. It is tough to beat the same guy two matches or three matches in a row.
"Most of our kids are junior high. You will expect them to take some lumps. They are physically young and inexperienced, but they are all fighting. I didn't see anybody giving up."
Dothan head coach Joe Loudon said of his team, "I thought we could have done a little better against Charles Henderson in a couple of matches, but overall the aggressiveness is picking up. We are starting to take more shots and have better movement."
In the opening dual match, Charles Henderson defeated Houston Academy behind seven forfeits.
Four individual matches were contested with the teams splitting those.
Following a forfeit to Charles Henderson's Allen Brooks at 285, Houston Academy's Trip Rane overcame an 8-2 deficit to pin the Trojans' Sawyer Gross in the 106-pound weight class with 54 seconds left in the third period.
"Trip Rane in his first match was out-strengthed and the kid was older," Phillipps said. "He was losing that match, but he kept fighting and fighting and pinned that kid in the third period.
"You can't coach heart and that is a great example for anybody in any sport to see a seventh grader fighting all through his match and wear his opponent down and beat him. That was exceptional."
After Charles Henderson's Brayden Dowling received a forfeit at 113, Trojan freshman Tyler Cooper pulled away from HA's Kennan Beaver for a 13-3 victory at 120 pounds, avenging a 10-4 loss from Tuesday night.
After opening up a 2-1 lead in the first period, Cooper earned a takedown and a three-point near fall in the second period to go up 7-1 and finished strong in the third period with a reverse and three-point nearfall for the 13-3 win.
Houston Academy's Lucius Renshaw (126) and Jack Jones (132) received forfeits before the Raiders' Peyton Sanders earned a pin at 138 with 1:02 left in the first period over Nick Slobochikoff.
In the final contested match of the dual, Charles Henderson's Jack Hatler pinned Jay Morris with 28 seconds left in the first period.
The rest of the match featured forfeits to Charles Henderson with exception of a double forfeit at 160. Receiving the forfeits for CHHS were Jackson West (152), Todrick Burkes (170), Dorian Shipman (182), Donquavious Adair (191) and Braxton Brown (220).
After the dual, 75 pounders Kyle Leverette of Charles Henderson and John McDonald of HA had an exhibition match with Leverette winning 9-1.
The Charles Henderson-Dothan dual was highlighted by an overtime match at 152 between Charles Henderson's West and Dothan's Charles Fields. The two finished tied at 10-10 after regulation and went to sudden death overtime.
With 35 seconds left in the one-minute period, West went low for a double leg takedown. Coleman sprawled, but West kept driving through and eventually worked for a takedown to win the match 12-10.
After Charles Henderson's Nowling received a forfeit at 106 to start the dual, Dothan's Seth Torres pinned the Trojans' Gross with 41 seconds left in the first at 113. Cooper matched it for Charles Henderson with a pin with 1:11 left in the first over Blackwell.
Dothan's Jay Buntin (126) and Destiny Richberg (132) received forfeits as did Slobochikoff (138) for CHHS.
Charles Henderson's Hatler earned a pin in the 145 match with 19 seconds left in the second period over Josh Coleman after building an 11-2 lead.
Following West's dramatic overtime win over Fields at 152, there was a double forfeit at 160 before Dothan's Donald Glenn pinned Burkes with 43 seconds left in the first period at 171.
Charles Henderson won the final four matches. Shipmon received a forfeit at 182, Adair pinned Dothan's Kira Lunsford 24 seconds in at 195, Damien Hart pinned Brandon Mitchell 16 seconds into the 220 match and Knox earned a 15-0 tech fall victory over Reggie Myhand at 285.
The Dothan-HA dual concluded the night. Ten of the 14 weight classes were forfeits or double forfeits, resulting in just four individual matches. The teams split those four matches.
For HA, Beaver pinned Aiden Blackwell at 120 with 1:25 to go in the first period and Jack Jones pinned Richburg with 1:39 to go in the first at 132.
Dothan's Buntin got a battle from HA's Renshaw for a while at 126, but pinned him with 7.6 seconds left in the second period.
In the best match of the dual, Coleman pinned the Raiders' Sanders at 145 pounds with 40.4 seconds left after the HA wrestler had a 5-4 lead.
"Coleman had a really good match, coming back from a shoulder pull and being aggressive there at the end to get that reversal and pin," Loudon said.
Receiving forfeits for Dothan were Torres (113), Fields (152), Glenn (160), Lunsford (195), Mitchell (220) and Myhand (285). Rane (106) and Morris (138) received forfeits for HA, while 170 and 182 were double forfeits.
There were three exhibition matches following the dual. Dothan's Torres defeated Rane on a pin with 36.6 seconds left in the third period, Blackwell earned a 9-4 win over Mason Crowder and Buntin pinned HA's Andrew Gil with 8.2 seconds left in the opening period.
David is sports writer for Dothan Eagle.
Be the first to know
Get local news delivered to your inbox!