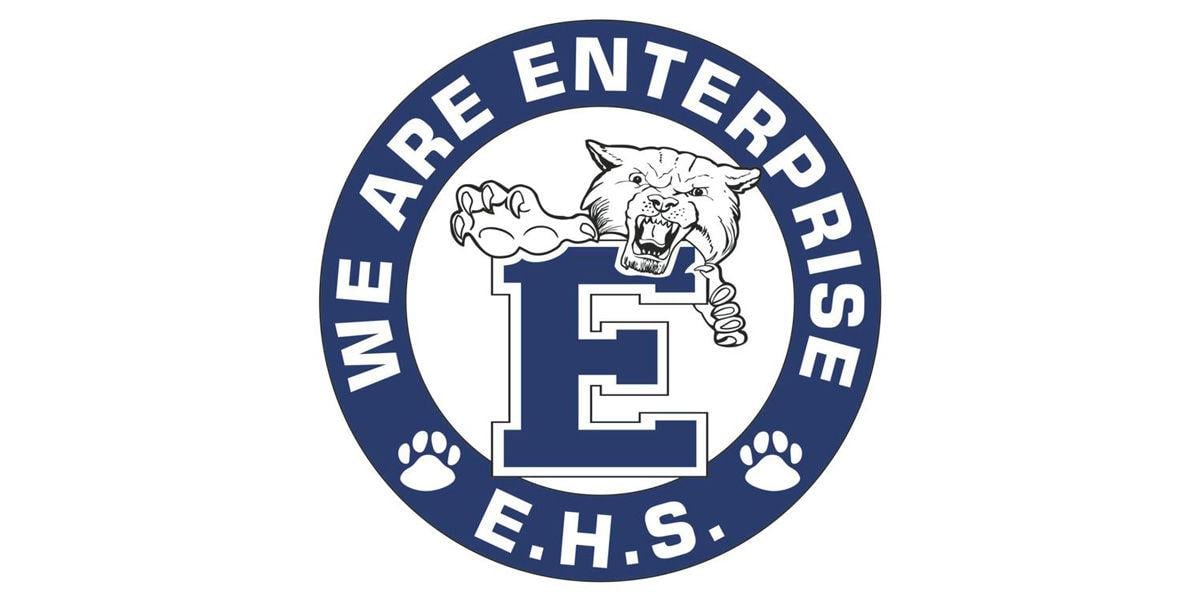 Enterprise and Houston Academy cross country runners get to experience the state's biggest meet and one of the Southeast's top running races this Saturday.
The two teams run at the prestigious Jesse Owens Classic in Oakville, an event that attracts hundreds of high school teams from Alabama, Georgia, Florida, Mississippi and Tennessee. More than 2,000 runners compete this year in five girls and five boys varsity divisions and a junior high division for both genders.
The event, held at the Oakville Mounds Park, allows runners to run on the course of the AHSAA State Championships since 2002 and the same site for next month's championships.
Enterprise has 13 girls and 12 boys in two different divisions, while Houston Academy has 11 boys and four girls at the meet.
The Wildcat boys have six runners in the Gold Division, considered the championship race of the best of the best. The race is at 10:40 a.m.
Representing EHS in that division are Tyler Rathburn, Henry Templin, Ben de Hoyas, Brett Tessay, William Kim and Rajon Dahale. There are 245 entries in the division.
Enterprise has seven in the girls Gold Division, which features 215 entries and is set for 9:35 a.m. The Wildcat runners are Mirna Thompson, Kayleigh Riordan, Natalie Warner, Sarah Winekoff, Alaura de Hoyas, Amadeua Thompson and Lauren Rodgers.
Enterprise also has runners in the boys Silver Division and girls Red Division. The Silver Division is for Alabama Class 6A-7A teams and out-of-state schools with an enrollment of 605 or more in grades 10-12. The Red Division is for runners not registered in a team's top seven in Silver or Gold.
Enterprise boys runners in the Silver Division are Jacob Tillery, Bowden Michael, Conner Allen, Cadis Ammons, Daniel Barbaran-Sun and Kristyan deJesus. The Silver Division has 308 entries.
The Wildcat girls Red Division runners are Samantha Segura, Madisen James, Emma McCrea, Evelyn Holmes-Smith, Stella Retherford and Talia de Hoyas. The division runs at 11:15 a.m. and has 314 entries.
Houston Academy boys and girls both run in the Green Division, which is for AHSAA Class 1A-3A teams and out-of-state teams with an enrollment of 296 or less.
Running for the HA boys are Gunnar Smith, Alex Middleton, Logan Bolton, JC Peacock, Sam Middleton, Alex Converse, Alex Nolin, Zeid Yunis, Willis McRae, Nate Selig and Paul Converse. The HA girls runners are Emma Morales, Lily Jenne, Lillie Pruitt and Holley Hart.
The Green Division boys race is at 9:20 a.m. and the girls will run at 8:15 a.m., the day's first race of 12.
Bobcat Invitational 2 set: The season's second Bobcat Invitational is set for today in Opp with 10 teams registered for the 5 p.m. race.
Teams registered are Dothan, Opp, Wicksburg, Goshen, New Brockton, Zion Chapel, Florala, Kinston, Pleasant Home and Red Level.
HA's Hart shines: Houston Academy's Holley Hart earned the school's second-best time in girls cross country history Saturday at the Battle of the Bay meet in Loxley.
Hart finished in sixth place in the girls Class 1A-4A division. She finished the 5,000-meter run in 22 minutes and 9.47 seconds, less than six seconds off the Houston Academy record of 22:03.70 by Sydney Jeffcoat at the 2013 state championships.
Also running for the HA girls were Lily Jenne (29:06.72, 44th place) and Emma Morales (29:07.54, 45th).
HA's Smith finishes fifth: Houston Academy's Gunnar Smith finished fifth in the boys Class 1A-4A division of Saturday's Battle of the Bay in Loxley. Smith had a17:47.67 time.
The Raiders had five others in the top 40 of the 101-runner field, helping the team take third out of 10 teams with 96 points. UMS-Wright won the division with 33 points and St. Michael Catholic second with 52 points.
Finishing behind Smith for HA was Alex Converse in 18th place with a sub-19 minute time of 18:44.14. JC Peacock (19.06.00) finished 21st, followed by Logan Bolton (19:38.56) in 33rd, Zeid Yunis (19:43.09) in 34th and Alex Nolin (20:03.52) in 40th.
Sam Middleton (20:44.27) finished 54th, Paul Converse (21:02.20) 57th, Alex Middleton (22:04.74) 74th and Willis McRae (22:10.04) 76th.
Enterprise's Rathburn earns seventh: Enterprise's Tyler Rathburn earned seventh place at the Oak Mountain Invitational on Saturday and the Wildcats finished fourth as a team.
Rathburn finished in 17:34.37 with teammate Brett Tessay not far behind in 17:46.52 in 13th place. Henry Templin (18:05.82) finished 23rd, Rajon Dahale (18:52.90) 41st, William Kim (18:54.84) 43rd and Ben de Hoyas (19:01.84) 46th among the 212 runners.
Jacob Tillery (19:35.69, 61st), Conner Allen (20:06.78, 77th), Cadis Ammons (20:20.48, 86th) and Bowden Michael (20:20.65, 87th) also finished in the top 41 percent of the field.
The Wildcats also had runners in the meet's boys B division and Daniel Barbaran-Sun (21:10.24) finished 34th and Kristyan deJesus (21:14.37) in 35th. Freddy Pacheco (22:05.99, 51st place), Adam Saville (22:53.72, 62nd), Austin Pless (23:10.76, 68th), Kameron Stiffler (23:21.67, 76th) and John Carter (23:55.12, 88th place) were the next Enterprise finishers.
Four pace EHS girls: With four runners in the top 28, the Enterprise girls earned fifth place, not far from fourth and third, at the Oak Mountain Invitational on Saturday.
The Wildcats had 123 points, five behind fourth-place Westminster School (118) and 12 off third-place Randolph School (111). Hoover (67) and Oak Mountain (81) were 1-2 at the meet.
Leading Enterprise were Natalie Warner (21:46.65, 16th place), Lauren Rodgers (22:37.57, 19th), Mirna Thompson (22:46.40, 23rd) and Alaura de Hoyas (22:57.07, 28th). Kayleigh Riordan (23:53.96, 49th), Emma McCrea (23:56.58, 51st) and Amadeua Thompson (24:05.12, 53rd) were the next highest EHS finishers.
Enterprise also had runners in the girls B race with Talla de Hoyas (25:16.01) finishing 14th, Kylie Moczynski (25:41.40) 17th and Rachel Gothard (26:01.87) 20th.
Dothan, Charles Henderson run at Opelika: Both Dothan and Charles Henderson ran at the Opelika Invitational Saturday with the Dothan girls finishing fourth and boys seventh. The Charles Henderson boys were ninth.
Leading the Dothan girls were Kate Smith (25:06.79), Jadalie Medeiros (25:07.26) and Jamie Diaz (25:16.86), who finished 20th, 21st, and 22nd among the 60 runners.
The Wolves' boys were paced by Trevor Shaw's 24th-place time of 19:53.86. Jonathan Medeiros (20:47.80, 38th), Robert Wynn (21:51.31, 49th) and Ethan Johnston (21:56.23, 50th) were the next DHS runners in the 108-runner field.
There was also a 3200-meter middle-school division and Chloe Paquette (20:34.01, 41st), Abigail Crosby (21:33.20, 43rd) and Veronica Gordillo (21:47.72, 45th) led Dothan girls. Nicholas Johnson (14:54.49) led Dothan boys with a 29th-place finish.