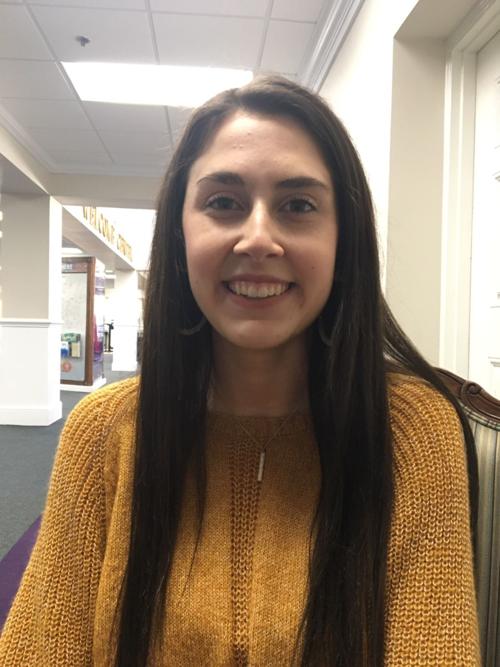 After two back surgeries involving two rods and 22 screws being inserted, signing a scholarship to play volleyball took on added significance for Grace Wiggins and her family.
"We're just thankful to God that He's blessed her," said her mother, Sherri Wiggins. "The only reason we want to ever share this story — it's not because of her or us — it's what God has done the past four or five years in her, and through her and with her."
Grace, who played volleyball two of the past three seasons for the Wiregrass Kings, inked on the dotted line with Huntingdon College on Sunday at Ridgecrest Baptist Church.
It culminated what's been a remarkable journey for a youngster who simply wanted to keep playing the sport after being diagnosed as a seventh grader with scoliosis, which is a curvature of the spine.
"I had no clue what it was," Grace said. "Whenever he (doctor) told me, I was like, 'What is that?' And he said, 'It's whenever your spine is badly curved.' I was like, 'Oh, OK.' I didn't think much of it."
She wore a brace for the next two years and was able to continue playing volleyball while a student at South Dale Middle School.
Before her freshman year at Dale County High, however, it was noticed the curve in her back had increased almost 50 percent and surgery would be required.
"I was kind of scared because I hadn't ever had a serious surgery and I didn't know what I was getting myself into," Grace said. "Once it happened, I just had to get used to it."
Following a week-long stay in the hospital, the recovery process began.
"I couldn't bend for six months, so I just had to squat, basically," Grace said. "I just had to do a lot of walking. I didn't have to go to physical therapy; I just had to walk around my house."
The decision was ultimately made to home-school Grace, which led to getting involved with the Wiregrass Kings volleyball team during her 10th grade year. The Kings offer home-schooled students a chance to continue athletics through the Alabama Christian Sports Conference.
"She came back and played and did pretty good," Sherri said of her daughter. "She's not the star athlete by any means, but her heart and her want-to is bigger than anything I've ever seen."
But there would be another major setback the next summer.
"I was going into my junior year and I was at the lake with a friend and I felt a pain and a knot in my back," Grace said. "It just kept popping, and I was like, 'This is not good.'"
A doctor visit confirmed one of the two inserted rods from the surgery had broken.
"They told me that a rod broke because of something was curving at the top," Grace said.
It meant another surgery, another year of rehabilitation and another year without volleyball.
It didn't mean she would quit playing.
"I never thought of that because I love this sport too much to give up on it," Grace said. "I was like, 'I need to keep playing it because I know there are going to be better things in the future probably with this sport.'"
It made for some anxious moments for Sherri and her husband, Hasty, while watching their daughter return to the court.
"After she came back her senior year playing the first time, she slid across the floor after a ball," Sherri recalled. "The first thing I do is watch to make sure she is going to get up. Then I'm just so proud."
All went well for Grace during her senior volleyball season as a middle-hitter for the Kings, though there was still pain at times.
"I would lay down and use the heating pad," Grace said of getting some relief. "Of course it hurt and everything, but I played."
Everything was worth it when she signed the scholarship on Sunday to the school of her choice.
"One of my friends cheered at Huntingdon, so me and my mom went up there a lot to watch her cheer and I just fell in love with the campus and the people," Grace said.
She met the Huntingdon volleyball coach — Latonia Brady — during some of her visits and later took part in a volleyball camp at the school in Montgomery.
A week after receiving a letter that she had been accepted as a student at Huntingdon, Grace received word from the coach she had also earned a spot on the volleyball team.
"She always played hard," Kings' coach Heather Sexton said. "She could serve, she could block them for us, she could spike them for us. She was well-rounded. I think she's going to do well."
Sherri and Hasty have no doubt their daughter will continue to succeed.
"She tries to live her life whether it's on the volleyball court or working with her youth group or at her job glorifying God, so I expect nothing less of her at Huntingdon or wherever she ends up in life," Sherri said.