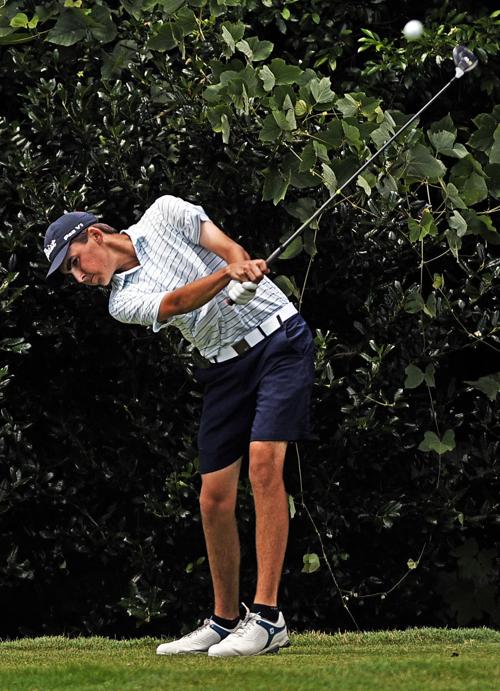 It didn't take long for Matthew Streitman to give UAB an answer.
A visit to the Birmingham college last Tuesday resulted in a scholarship offer for the Houston Academy junior golfer and several days later he made a verbal commitment public.
"I plan on going to medical school as of right now, so it's just a really good fit," Streitman said. "Obviously they've got a really good medical school there that's highly recognized, so if I'm going to study for medicine, that's going to be the best place for me to do it. So it was all a good fit between golf and the university, and I like Birmingham too."
While Streitman still has two high school and junior golf seasons to go before entering the college ranks, having the scholarship offer extended and giving the commitment eases his mind.
"I was worried a month or so ago if I was going to play anywhere," Streitman said. "It's kind of been a stressful process because last summer I didn't play as well at the Future Masters as I would have liked and at a couple of other tournaments."
But UAB had already seen enough of Streitman to warrant a scholarship offer.
Considered one of the top young golfers in the state, Streitman has been part of back-to-back state championship teams at Houston Academy and has shined often on the big stage.
Streitman particularly gained the attention of UAB head coach Mike Wilson after shooting a 6-under-par 64 in helping the Raiders to earn the Class 3A, South 1 tournament title at the Montgomery Country Club last spring.
"Coach Wilson has always kind of believed in me since the first time he saw me play," Streitman said. "He heard when I shot 64 last year at sub-state and came and watched me play two weeks later at the same golf course and was really impressed. Since then we kind of hit it off."
Streitman felt comfortable among the UAB surroundings during his visit.
"I already knew a lot about their program and had been talking to them pretty much since last summer," Streitman said. "Their program has continuously grown since I've been in the junior golf world.
"The coach said the highest scoring average on the team for a kid in the top five was 74, so that's pretty solid for a Division I program. I know a lot of the kids on the team already and they've had nothing but great things to say about the program."
While commitments are non-binding, Streitman believes it's a pretty much done deal.
"I talked them (Thursday) and just asked him for a little bit of reassurance — had they dropped anyone based on bad scores or stuff like that — just because I wanted to see what the commitment was," Streitman said. "He (Wilson) said there was a zero percent chance he would drop me. He said I could shoot 85 the rest of the way out and it wouldn't matter; that I would be playing for them."
Streitman is also comfortable with UAB assistant Austin Cody.
"He played four years at Duke and was an academic All-American there, so he understands what it takes to be a successful college player," Streitman said of Cody. "The relationships I've already made with the coaches have been a really good fit."
Be the first to know
Get local news delivered to your inbox!