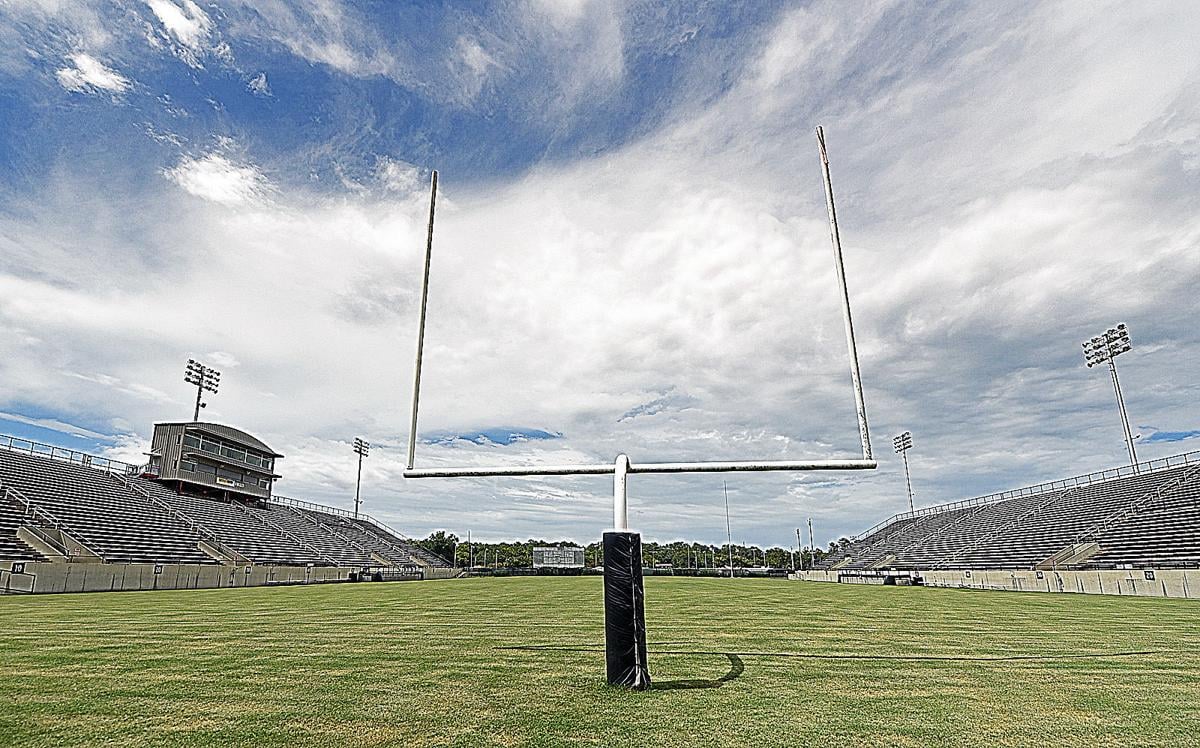 Moving into the Alabama High School Athletic Association isn't the only move the Northside Methodist Knights are making this year.
NMA head football coach Jason Hurst announced on Monday that the Knights' football team will move their home varsity and junior varsity games this year to Rip Hewes Stadium.
Northside Methodist, which is moving into the AHSAA this fall after several years in the AISA, has played their home games the last two years in Ashford at Layton Field, the home of the now-defunct Ashford Academy. That stadium is 15.3 miles from the NMA campus in north Dothan. City of Dothan-owned Rip Hewes, which seats nearly 10,000, is 6.5 miles away.
"There are a lot of advantages (going to Rip Hewes)," Hurst said during a press conference at the NMA Fine Arts Building. "From a coaching standpoint, they (the city) line up the field for us. With us having a fieldhouse here, we can dress here (on campus) and bus over. It is takes a lot of pressure off us to make sure we are a suitable host.
"At Ashford, we had plans to bring in restroom trailers (port-a-potties), concession trailers and renting additional bleachers — all of those things that were going to cost us a lot of money to a facility that we don't own.
"Now, we don't have to worry about the seating, we don't have to worry about the restrooms. We know Rip Hewes is a great host site."
Hurst added, "This is the next logical step for us. We have made some monster strides the last couple of years. We are moving to the AHSAA now and it is only fitting we move into a new venue."
Dothan High School has first rights to games at Rip Hewes. The city's other stadium, Northcutt Field, is used by Houston Academy, which has first rights to play games there.
During its first four years in football prior to 2018, Northside Methodist played home games at Northcutt Field, not far from campus.
Because of conflicts at Rip Hewes, Northside Methodist will actually have to play its first home game this year at Northcutt Field. That game, which comes after two-season opening road games, is against Slocomb on Sept. 4.
Also because of conflicts and other scheduling events, Northside Methodist will play three of their five home games on a Thursday night. Those include a week-four match-up against Wicksburg (Sept. 10) and the final two regular season games against Rehobeth (Oct. 22) and Ashford (Oct. 29). All three are at Rip Hewes.
The other home game is set for Friday, Oct. 9 against New Brockton at Rip Hewes.
"It puts us right here in Dothan and puts our kids on center stage, often on Thursday night," Hurst said. "I like the Thursday night games. We are the only game in town that night. It makes us the only game for the paper to cover us and the news to cover Thursday evening."
Hurst thanked the city of Dothan and Dothan Leisure Services, especially Athletic Coordinator Tyson Carter, for providing Northside Methodist with the opportunity to play at Rip Hewes and for their work in helping make it possible.
The Knights have played a couple of games at Rip Hewes when Northcutt Field was occupied by Houston Academy. The most recent game came on Sept. 29, 2018, a loss to Chambers Academy.
Hurst said Northside Methodist players were "pumped" to play at the bigger stadium in Dothan, but also admitted the Knights would miss the smaller, cozy Ashford Academy field.
"I will tell you there was a cool home field feeling out at Ashford," Hurst said. "It is a small field, but the stands are right on top of you. You put 500-600 people in there and it felt like a packed house game. Our kids enjoyed that, but it was a small venue and it was inconvenient at times (going there). Our kids are pumped about playing at Rip Hewes."
Greg Ennis named defensive coordinator: Hurst also announced Monday that the program has hired veteran Wiregrass coach Greg Ennis as its new defensive coordinator.
Ennis has more than 20 years of experience, including a long tenure as assistant coach at T.R. Miller under legendary coach Jamie Riggs. He has also worked at Opp, Geneva, Lee of Montgomery and Carroll among other places as an assistant.
He was a head coach at Georgiana in 2005 (4-6 record) and at Samson in 2014 (3-7 record) and was also an assistant coach at Wayne State (Neb.) College for one season.
Most recently, Ennis served as offensive coordinator at McKenzie in 2018.
Most of his coaching roles, though, have been on defense.
"I am excited and privileged to announce our defensive coordinator, Greg Ennis," Hurst said. "Coach Ennis has a really impressive resume. He had coached in college and he has been a part of three state championship staffs at T.R. Miller. He has been a head coach or a coordinator for 20 plus years, mostly in the Wiregrass. Coach Ennis brings a lot of knowledge and a lot of experience to our staff. We are hoping he will help us improve our defense dramatically in 2020."
Ennis said he felt he was being lead to help the Knights' program.
"I was just kind of lead here," Ennis said. "God has a hand in everybody's life and this is where he was leading me to."
Ennis, who has coached under Riggs, Shayne Wasden and Trent Taylor among others, said he was intrigued about joining Northside Methodist as it entered its first year in the AHSAA.
"I have had the opportunity to be around some great coaches and great programs, but I have never been in a program that was just starting out," Ennis said. "With Northside Methodist, the program has been here, but is just starting in the Alabama High School Athletic Association and I thought it was a great opportunity."
The new Knights' assistant had a simple philosophy for defense.
"Somebody asked one me one time, what kind of defense are you going to run and I told them, 'One that tackles' because if you tackle, you win," Ennis said.
Though the Knights are venturing into a new association, Ennis feels the program has the ingredients to be successful.
"I wouldn't come here if I didn't think I would be successful," Ennis said. "I have high expectations now. I know we have to take steps and strides to that, but I come in with pretty high expectations."
Hurst echoed those thoughts.
"Winning games is part of how we measure success here and we are not looking for any participation trophies in 2020," Hurst said. "We are expecting to go in and be immediately competitive and immediately win football games."
David is sports writer for Dothan Eagle.
Be the first to know
Get local news delivered to your inbox!