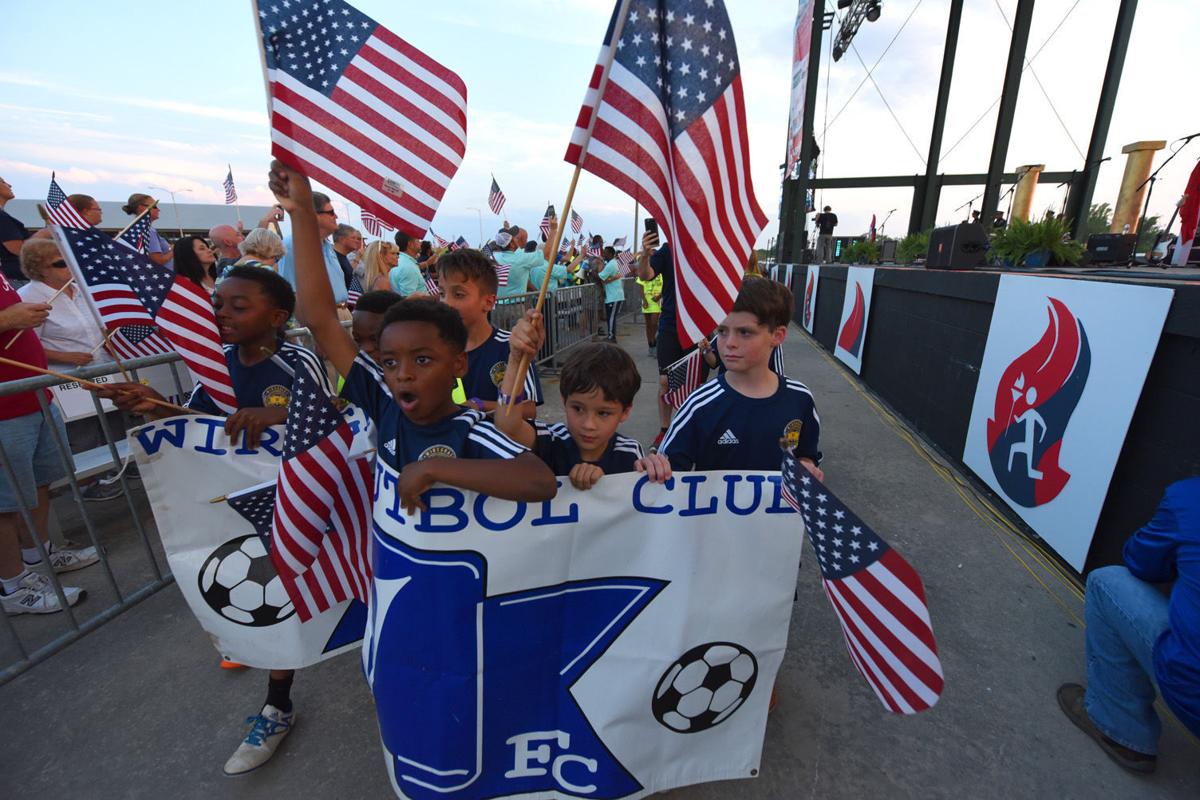 Hundreds of athletes of all ages will march in Friday night during opening ceremonies at the National Peanut Festival Fairgrounds and 20-plus Olympic-style sports will be held throughout the Wiregrass on Saturday with a few concluding on Sunday.
It will be a welcomed return to the Wiregrass for the 38th Alabama State Games, which were held here from 2015 through 2017 and scheduled to return here a year ago before COVID-19 caused a cancelation.
The event is being hosted by the cities of Dothan, Ozark, Enterprise and Daleville in partnership with Houston, Dale and Coffee counties.
The opening ceremony will kick off with the parade of athletes starting at 7:30 p.m. and the hour-long event will be televised state-wide on Alabama Public Television, culminating with a big fireworks show.
Gates open at 3 p.m. with food vendors, games and information booths. The public is invited to attend and there is no admission charge.
At 5:30 p.m., the State Farm Leadership Summit will be held with the keynote speaker being Izell Reese, a Dothan native who played football at Northview, UAB and in the NFL with the Dallas Cowboys, Denver Broncos and Buffalo Bills. He's currently the president and general manager for Reigning Champs Experience, a company with a mission to enhance the youth sports experience and creating opportunities for all athletes to play.
"He does so much for young people, that I thought he was perfect for that, and being from Dothan," State Games executive director Dean Kelly said. "We're excited about that."
There will be extra incentive for the athletes to attend both the leadership summit and the opening ceremonies as scholarship money will be given out to 10 lucky recipients that can be used towards any four-year, two-year or technical post-high school institution.
"If a registered athlete is at the leadership summit and then comes to the opening ceremonies and their ticket is drawn, they get a $1,500 scholarship," Kelly said. "If they're just at the opening ceremonies, they'll get a $1,000 scholarship.
"We're going to give out 10 of them, so we're going to give out up to $15,000 in scholarships. We're excited because it's the biggest scholarship we've ever offered during the State Games."
There are a variety of sports that athletes can compete in on Saturday, from disc golf to soccer to pickleball to wrestling to baton twirling.
Volleyball is a new addition to the State Games. It will be 4-on-4 and held on an outside court in Daleville. Wrestling is a sport which has been held during the State Games, but never in the Wiregrass until this year. It will take place at Dothan Prep Academy. Track, which has been held at Troy University during the three other State Games in the Wiregrass, will be held at the new Enterprise High track this time.
"I think we're in the 70s as far as wrestling is concerned," Kelly said of the entrants. "And of course having a track in Enterprise makes a lot of difference. At this point, we're around 250 athletes running track."
A few of the events didn't make it, such as softball and flag football.
Kelly believes the effects of COVID-19 are the reason for some lower numbers in some of the sports.
"Some of your athletes who do a sport that you practice all year long haven't practiced, so they're not going to jump in and do an event because they're not ready," Kelly said.
"Our soccer is lower than it's been in the past, and I think it's totally COVID related – just the fact that the teams weren't able to get together as much. I know there were some teams that normally come from Montgomery, for instance. They were trying to put a team together, not just for us, but just to have a team, and they could only get eight players. So we're going to be down to about 39 teams – somewhere in that area. Last time we had like 57 teams."