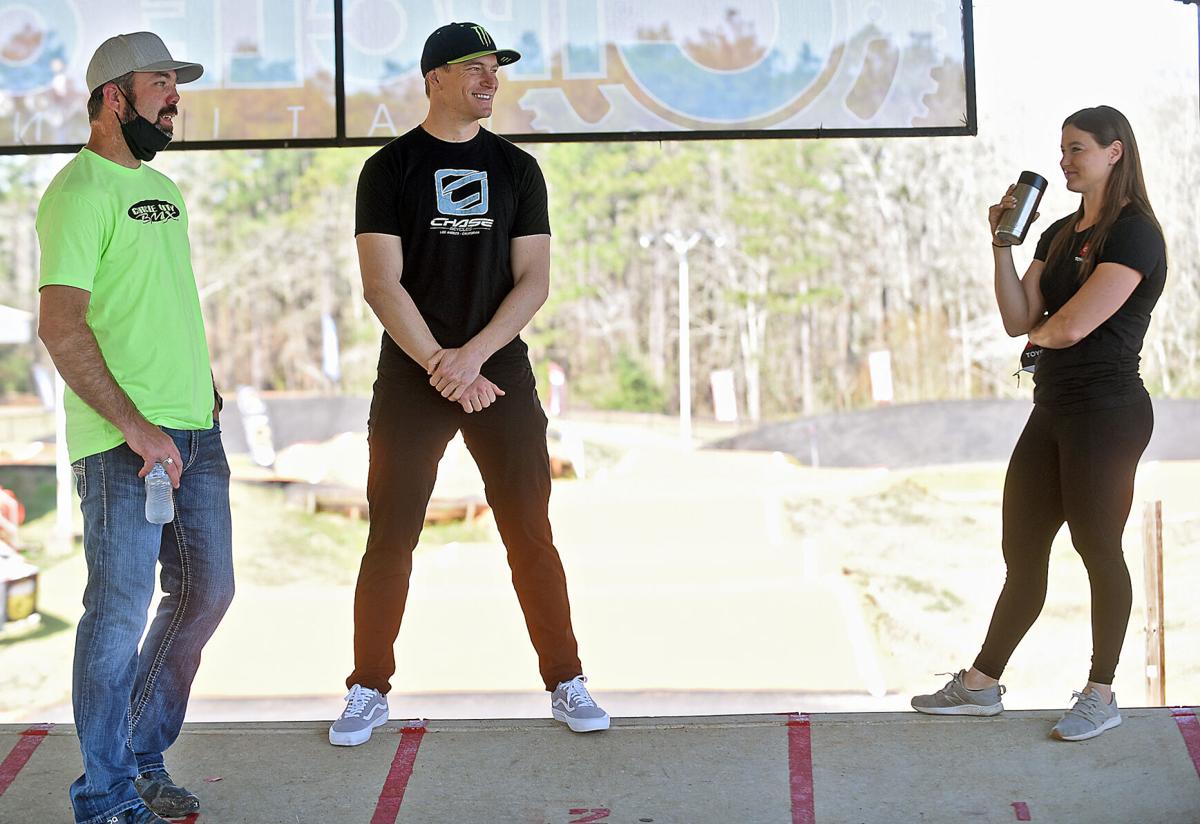 With bright sun shining down on the BMX facility located within the Westgate Complex in Dothan, track director Travis Roettgen was finally at ease as he praised the volunteers who have helped prepare for the Circle City Nationals this weekend.
"The weather has made me the most stressed out I have ever been in having to get ready for a big event," Roettgen said following a Thursday morning press conference. "The last few weeks with all of the rain, we were not able to do anything with the track up until Friday of last week.
"We had tons of people out here all weekend long re-skimming the track and making it ready in case we happen to have more rain. Anybody who is a part of Circle City BMX are volunteers.
"Obviously I can't do any of this by myself. We had 55 local people volunteering over the weekend doing something to get the track ready."
Riders of all different age groups from throughout the country, including some professionals such as Olympic gold medalist Connor Fields of Las Vegas and silver medalist Alise Post of St. Cloud, Minn., will be in Dothan for races Friday through Sunday.
"We've never had a pro race like this," Roettgen said. "It's also a UCI (Union Cycliste Internationale) qualifier race for them for the Worlds, which is sort of similar to the Olympics for BMX. It's a big deal. Having Olympians here from the last Olympics is really big."
The races begin at 5 p.m. on Friday, 11:30 a.m. on Saturday and 8 a.m. on Sunday. There is a parking fee of $10 per day, which is the only charge for spectators to watch the action. There will be bike vendors and food vendors set up. COVID-19 protocols should be followed to include facemasks and social distancing.
"We'll have five different bike vendors out here," Roettgen said. "In the years past, we've had one, so there's quite a bit to choose from when it comes to that. I know several of our newer local riders are looking to get bikes this weekend."
The BMX track is a wide 1,147-foot long downhill track with a crossover and all three turns paved. It's considered the fastest track in Alabama and one of the top facilities in the nation.
"We haven't changed anything on the track as far as the layout or anything on the track since last year," Roettgen said. "We've put new asphalt on all the turns. We have new commercial grade fencing around the track to make it look a little more presentable."
Roettgen is thankful for the partnership from the City of Dothan and Visit Dothan tourism center with Circle City BMX, which has around 130 members.
"Without support from the city and Visit Dothan, this would not be possible," Roettgen said. "We've had a vision for the last 10 years of what we wanted this track to become and we're there. We've gotten the track up to the standards of what's needed to have the type of event like this.
"It's going to be some of the fastest racing we have ever seen and some of the coolest racing we have ever seen. Having pro riders and Olympians partake in that is huge in the BMX world."
Aaron McCreight of Visit Dothan said the event is in line with sporting events the city continues to try and attract.
"We are at Visit Dothan are just thrilled to see what's happened here," McCreight said. "The track has been here since 1984, but the growth and the improvements made, not only here, but as far we're concerned at Visit Dothan, across the city at our world-class facilities.
"This is a world-wide event and this is what we're progressing towards across all of our facilities. It's events like this that make what we all do worthwhile."
Tyson Carter of the Department of Leisure Services talked about how different entities have worked hard to make an event like this a possibility.
"There are so many parts and pieces that come into this and I just want to thank our city leadership – our mayor, city managers and commissioners – for seeing the importance of putting resources into this facility and making it truly into a world-class facility," Carter said.
"Most important to this today is what Travis and his crew at Circle City BMX do. The vision he had years ago and continues to have for what BMX could be in the city in Dothan is amazing. How he's turned the place into a true BMX destination is amazing."
Jon Johnson is sports editor of the Dothan Eagle and can be reached at jjohnson@dothaneagle.com or 334.712.7965. Support his work and that of other Eagle journalists by purchasing a digital subscription today at dothaneagle.com. Follow Jon Johnson on Twitter @eaglesportsed