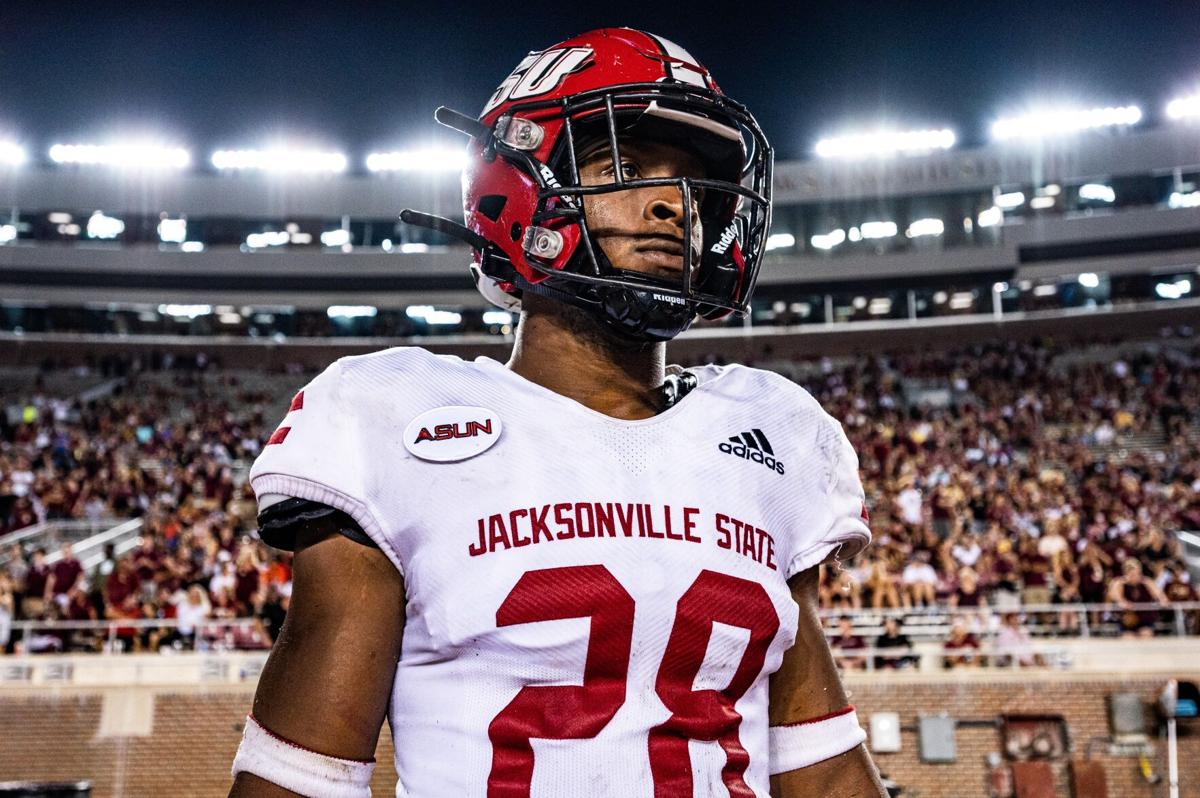 Former Ashford standout Stevonte Tullis celebrated like all of the other Jacksonville State players when Zerrick Cooper threw a desperation 59-yard touchdown pass to Damond Philyaw-Johnson on the final play of the game to shock Florida State and the football world with a 20-17 win at Doak Campbell Stadium on Saturday night.
In fact, the redshirt junior who graduated from Ashford High School in 2017 pretty much celebrated all night.
"The touchdown catch – I probably watched that on ESPN to probably 6 o'clock in the morning," Tullis said during a Zoom media conference Tuesday. "I didn't get any sleep. ESPN, all over Instagram and Twitter, it was just like amazing to me how it happened."
But if not for a defensive play Tullis made earlier in the fourth quarter from his linebacker spot, the final scenario may have never played out.
Florida State was leading 17-7 and had driven down to the Jax State 1 and faced a 3rd-and-goal situation, appearing about to deliver a knockout blow.
As FSU running back Lawrance Toafili got the handoff on the play, Tullis shot through and tackled him for a 2-yard loss back to the 3. On the ensuing play, quarterback McKenzie Milton threw incomplete.
"The goal-line stand not to let them go up three scores was the biggest defensive stop to me in the game," Jacksonville State coach John Grass said. "They got the ball 3rd-and-1 and you think they're fixing to punch it in – he (Tullis) shoots the A gap and hits the guy in the backfield for a 2-yard loss. To me, that was as big of a defensive play that we had all night long."
Tullis knew the time was ripe to make a big play.
"On that play, knowing it was a crucial part of the game, I'm knowing a play has to be made," Tullis said. "I get the recognition, but what goes unnoticed is my big guys up front – Jackson Luttrell and Anthony Nesby – who just opened that gap so I could shoot it.
"Once I saw the gap open, it's time to go make the play. You have to make a play in a big-time situation, and that's what I did."
Grass lauded Tullis for the play.
"We made a lot of good plays, but for him to have the heads up to shoot that gap and make that tackle … you know they threw the ball the next play on 4th and whatever it was, 2 or 2 ½, and we get the stop there and get the ball back," Grass said.
The Gamecocks would then drive down the field 97 yards in 11 plays to score and pull within 17-14. After another defensive stop, Jax State would win it on the miraculous touchdown pass to end the game.
Tullis would lead the team in tackles for the game with four solo and three assists.
"For me, it's really a great win," Tullis said. "Since I've been here, we've played maybe a few FBS teams and didn't get a win over them. The year before (2020) we played Florida State and we were so close to winning it (41-24 loss after leading 14-0). We tasted it, so just going back and getting that win, it felt really good."
Now Tullis knows it's time to get back to work and prepare for the home opener coming up Saturday against North Alabama.
"Coach Grass always talks about a faceless opponent, so this week is no different," Tullis said. "It just matters on how we execute on both sides of the ball.
"It was a great win for us, but we have a game this week and you have to have the same focus that we had last week. We have to have a good week of preparation."
Tullis is eager to play in front of the home fans for the 6 p.m. kickoff.
"There is nothing better than playing a home game at night," Tullis said. "It is where you spend all of your time working on your craft and spend countless hours during the summer and spring preparing for this. It is going to be a great environment with our fans behind us."