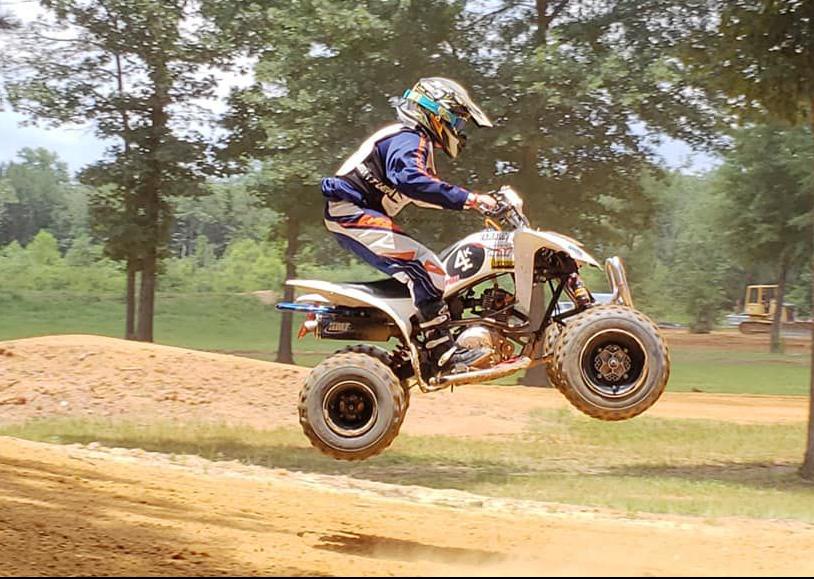 Joey Katz saw something different in his son, Mo, when he lined up at the starting line for his first ATV race three years ago.
"When I looked in his eyes, I was like, 'Who is this?'" the father remembers of the serious approach.
Quiet and a bit reserved by nature, the Headland youth locks in mentally and becomes a bit of a daredevil when he gets behind the wheel of his all-terrain vehicle on dirt tracks across the southeast.
"I mean, it almost scared me because I wasn't familiar with the sport and I really didn't think about the dangers until we saw a couple of accidents," Joey recalls of that first event. "Then I said, 'I understand why he is so serious now because he realizes something that I as a parent didn't even realize.'
"When he sets up to make that jump, he's got to make it. He can't come up short. It's a very intense; very focused sport."
Mo, now 12, is coming off a division championship in the SE Quads, a series of ATV races on tracks across the region. He won the youth 4-stroke (engine) classification for the 2019 season, which is comprised of drivers ages 8 through 14.
"He and a boy last year finished multiple races within 5 feet of each other running 40 mph jumping 180 feet," Joey said. "We decided it was the most competitive racing we had ever seen between him and that young man.
"I mean, I was sick at my stomach every time. I was like, 'Y'all have got to get away from each other.'"
The other competitor was 11-year-old Tucker Drummon of Tuscaloosa — one of Mo's best friends who finished second overall in the division for the season.
"Man, it was always a battle for first," Mo said. "He was either always right behind me or I was right behind him. If one of us messed up, we would pass the other."
Mo says concentration and confidence were keys to winning the points championship for the year.
"I focus and I think pretty hard when I'm out there riding," he said. "If you don't have very good confidence, it's really hard to go out there and do that (racing)."
Mo first began riding a small ATV around the backyard when he was 5.
"I had that thing turned down real slow," Joey explained. "I basically walked with him and had a thing in my hand that if he did something crazy, I'd snatch it and it would turn it off."
Mo developed a fascination with it all.
"He got a safety video with this four-wheeler and he would just have this thing memorized," Joey said. "You'd be riding and he would say, 'Hey, we don't need to be riding up that hillside — it's dangerous.'"
Several years later, a neighbor built a small track with a sand surface for Mo to practice on.
"He would get out there and just ride hours and hours and hours," Joey said. "I thought to myself that he's really picking this up — he's really good at this, you know?"
A trip to Riverside Motocross Park in Newton sparked the interest to compete.
"We met a gentleman there from Pensacola that was an ATV racer and he talked us into going to our first race at Crossbone Motocross just north of Montgomery," Joey said of the first competition when Mo was 9. "I think he came in third or fourth place. Half of the series was already over, so we raced the second half of the series and he had a good time."
The races take place on tracks normally one to two miles long with various banked turns and jumps.
"These are the tracks the big boys are on, you know?" Joey said.
Typically six or seven competitors will be in a five-lap race in the division Mo has been racing on the SE Quads series.
Mo loves the competition, but enjoys the friendships made even more.
That's what he's missing the most since this year's season, which opened in early March, was put on hold due to COVID-19.
"Mainly I'm ready to see my friends again," Mo said. "I mean we'll all stay afterwards, usually, and ride our bikes or our dirt bikes around because they always have extra tracks."
Racing has created a special time of bonding between the father and son as well. Joey appreciates his wife, Ivey, and teenage daughter, Morgan, for being on board with what's normally a 10-race schedule.
"It is pretty expensive," Joey said. "As a parent it's a big commitment. I told him that if he'll keep his grades up, we'll keep racing."
Be the first to know
Get local news delivered to your inbox!