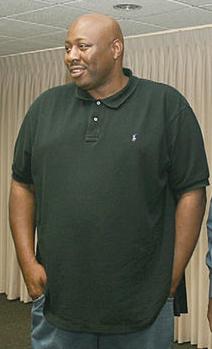 Former Northview football standout Larry Roberts, who also starred at the University of Alabama and later for eight years in the NFL with the San Francisco 49ers, including on two Super Bowl teams, passed away Monday morning at the age of 53.
His death was confirmed on Facebook by his brother, Travis
"My brother Larry just passed away," said Travis Roberts in a posting.
The 49ers also confirmed his death with a press release on their website, 49ers.com, late Monday afternoon.
He died overnight in his sleep at his home in Atlanta.
"He is a Northview hero no doubt about it," said Harry Wayne Parrish, Roberts' high school football coach at Northview. "He is a Northview and a city of Dothan hero."
A 6-foot-3, 270-pound defensive end and tackle in college and pro, Roberts starred at Northview and was on the Cougars' first state championship team in 1981 as a tight end/defensive end and kickoff specialist.
A 2002 Wiregrass Sports Hall of Fame inductee, Roberts is the third local hall of fame member to pass away in three weeks. Paul Word, a former Troy basketball NAIA All-American and area high school basketball coach, died on Nov. 17 and Sonny Raley, a former Dothan High standout who later was a longtime basketball coach and official in the area, died on Nov. 24.
"He struggled mightily with his health over the last year," said David Alford, a senior classmate of Roberts and a quarterback for the Cougars during Roberts' playing days. "I am sick (about his death). I am sad for everybody's loss."
Alford, an orthopedic doctor in Dothan who deals with feet and legs, said he last communicated with Roberts about a year ago after the former standout had to have both legs amputed and was fitted with prosthetics in Atlanta following complications from diabetes.
"I was trying to encourage him about how much prosthetics helped people and tried to help him get over that," said Alford, describing his role as a cheerleader.
While Roberts was known mostly for his athletic achievements, he was best remembered for his jovial approach to life.
"He had a great personality," Parrish said. "He was always smiling. He had a bubbly personality. You never saw him mad. He was a class act."
Paul Hufham, who played basketball with Roberts and was also a senior classmate, described him as "big teddy bear."
"Larry was as exceptional a person as he was an exceptional athlete," Hufham said. "He was fun-loving and had a likeable personality. He was like a big teddy bear."
"He was always laughing and joking around," Alford said. "When the whistle blew, he was all about winning, but he had that big smile (off it)."
Brent Gilbert, who played with Roberts at Northview then against him in college while at Auburn, said "If you met Larry, you liked him. Everybody loved him. He was a good fun-loving guy."
In the athletic arena, he was remembered as a dominating athlete at Northview.
"He was one of the better players I have ever seen at Northview," said current Headland boys basketball coach Mike Henry, who played with the Cougars a year after Roberts graduated, but saw him in middle school and junior high and also saw plenty of highlights of Roberts. "You could see him dominate games a lot like Derrick Thomas (did at Alabama)."
Alford had a similar viewpoint.
"He was probably the greatest athlete I ever saw, certainly the best I ever played with," Alford said. "His athletic abilities were remarkable."
Alford added, "He was the one people came to see. We would always fill up the stands at Rip Hewes (because of him)."
Alford noted Roberts started the Cougars' 1981 football season on offense as a tight end, but after a third-game loss to Sidney Lanier, he was inserted as a starter at defensive tackle. It was a move that paid dividends as Northview won 11 straight games to win the Class 4A state title.
"He was one of the main reasons we won (the state title)," Alford said.
Roberts was so dominate on defense that Alford recalled a player from state semifinal opponent Jeff Davis saying, "Their entire game plan from guard to center to tight end was to block Larry Roberts."
Roberts was also a standout kickoff man for the Cougars.
"He could kick it into the back of the end zone and back then that was unheard of," Alford said.
Parrish remembered a game where Roberts kicked the ball "out of Rip Hewes Stadium" into the south parking lot.
In Northview's state title game, a 7-6 win over Carver of Birmingham, Roberts caught an 8-yard TD pass in the third quarter from Dickey Lillard for Northview's only score in the game.
Roberts earned first-team all-state honors his senior year at Northview and was selected to play in the Alabama-Mississippi all-star game.
While big and strong, Roberts had other attributes that made him special.
"Effort," Parrish said. "He was talented and was big, strong and quick with quick feet, but he played with every ounce he had."
"He had good speed for his size," added Gilbert said. "Yes, he was big and strong, but his speed is what separated him from everybody else. He ran like a linebacker."
But Roberts wasn't just a football player at Northview. He was also a talented basketball player as a center for the Cougars.
Parrish said Roberts was simply too physical for opponents in basketball.
"You wouldn't push Larry around," Parrish said. "He would push you around. Like football, he gave it his all. He was such an intimidating player. It wasn't ugly. It was just he was physical and how hard he played."
Roberts was signed to play football by Alabama head coach Paul "Bear" Bryant and played for the Crimson Tide from 1982-1985, playing one year under Bryant and the last three years under Ray Perkins. In 1984, he earned the school's Billy Neighbors Most Improved Defensive Lineman Award.
At Alabama, he registered 48 tackles and three sacks during his senior year, a season he played on a defensive unit that featured four first-team All-SEC selections, including All-American Cornelius Bennett. Roberts played in the Senior Bowl after his senior year.
The 49ers drafted him in the second round of the 1986 NFL Draft as the 39th pick overall.
While with the 49ers, he played on two Super Bowl teams led by legendary coach Bill Walsh, one as a starter in 1989 against the Cincinnati Bengals and the other as a back-up in 1990 against the Denver Broncos.
He appeared in 89 games (34 starts) in the regular season in addition to 12 career playoff games (three starts) during his eight-year career in San Francisco. Roberts registered 5.5 sacks as a rookie in 1986, tied for the team lead with 7.0 sacks in 1991, and finished his NFL career with 28.0 sacks. He also had one interception and one fumble recovery in his career.