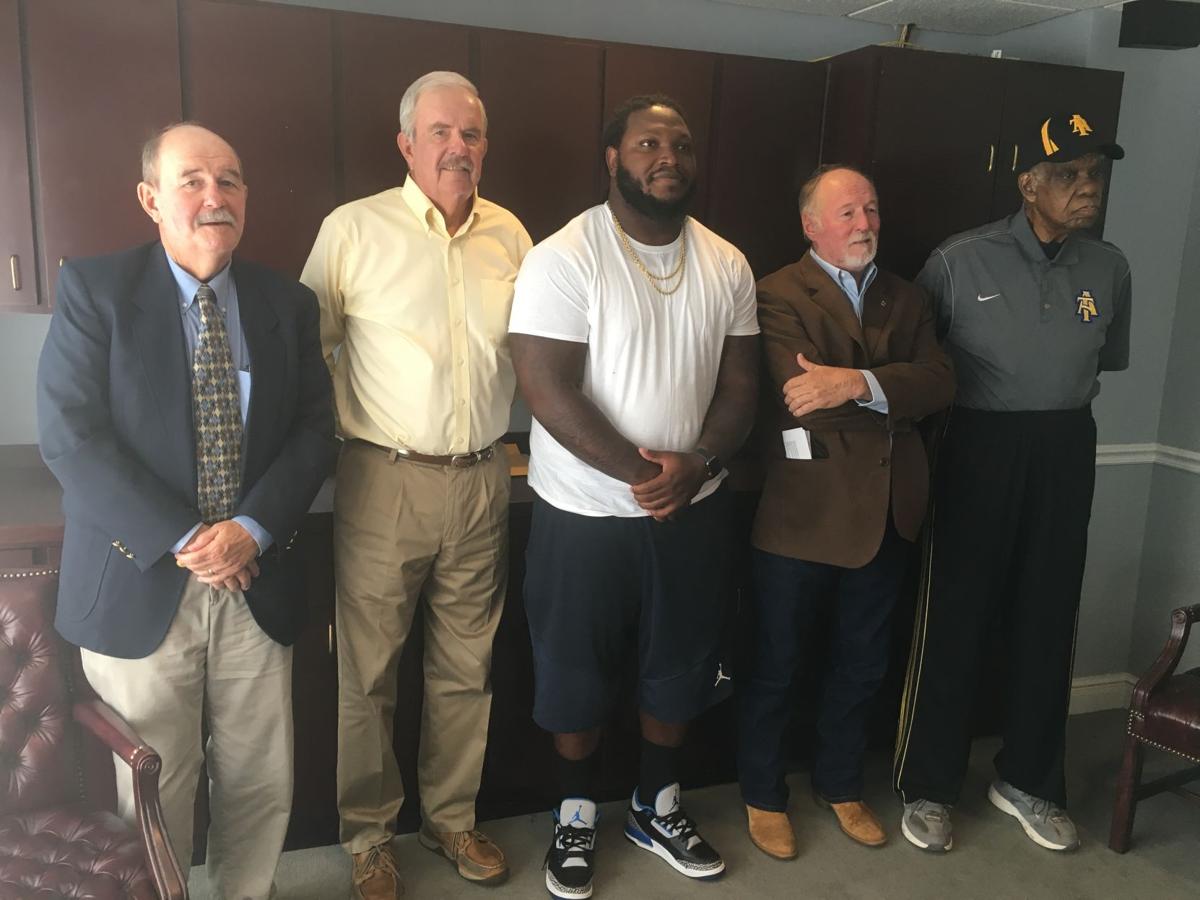 Several coaches, a former Atlantic Coast Conference interceptions leader, a recreational softball legend, a standout player and coach from the segregated South and a Super Bowl champion make up this year's inductees into the Wiregrass Sports Hall of Fame.
The class of six – Curt Barnes of Abbeville, Pete Kelley of Andalusia, Warren Reynolds of Dothan, Olivia Saliba of Dothan, Dennis Smith of Elba and Courtney Upshaw of Eufaula – will be inducted on Saturday, June 29, at the Wiregrass Rehabilitation Center.
They comprise the 27th class of the WSHOF. Each of the five inductees present at Friday's announcement and press conference at WTVY talked about being honored by their selection and about how things have changed over the years.
Kelley was a pioneer, of sorts. After graduating from Straughn High School, he was the first to sign a basketball scholarship with Enterprise State and played on the first basketball there. After he got into coaching – following service in the Vietnam War, where he earned two bronze stars – he was an assistant coach on the first football team in the modern era at Kinston.
"I never thought anything I did was extraordinary, just my job," Kelley said.
His very first job after graduating from Troy in 1973 was as an assistant football and basketball coach at Samson.
He moved to Kinston after three seasons as head basketball coach and, as mentioned, an assistant football coach. Kinston made the state basketball tournament three times under Kelley, including the 1981 state championship. They won 30 games in a row.
"We had a little success," Kelley said.
He got out of coaching and was the principal at Andalusia and later the superintendent of Andalusia City Schools. He is retired and lives in Enterprise.
Barnes knew he wanted to be a coach in the fourth grade. Part of that came from idolizing his uncle, David Barnes, a 2011 inductee into the WSHOF.
"That's all I wanted to do was coach," Barnes said. "I was very fortunate when I graduated that a job came open in Abbeville. I went back to my alma mater to coach. All four members of that coaching staff my first year will now be members of the WSHOF – David Barnes, Ronnie Hicks, Howard Holland and myself. We were all like brothers. We did everything together – hunted together, fished together, worked together."
It is not Barnes' only connection to the WSHOF. He will be the fourth in his family to be inducted.
"This is quite an honor for me because I'm the fourth member of my family to be inducted into the WSHOF – my uncle David Barnes, my first cousin Ronnie Joe Barnes, who played at Alabama, my sister-in-law, Debbie Barnes, who went in last year, and now me," he said. "I don't know how many from Abbeville are in this WSHOF, but there's quite a few. It's quite an honor to me and I really appreciate it."
Barnes said he didn't know what sport to coach – so he coached them all. In fact, one year at Wicksburg he coached football, girls basketball and baseball.
"All three teams won region championships in the same year," he said with pride. He quickly added, "To me, this is more of a testament to the young men and young women that played for me."
Barnes noted the evolution of sports medicine in his remarks.
"It's a wonder we didn't kill somebody back then," he said. "We didn't give the kids water. That was a sign of weakness if they needed water. If you were lucky you could get a manager to come by with an old wet towel and suck on it a little bit to get some water out of it. That's the only way you got it. It was three-hour practices."
Fellow inductee Smith could relate. A standout running back at Elba, he also ran track and played baseball for the Tigers. He earned a full scholarship to Clemson, where he said he sat buried on the depth chart for three seasons.
"It was the last year of freshman ball," Smith said. "You couldn't play as a freshman. They redshirted me so I got to spend five years up there. Finally got an opportunity to play after a guy broke his ankle in front of me.
"I led the ACC in interceptions (as a junior). It got about that much press at the time," he said, holding his fingers about two inches apart. "They didn't even put my picture in there."
It was a different era – and a different time at Clemson.
"They didn't have all those facilities when we were up there," he said, a smile creeping across his face. "They didn't say much when I said I went to Clemson until the last five years. I get a lot of cred."
He said he made friendships that have lasted a lifetime. But it wasn't easy.
"I enjoyed it. It was a hard experience to do. I was glad when my five years were up," Smith said. "We had 30 days of spring practice and we had three-hour practices back then. It was no laughing matter. They wanted to work you harder to make you better. After you'd done that for five years, you'd had about all you wanted.
"But it was a challenge that I thought I was good enough to play college football and finally got the opportunity. I enjoyed it. It was something I'll never forget, but I was ready to come home."
After his playing career ended, he worked for the city of Opp as the recreation director. He worked a similar job for the city of Elba until the early 1990s. He has been a farmer since.
Saliba is currently living in Kansas and did not attend Friday's announcement. The Dothan High (1969) and Alabama (1973) graduate became the first softball coach at Dothan High in 1990 and led that inaugural team to the Class 6A state tournament. She was a math teacher at her alma mater and coached tennis for two years and volleyball one year.
She played in the city's women's softball league for 26 years and was a member of two state champions and one national championship team in 1996. She was a softball umpire in Dothan's adult league and umpired in three national tournaments. She also was a coach and a director in the city's softball league.
Reynolds, a 6-foot-6 three-sport athlete, graduated from Carver High in Dothan in 1958 and was a member of the "Ten Tall Men" basketball team, which won the Alabama Black High School State Championship and advanced to the National Black High School Tournament in Nashville.
"We made it to the championship," Reynolds said, adding they lost by two points to Lew Alcindor's team from New York. Alcindor later changed his name to Kareem Abdul-Jabbar.
The "Ten Tall Men" went 6-5, 6-6, 6-7, 6-8 and 6-11.
"All of us got big-time college offers," Reynolds said. "The school we'd go is the one that'd take all five. … We went to Tuskegee with one thing in mind – to leave an impression on the young men in Dothan, Alabama, that you can overcome the opposition. 'I can do all things through Christ, who strengthens me.'
"All these boys believed that because James Smith taught us that. James Smith was a coach and minister and administrator. It wasn't so much that we were good athletes, we were great kids. We could take the mind and make the body do what it's supposed to do – and that's to be great."
After he graduated from Tuskegee with a degree in corrective therapy, Reynolds developed a powerhouse program at Ballard Hudson High in Macon, Ga. He became at college assistant coach at North Carolina A&T and was named head coach there a year later. As coach and athletics director at A&T, he helped moved the program to the MEAC. A&T also became the second HBCU program to participate in the National Invitation Tournament (NIT).
He retired from coaching in 1986 and eventually moved back to Dothan, where he served several years as an assistant at Northview High.
"I want to let you know it's an honor to come back and let the young men know that you can overcome all things with one thing in mind – 'I can do all things …" – and I'm living my best life now at 81," Reynolds said.
Upshaw isn't employed by an NFL team at the moment, but the free agent is working hard to get back into the league.
A star linebacker at Eufaula High, he was the Class 5A Lineman of the Year in 2007 and was part of the legendary 2008 signing class at Alabama that included Julio Jones and Mark Ingram. He was part of two national championship teams with the Crimson Tide in 2009 and 2011.
He has won everywhere he's been. He was a Super Bowl champion with the Baltimore Ravens in his rookie season.
His first comments, however, were aimed at people who helped him in Eufaula – his coaches, especially John Gilmore and Pat Vinson, and the McKenzie family, which includes his best friend, Will.
"Will McKenzie is basically my brother," Upshaw said. "My third child, his name is William after Will. I want to thank all those people. If you know my story, I always tell people they were positive figures in my life."
Not to worry, he's still got plenty of football stories. Only here's one you may not know. He was done with football after his freshman season at Eufaula High.
"I felt like they just wanted me for my talents. They didn't really care for me as a player or as a person. I wasn't going back out," Upshaw said. "I ended up talking to my English teacher and she was like, 'They love you out there. They want you back out.'
"I ended up going back. I went up against this big guy. Even growing up I was always the physical type. I played offense and defense, but I loved defense. We ran up against each other and I kind of ran through him. I was like, 'Oh, man, I missed this.' It took off from there."
To this day, without an NFL team, he said, "I'm not done with football. I still feel I can play the game. I've had a few tryouts that didn't go my way. Right now I'm at home (in Georgia) with the three young 'uns. Too much energy. The drive down here was crazy."
He said his upcoming induction meant a lot and thanks selection committee member Tony Darrigan for the honor. He also recognized WSHOF members Jerrel Jernigan and coach Dan Klages, who preceded him.
"I was an All-American in college, but this here, to me, says like, 'I made it,'" Upshaw said. "Growing up, I thought about the League (NFL), but I didn't think about going to college. You only think NFL, not college.
"To be recognized with these guys and Jerrel, especially Jerrel, because I look up to Jerrel. I'm definitely blessed in many ways. With my kids. With this opportunity to be here. I'm very thankful."
Wiregrass Sports Hall of Fame
27th Annual Induction Ceremony
When: Saturday, June 29 at 7 p.m.
Where: Wiregrass Rehabilitation Center (795 Ross Clark Circle in Dothan)
Tickets must be purchased in advance: Contact Janna Everett Holland at 334-701-9938
Wiregrass Sports Hall of Fame Golf Tournament
Where: Dothan National Golf Club at 7410 Hwy. 231 South
Cost: $60 per player ($180 per team)
Registration and lunch: 11 a.m.
To sign up or for more info: Contact Tony Darrigan at 334-695-0805
Be the first to know
Get local news delivered to your inbox!