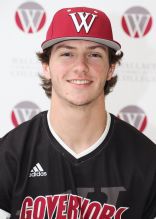 During his recruiting process last fall, Wallace College sophomore and Northview graduate Joey Wozniak got some guidance about the University of West Florida baseball program from a friend.
That guidance came from former Governor Kirk Maddox, a Houston Academy standout who also played at West Florida, a Division II program in Pensacola, Fla.
"We talked about the team, the coaches, the school and the facilities and he told me that I would love it down there," Wozniak said. "He said that would be a good place for me and that I would fit in down there. After meeting the coaches and seeing the school, I would say he was pretty spot on about it."
After listening to the guidance, visiting the Pensacola program several times, including competing against the Argonauts during fall scrimmages with Wallace, Wozniak will now play for West Florida next year after signing with the program.
"I'm excited and can't wait to be down there," Wozniak said. "They have a great team and I'm ready to be a part of it."
The Argonauts, led by veteran head coach Mike Jeffcoat, had a 14-8 record this season when play was stopped in March by the coronavirus pandemic. A year ago, they finished 37-18 and made the NCAA Tournament.
An outfielder and pitcher, Wozniak chose the Argonauts over interest from Montevallo, Faulkner and Huntingdon.
In addition to playing in Pensacola against West Florida, the 2018 Northview graduate visited the school for a showcase last June and made an official visit to the program several weeks later.
"I loved the facilities," Wozniak said. "I took a small campus tour with the coach, talked to him about it. I felt it was the place I wanted to be at."
During this past year's shortened season because of the coronavirus, Wozniak, in just 14 games played, had a .333 batting average with a 481 on-base percentage, one home run, six runs batted in and four runs scored on offense. He also made seven pitching appearances — all in relief — with no record or saves and a 3.55 earned run average. However, he earned 17 strikeouts in just 12 2/3 innings pitched.
"This year, he has gotten stronger mentally," Wallace head coach Mackey Sasser said. "He wasn't as strong mentally last year. We put him in right field when we had injuries and he played really well for us. He got some big hits and made some plays in the outfield.
"He didn't pitch that much last year, but he has been up to 94 (miles per hour) on the mound this year. When West Florida saw him, they wanted to sign him immediately. They finally got him."
The timing of the season being shut down by the COVID-19 virus came at a particularly untimely manner for Wozniak, who was just hitting his stride both offensively and on the mound, said Sasser.
"He started hitting the last two weeks of the season (before the shutdown)," Sasser said. "He started finding his rhythm on the mound and what I mean by that is his wind-up. When he is the zone, he is as good as anybody to pitch because he has a really good breaking ball and his pitches move down and in. He was hitting 89-91 consistently (on the radar gun) for us when we stopped."
Wozniak said he wasn't sure what his role would be yet at West Florida, though he says he is most comfortable playing right field.
"They have me as the utility role, so I assume both outfield and pitching," Wozniak of his possible role at UWF.
"We didn't really talk about roles. I know I will have to come in and compete. I feel like I can compete with those guys and potentially have a starting job out there."
Since the pandemic forced a shutdown of competition, Wozniak said he has been preparing himself for next season.
"The gym just back opened so I have hit the gym hard (for weight training), but mainly I have really been throwing and hitting by myself so I maintain and be ready for when I go off to West Florida," Wozniak said.
Wozniak is part of a large Wallace sophomore class with players who have signed to play for another program next year and the second with city of Dothan ties. Former Dothan High product Cody Clark has signed with Huntingdon College in Montgomery.
The others, according to Sasser, include outfielder Jarrett Eaton with the University of South Florida, third baseman/first baseman Landon Cato with the University of Louisiana Monroe, first baseman/catcher Jorge Ramirez with Florida International, right-hand pitcher Michael Hamby with Kennesaw State and outfielder Troy Bearden with Birmingham Southern.
Also first baseman/catcher Golston Gillespie was going to sign with either Tennessee Tech or Nichols College, said Sasser.
David is sports writer for Dothan Eagle.
Be the first to know
Get local news delivered to your inbox!