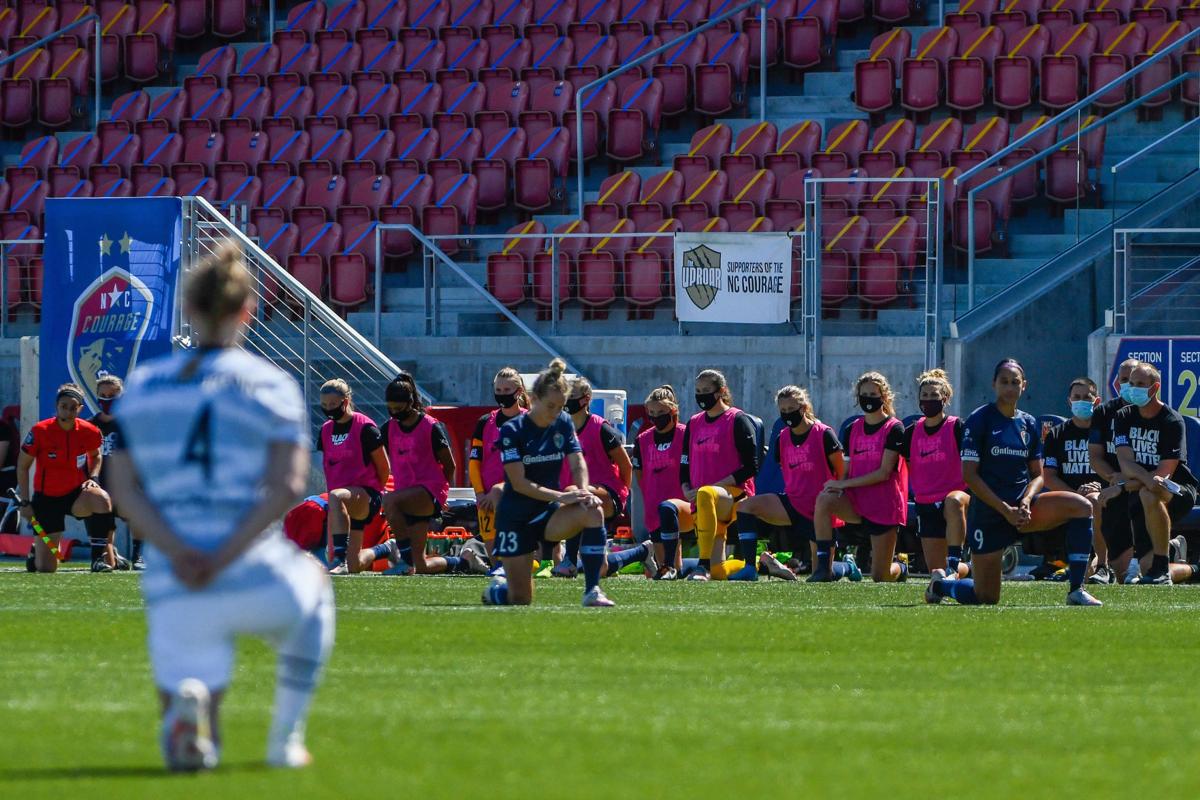 Alexi Lalas heard the criticism loud and clear.
The former U.S. men's national team star and current soccer pundit deleted a tweet that seemed to suggest he was against the unified display by two National Women's Soccer League teams to kneel during the national anthem as the league kicked off its Challenge Cup in Utah on Saturday.
"Now it takes courage to actually stand for the national anthem," Lalas wrote after the starting 11 for both the North Carolina Courage and the Portland Thorns took a knee during the pre-game playing of the "Star Spangled Banner."
"Today I watched an American professional soccer game in which all the players on the field took a knee during the U.S. anthem," Lalas wrote later in the day. "It was an organized, unified and peaceful protest by a league and a group of players who were sending an important message about the changing times in our society.
"I wholeheartedly support the NWSL and its players bringing attention to the problems of police brutality and systemic racism that exist. I regret that my earlier tweet distracted from the historic and powerful actions on the field. So, I have deleted it. I'm sorry for any hurt or anger it caused."
The NWSL, which became the first of the major American team sports leagues to return to action after the coronavirus sports pause, quickly hit back.
"If this is your takeaway from the organized action by our players, you clearly haven't been listening, Alexi," the league wrote on social media.
U.S. national team star Jozy Altidore also didn't let Lalas' comment slide.
"No. Colin Kaepernick and Megan Rapinoe had real courage," Altidore responded.
Former national teamer Maurice Edu had a simple messsage for Lalas: "Alexi stop that."
The two teams released a joint statement at the start of the game to explain why they choose to take a knee.
"We took a knee today to protest racial injustice, police brutality, and systemic racism against Black people and people of color in America," the teams said in a joint statement released before the game. "We love our country and we have taken this opportunity to hold it to a higher standard.
"It is our duty to demand that the liberties and freedoms this nation was founded upon are extended to everyone."
Rapinoe, the U.S. women's star who joined then San Francisco 49ers quarterback Kaepernick's protest movement in 2016 by kneeling while playing for the national team, applauded the unified display by the NWSL players.
"You love to see these women using their voice, demanding better for America, and for black people and people of color."