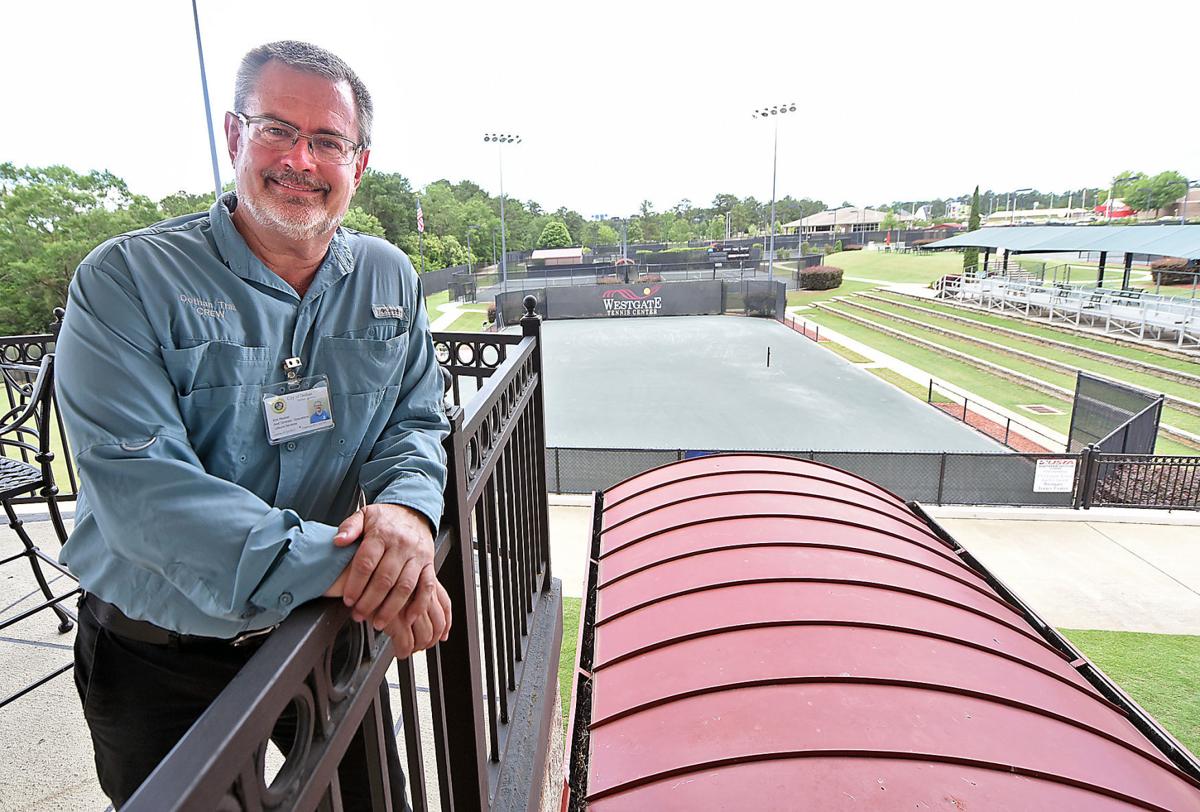 Kim Meeker plans to stay plenty active during his retirement, which begins Friday after 30 years of dedicated service with the Dothan Department of Leisure Services.
He wants to continue a hobby of mountain bike riding with his wife on different trails throughout the region and plans to get back to playing his favorite sport of tennis from time to time.
Thanks in large part to Meeker's work-related contributions over the years, two of the finest venues in the southeast for those activities are located in Dothan — the Westgate Tennis Center and the Dothan Forever Wild Trails.
He'll likely even go out and watch some baseball at the Rotary Miracle Field complex, a baseball facility and playground for special needs athletes that Meeker was heavily involved in developing.
"To be a part of all three of those was just so great for me," Meeker said. "People don't know, but I designed a lot of things at the baseball and softball fields in the city. I've gotten to work on a lot of facilities.
"It's been a super job, an exciting job, a job that every day was different. I've had baseball, softball, soccer, tennis, mountain biking, Miracle League and all kinds of things. I got to change gears all of the time. It was never boring."
Where did the journey begin for the life-long Dothan resident?
Meeker, who turned 65 on Thursday, initially thought about going into coaching as a profession.
"I liked athletics in general," Meeker said. "I played a little bit of about everything, but tennis was the only one that I would say I reasonably excelled in.
"I grew up playing tennis on the courts of Solomon Park and the Elks Club, and then finally the Azalea Club came along, so I played there a lot. Clarence Slaughter was kind of my mentor there and he spent a lot of time with me playing tennis. In those days, he was the man in tennis in Dothan.
"I would play a lot of tennis in the summer — four or five hours a day — and just kind of fell in love with it. At that time growing up through high school, it was the only thing that really excited me."
Meeker attended Wallace College for a year and then transferred to Troy University, where he played three years on the tennis team with a goal of one day becoming a coach of some sort.
"They (Troy) had a well-known program for physical education," Meeker said. "As I got near the end of that, I said, 'I'm not entirely sure this is what I want to do.' But I decided if it was what I wanted to do, I needed to stay in school and get a master's degree."
Thus Meeker enrolled in the University of Tennessee and spent two years there earning a master's degree in physical education. Rudy Argenti, who was the head of the physical education department at Troy and had also attended Tennessee, had recommended UT to Meeker.
"I just saw so many other avenues there," Meeker said. "My interest had shifted from coaching at that time to more like fitness in general. Tennessee had a really strong program in fitness and recreation."
Meeker's first job following graduation was in Hollywood, Fla., as the fitness director for a YMCA. Two years later became the director of the facility and remained in that role for five years.
At that point, Meeker was looking to move back to Dothan and landed a spot as manager of Premier Athletic Club in his hometown.
"I put in my application during that time with the city (DLS)," Meeker said. "I had taught tennis here for maybe five years during the summers while I was going to college and had gotten to know Jim Oates (longtime recreation director).
"At that point I had a really high regard for Dothan Leisure Services because I had watched all of the incredible improvements from my childhood growing up here."
After about a year at Premier Athletic Club, Meeker would resign and would be hired in 1990 as the recreation coordinator/assistant director for Oates at DLS.
At the time, there were six public tennis courts at the Westgate Complex that were substandard to say the least.
"They were right in a row with no place for light poles in between," Meeker said. "People were not happy with those six courts. My feeling, and Jim Oates and I were on exactly the same page… he felt like until we had a really good tennis program, there wasn't going to be impetus on making them better.
"I started playing again and meeting with people at the courts and there was a real interest in the courts being improved, but we were going to have to have a program to justify having them improved.
"It's kind of like the chicken and the egg thing — if you have in our case pretty bad courts, then it's hard to develop a program with inferior facilities.
"But it didn't turn out to be that way. I guess there was enough passion to go around about tennis among the people who really wanted to see it be something."
A group of players formed the Dothan Tennis Association and the push for a new tennis facility followed.
"And then about a year or two after that, the USTA developed this strategy for getting new people into the game, which was Play Tennis America," Meeker said. "It was a simple program that wasn't taught by pros, it was taught by volunteers, normally.
"We started doing it and got funding through them. We started putting together volunteers throughout the city to give free lessons and teach them how fun tennis could be.
"We did it for three or four years. Long story short, by the third year, we had taught in one summer 900 people through this program. We had kept about 50 percent of them in the ongoing programs. We were like a standout in the country for that.
"So we were very successful, and because of that, it pushed a need for this (Westgate Tennis Facility). With our 800-900 people that we were having in the summer, that stood up to anywhere in the country."
Meeker was instrumental in the design of the proposed new facility. One thing he wanted for sure was to have a nice, shaded area for fans to watch.
"I was going around the south with my kids while they were playing tennis, and I would have to watch in the hot sunshine bearing down on me from two, three courts away," Meeker said.
"I had played some at the Dothan Country Club some when I was younger and they had that covered area where you could watch, and I thought, 'If we ever get a tennis center, we need shade. This needs to be a comfortable, relaxed place that people can go and enjoy themselves.'
"So that's what we intended when we built it here. Make the courts as prefect as they can be for players, but then bring in the spectators. That was the emphasis."
The Westgate Tennis Center, with a covered veranda overlooking the 20 clay-surface courts and shaded areas throughout, opened in 2000 and is considered one of the finest facilities of its kind in the southeast. Besides being used by local tennis players, the facility hosts numerous USTA tournaments throughout the year.
While Meeker is often linked to tennis, it's being part of the Miracle Field development in 2008 that's one of his most prized accomplishments.
"I had become a little bit jaded in my career at this point — that people enjoy these sports and all this, but a lot of times they have a selfish interest to do so and it's a win at all cost or sometimes more motivation other than just recreation and the kids," Meeker said.
"But when I got to work with the group to raise money for the Miracle Field with the Rotary Club, I saw all of these people, some of which maybe I questioned their motives in the past, and they were laying out their generosity in front of everybody and wanted to make this happen.
"I said, 'There are some wonderful people in Dothan and some wonderful people in athletics and recreation.' I was just so privileged to be part of that project.
"That was as big to me as the tennis center ever was."
In the final five years of Meeker's career, it was the Forever Wild Trails — a 14-mile trek for bikers and hikers that opened in 2016 — he became closely involved with developing.
"It will hold its own with all the trails around Alabama and the southeast," Meeker said. "Fourteen miles long and to be right in the middle of the city — you just don't see that."
Meeker will step away from his duties at Leisure Services proud of what has been accomplished over the past 30 years.
"It's been an exciting journey and I'm still not tired of it at all, but I am looking forward to some other things and having some free time," Meeker said.
Free time to utilize and enjoy many of the facilities he helped pave the way for.
Be the first to know
Get local news delivered to your inbox!