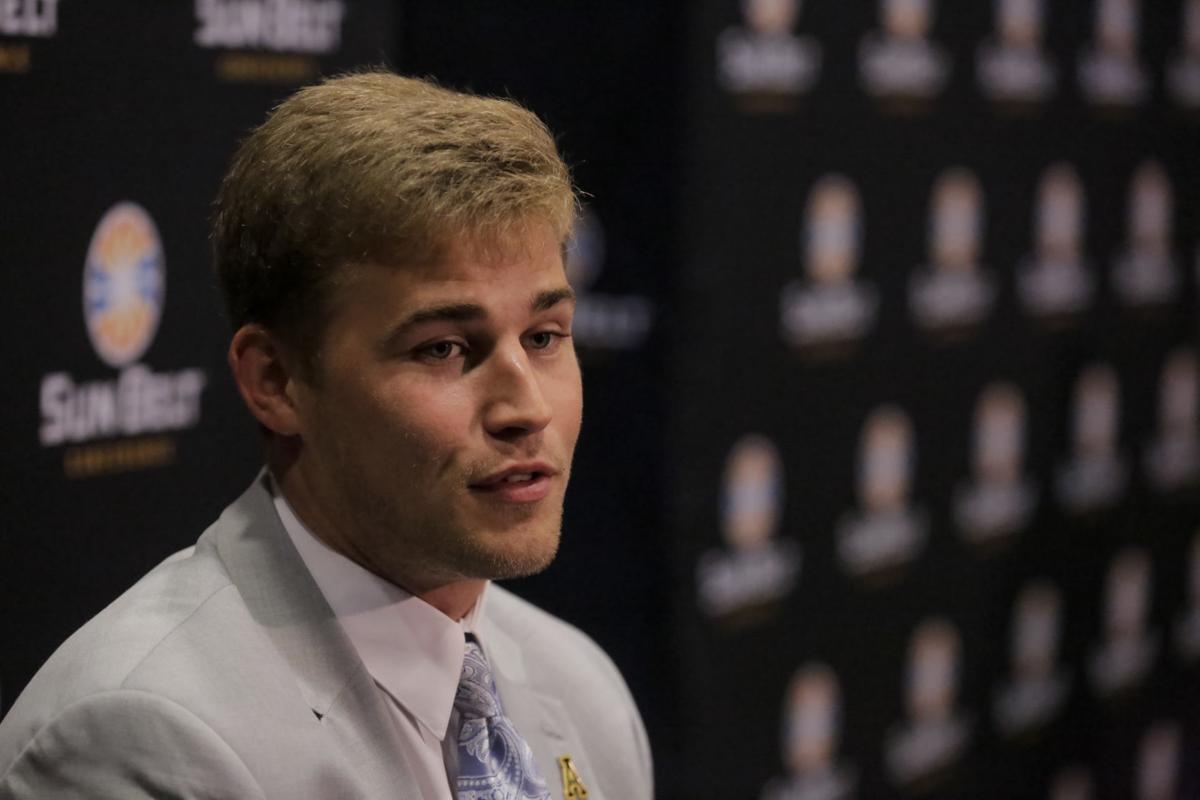 There are going to be twists and turns, humps and bumps and maturity will be required, but the Sun Belt Conference's East Division, according to preseason forecasts, will be decided on Nov. 29.
That's when Appalachian State and Troy, who were picked 1-2, respectively, in the coaches' preseason poll, collide at Veterans Memorial Stadium.
Typically, these preseason picks largely reflect the previous year's standings. Indeed, it was Appalachian State that beat Troy 21-10 at Boone, N.C., in the final game of the 2018 regular season and captured a share of the division crown. The Mountaineers then hosted West champion Louisiana in the league's inaugural championship game and won 30-19.
There are similarities in the two programs. Troy's Chip Lindsey and Appalachian State's Eliah Drinkwitz are making their head coaching debuts this season.
Both return a ton of talent. The Trojans have seven starters back on offense, five on defense. The Mountaineers will be more experienced with 10 offensive starters and six defensive starters returning.
The starting quarterbacks are back. Troy's Kaleb Barker from Decatur returns from ACL surgery halfway through the 2018 season. The Sun Belt's Offensive Player of the Year last season was Appalachian State quarterback Zac Thomas, himself an Alabama product from Trussville.
The programs share something else: high expectations. Both are coming off seasons that ended with a bowl victory. Troy went 10-3 and beat Buffalo in the Dollar General Bowl in Mobile. Appalachian State's 45-13 trouncing of Middle Tennessee in the New Orleans Bowl capped off an 11-2 campaign.
The Mountaineers said even with the coaching change, they are a hungry football team. Zac Thomas said no one could have greater expectations than he does.
"I think we can exceed those expectations even more," the quarterback said. "We had a young team last year. The main thing is everyone has to buy in. We can't have people not buy in. With these new coaches, you have to trust what they're saying. We've gained a lot of trust, but you can still build more trust."
He should know. He had to win his teammates last season as he replaced Taylor Lamb, who graduated with the App State and Sun Belt record of 90 career TD passes. In last year's season opener, Zac Thomas and the Mountaineers took Penn State to overtime.
"(At) Penn State he shocked me. He really did," teammate and defensive back Josh Thomas of Montgomery said. "After that, I was like, 'We're going to be fine.' We were all kind of nervous. New QB, Penn State, and he went out there and did his thing. It's just been rolling.
"He's just a great player and you wouldn't even know it looking at him. He's so humble, so down to earth. He's just a great player. I'm happy he's on our team."
If App State is hungry, Troy is starving. Barker comes back with the same smoldering intensity that helped him win the starting job after a battle with Sawyer Smith before the 2018 season.
"He's a great guy to be around. Fun to play with," Troy safety Melvin Tyus said about Barker. We trust him every time he's on the field. … With Kaleb coming back, I know he's hungry to win games.
"He's been delivering the ball pretty well, still moving pretty well. He's a great guy. You've got to be a strong individual to come back from three ACL injuries."
As for Barker, there is no looking ahead to a potential Nov. 29 showdown that could decide the division title. He insists he's not looking past the start of camp on Aug. 2, forget the season opener against Campbell on Aug. 31.
"I'm ready to get back," Barker said. "We'll focus on fall camp and how we can beat our defense. Then we'll focus on Game 1 and so on after that."
That is really the only way to set up that potentially epic battle at the end of the season against Appalachian State.