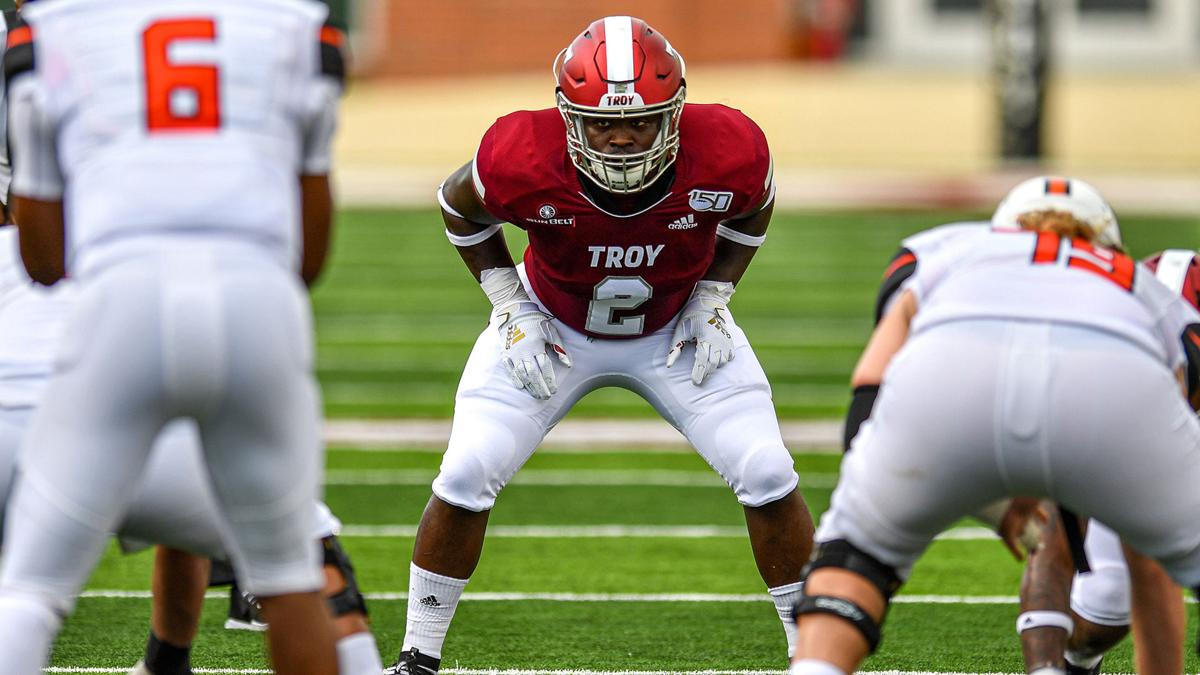 TROY – Carlton Martial doesn't need a rivalry game to hype him up.
But because Troy's Mike linebacker is from Mobile and knows a number of the South Alabama Jaguars as friends as well as foes, well, his perspective on Wednesday's showdown at The Vet is personal.
"Jalen Tolbert (receiver), the safety, Tre Young, yeah, I still stay in touch with them," Martial said of his former McGill-Toolen teammates. "The quarterback Cephus (Johnson), I went to middle school with Cephus. We have always been really tight."
So much so that Tolbert texted Martial a quick evaluation of the linebacker from South Alabama coaches: "Block him," it read. "Make sure you put your hands on him."
After earning Freshman All-American honors in 2018, the former walk-on linebacker isn't sneaking up on anyone this season. He's on everyone's scouting report.
Martial leads the Trojans with 50 tackles through five games. He had 3.5 tackles for loss against Missouri on Oct. 5, raising his season total to 11 tackles behind the line of scrimmage, among the best in the country through five games.
Equating Martial's production to his impact on the Troy defense isn't providing the full picture. Quarterback Kaleb Barker, after a recent home game, called the third-year sophomore "not just the best player, but the best leader and the best teammate we have."
Senior offensive lineman Kirk Kelley said he's glad he doesn't have to face Martial on the scout team defense anymore.
"He's always been here flying around and making plays since … his freshman year. He is just a guy that works," Kelley said. "He puts in all the effort. He gives you everything he's got. It shows that he studies hard, practices hard and plays hard. … He does a lot for this team."
That's from an offensive player. The defensive guys love him, particularly Justin Whisenhunt, who lines up next to Martial at Troy's Will linebacker slot. Whisenhunt said it's a lot easier playing beside Martial than it is playing behind him. They competed fiercely in the offseason for the starting Mike job.
"One of the hardest working, toughest guys I have ever met," Whisenhunt said about Martial. "That was one of the hardest competitions. He's a true, what you call a 'dog.' He is like the leader of our defense. We feed off his energy."
In an effort to get the 11 best defenders on the field, Whisenhunt moved positions.
"That was a sweet deal, me moving to Will," Whisenhunt said. "Now I feel like I answer him and he answers me well. As a defense as a whole it makes us a better team. It makes me a better player knowing what everybody has on the field. It kind of worked out in my favor."
Martial didn't dominate in a 42-10 loss to Missouri – he still finished with seven tackles – but defensive coordinator Brandon Hall said he still made plays.
"That was a high-quality opponent. He was still productive," Hall said. "Those are great situations for guys like him because it obviously gives them something they can gauge themselves by, where they are.
"At the same time, moving forward in the season, it's very rare that you're going to face opponents with those types of players. Obviously, if you've been in those situations, your confidence level goes up."
Martial said Troy has worked hard to get some things corrected on defense. He insists he saw progress in the loss to the Tigers.
"I saw in the first half that we made some really big mistakes, some coverages we busted," he said. "The second half, we saw they couldn't put up any points. We came together as a defense and said, 'OK, we just have to buckle down and maybe we'll have a chance to come back and maybe we don't, but we're not just going to lay down. We're going to keep fighting.'
"It really came down to big plays, like missed tackles and stuff like that. That is stuff we have to work on as the season progresses."
Whisenhunt said the entire defensive unit has to play better, including himself.
"Right now, I'm a little disappointed in myself, but I know I have time to get it right," Whisenhunt said. "I want to be able to help Carlton. Right now, if you look at it he is everywhere."
Troy can stop its two-game slide Wednesday night in its rivalry game with the Jaguars.
"It's always exciting playing them, playing against some of my former teammates from high school," Martial said. "It's going to be fun."
Be the first to know
Get local news delivered to your inbox!