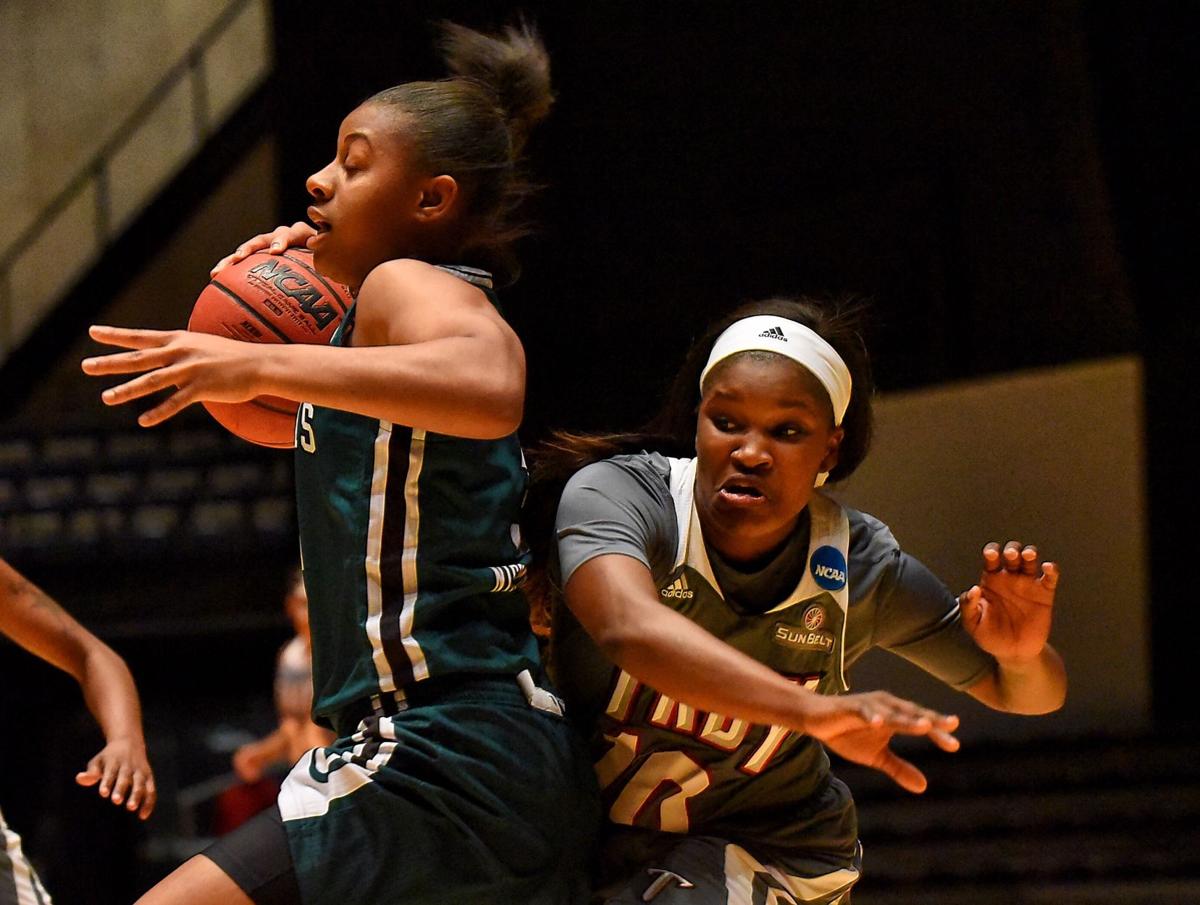 The Troy women's basketball team put on a record-setting show during its  appearance at the Dothan Civic Center on Monday night.
Along the way to defeating Thomas University 110-55, the Trojans made a school-record 27 steals, forced 45 turnovers – the most since forcing 40 in a game during the 2006-2007 season – and got an outstanding performance from former Daleville standout La'Tia Fils-Aime' during the lopsided win over the NAIA opponent from Thomasville, Ga.
Troy (2-1) likely picked up some new fans as well.
"Really enjoyed it," Troy coach Chanda Rigby said. "This is a chance to build friends in the Dothan area. This is an important area for us and there were a lot of high school teams that were here that I recognized that wouldn't have come to Trojan Arena.
"This is close to them, so we are so thankful for the opportunity to play in front of this local crowd in Dothan."
Fils-Aime' was perfect from the field for the night in scoring a team-high 17 points. The sophomore forward was 7-of-7 from the field and 3-of-3 from the free throw line. She also pulled down eight rebounds.
"Every time we got her the ball, she did something positive with it," Rigby said.
Fils-Aime' had 11 of her points by halftime.
"I was determined to play well," Fils-Aime' said.
As well as she played offensively, Fils-Aime' seemed more proud of how the team played defensively.
"The last few games we've been playing very good defense," Fils-Aime' said. "We played very good against Belmont (91-74 win last Wednesday) and it just carried over to this game."
Troy's full-court pressure caused misery for Thomas, which struggled at times just to get the ball across half court.
The 27 steals broke the school-record of 23, which had been accomplished four times – the last coming in 2015 against ULM.
"We only showed one press," Rigby said. "We have multiple presses, but tonight we wanted to focus on our man-to-man, full-court man-to-man press and get better at it.
"The last two games we played, we weren't good enough at it to really sustain any run in our man-to-man press."
Troy also got a nice performance from Dajia Williams, a junior center, who had 10 points and a team-high 11 rebounds. It was the first double-double of her Troy career.
"She's come in and worked on her athleticism and she had her first double-double in her college career," Rigby said.
Claresa Banks and ArJae' Saunders also reached double figures in scoring with 12 each for the Trojans.
But while Troy dominated from start to finish and led 54-31 by halftime, Rigby wasn't happy with the execution during the first two quarters.
"In the first half, we were just letting people drive by us on defense that should not be happening," Rigby said. "In our defense, we want to keep the man in front of us so the next line of people can be out in the passing lane and steal the ball.
"They couldn't ever get out to steal the ball because they were having to help."
Thomas was led by Micah Garvin, who had a game-high 24 points from her guard position. She was the only player to reach double digits in scoring for Thomas.