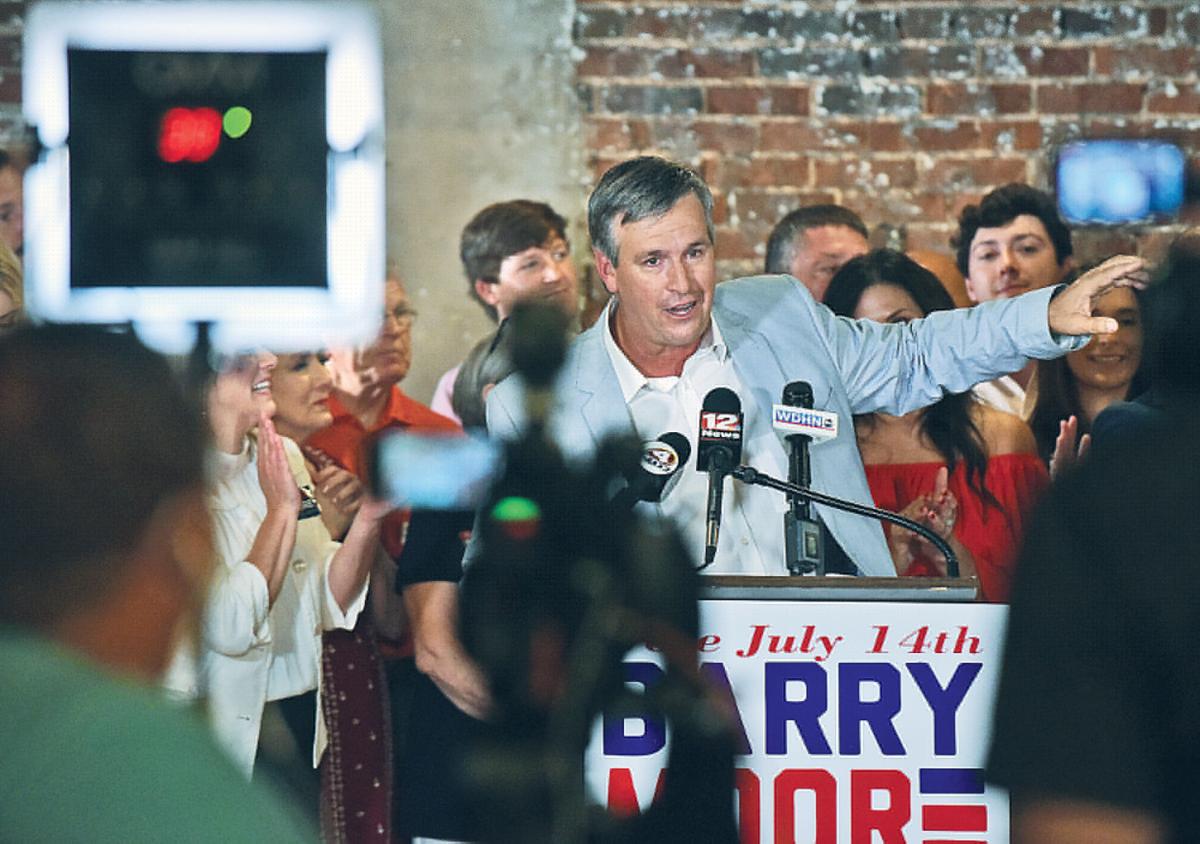 ENTERPRISE - Barry Moore, the Republican nominee for Alabama's 2nd Congressional seat in November's general election, issued a statement Saturday night apologizing for making a Facebook post concerning the police shooting of a Black man in Kenosha, Wisconsin.
The man who was shot in the back, 29-year-old Jacob Blake, is paralyzed.
Protestors have marched on Kenosha's streets every night since Blake's shooting, with some protests devolving into unrest with damage to buildings and unrest. On Tuesday, two people were killed by an armed civilian.
Moore's campaign released a statement concerning the post of a meme showing two unarmed victims of mob violence with a picture of Kyle Rittenhouse carrying a firearm.
The post was deleted after complaints of its graphic nature, the campaign said. The 17-year-old Rittenhouuse is charged with shooting three people, two fatally, during the Kenosha protests Tuesday night.
Moore said in the statement: "I apologize for the graphic nature of a post earlier, showing scenes from the violence tearing through Kenosha. I should have expressed my feelings about the situation in words, not just with a meme.
"This is a horrible, complicated situation, and I'm troubled not only by the shooting of Jacob Blake but also how peaceful protests turned into rioting, burning, rampant destruction of a vibrant, growing town and acts of violence against police. I'm especially troubled that a young man felt compelled to take up arms to protect lives and property in Kenosha against a violent mob that was actively threatening to 'burn it down'.
"I have full confidence in the justice system to determine the rightness or wrongness of Kyle Rittenhouse's actions, as well as those officers involved in Jacob Blake's shooting. I also hope that those arrested in Kenosha for their part in the rioting receive the same level of justice from the courts for their actions.
"We can NOT allow this kind of violence begetting violence to continue. Mob violence only encourages vigilantism, fueled by cries across the nation to defund the police as well as immediate social media coverage of both the mob violence and police and private citizen's actions against it.
"We have the right to defend our lives, our families, and our property, and the 2nd Amendment allows us to do so with firearms. We must never relinquish this basic right because we never know when an angry mob (or tyrannical government) will come against us. We hope and pray it never will, but as recent events have shown, the possibility cannot be ignored. Just ask the citizens of Kenosha.
"I will never condemn those who protest peacefully. Our freedom of assembly and the right to petition our government when we have a grievance against it are two of our most fundamental freedoms. I'm not going to condemn either the police officers involved in Jacob Blake's shooting or Mr. Rittenhouse because I do not have all the facts, and again, I have confidence in our justice system.
"I will, however, always condemn those who believe arson, looting, assault, and other acts of rampant destruction are acceptable in any way, shape, form, or fashion, regardless of what political statement they want to make.
"Until the riots stop being riots and return to being peaceful protests, we won't see any progress being made on ANY issue, and tragedies like what has gripped Kenosha will undoubtedly continue--and that is what I truly fear.
"We don't have any firm estimates of the damage done in Kenosha, but it will undoubtedly be in the millions of dollars. My team is also compiling information on the number of deaths, assaults, rapes, and other crimes that have taken place across the country as a result of these riots. These statistics will speak for themselves and be more shocking in some ways than any meme. The truth is often painful, but someone needs to stand up for it. I always will."