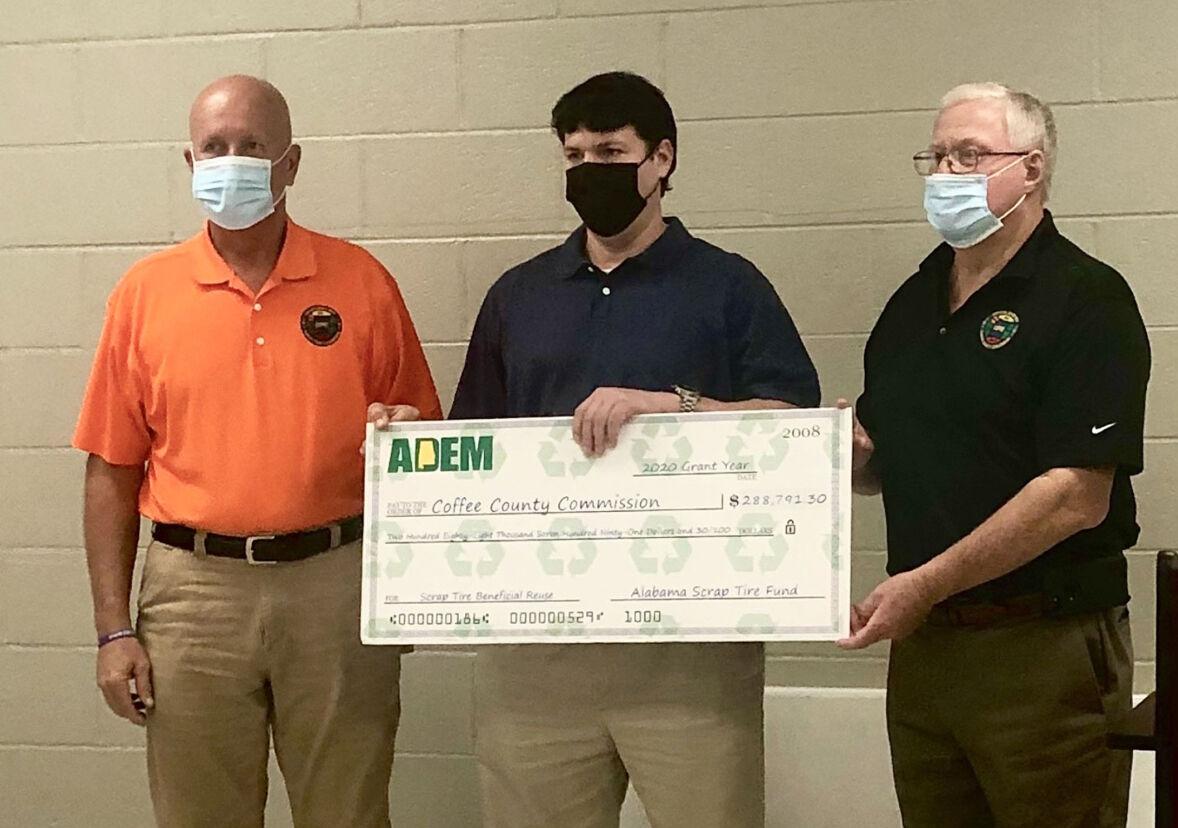 The Alabama Department of Environmental Management awarded the Coffee County Commission a Scrap Tire Marketing grant for the resurfacing of roads using recycled tire materials.
ADEM representative Adam Rhodes presented a check for $288,791.30 for the resurfacing of County Road 110 using rubber modified asphalt, a process that has seen great success in Georgia, he said.
"We're glad that the county is going to do this and use these funds, and hopefully this will promote further use in the state," Rhodes said. "It's a very good product and we appreciate y'all helping us and doing this project."
Rubber modified asphalt helps to divert scrap tires away from the landfills and brings them to a beneficial end use. According to the Asphalt Rubber Technology Service of Clemson University, approximately 400 to 970 scrap tires can be beneficially used per lane-mile of pavement, depending on which grade is used.
The resurfacing of County Road 110 will extend for approximately two miles and will utilize a "balance mix" design with a recycled rubber additive. This mix will be directly compared to the approximately five miles of traditional asphalt resurfacing, also on Coffee County Road 110, that used the Alabama Department of Transportation's current "superpave mix."
The National Center for Asphalt Technology will provide the training and mix design services and will evaluate the performance of the rubber modified mixture. 
"This project is just another example of ADEM utilizing its resources to provide environmental benefits and economic benefits for Alabamians," said ADEM Director Lance LeFleur. "I appreciate the Coffee County Commission's willingness to use Rubber Modified Asphalt, which shows one of the many beneficial uses of scrap tires."
After the check presentation, County Engineer Marty Lentz said the county had received a disaster assistance agreement from the Alabama Emergency Management Agency regarding damage caused from the straight-line winds during the April 19 storms. The agreement specified that recovery efforts would be made up of 75 percent FEMA funds, 12.5 percent state funds and 12.5 percent local funds, and the commission approved the agreement.
He also asked permission from the commission to purchase a 2014 single axle dump truck with 86,000 miles for $40,000. He said they had originally budgeted for a new dump truck for $85,000, but found the used model on the state surplus website and it was an acceptable equivalent for less money. The commission approved the purchase.
Mike Thornton, environmental services, also requested approval to purchase four new garbage trucks for a total of $1,035,649 that would be delivered after the start of the new year, and the commission approved.
County Agent Gavin Mauldin announced a grant opportunity from the Alabama Agriculture Stabilization program for cattle and poultry farmers and nursery growers.  He said this money comes from the $26 million in Kay Ivey's CARE Act for ag producers and would be separate from any USDA monies. The application for cattle producers is open now until Oct. 9, the application for poultry farmers opens Oct. 1 and closes Oct. 30 and the application for nursery growers is open now through Oct. 15. To apply, visit crf.alabama.gov/agriculture.aspx
The commission accepted a bid from Gulf Atlantic Culvert Co. in Leon County, Fla., for corrugated metal pipes for $11,344.
E911 Chairman Dean Blair reported that some of the issues caused by the electrical storm has been repaired.
The next meeting was scheduled for Sept. 28 at 9 a.m. at the County Complex in New Brockton.
Be the first to know
Get local news delivered to your inbox!