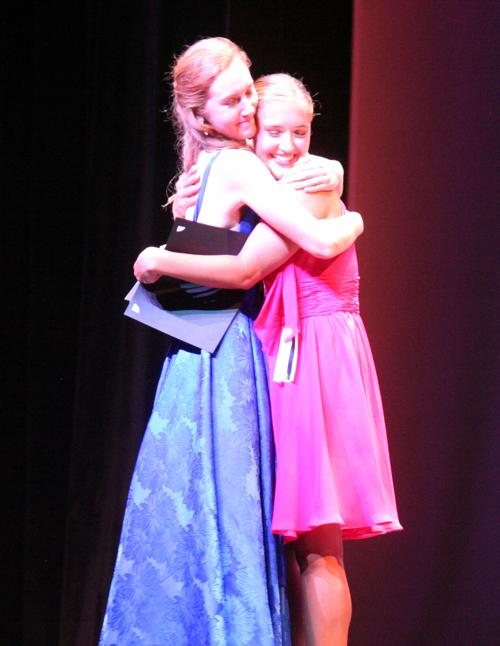 A rising senior at Enterprise High School, Mary Camilla Burg, or Mary Cam as she prefers, can now add 2021 Distinguished Young Woman of Coffee County to her rapidly growing resume.
During the program on July 17, Burg was not only selected as the overall winner, she also brought home the interview, fitness and talent scholarship awards as well as the Spirit of DYW designation. Despite how comfortable she appears on stage, she said it took work to push herself to join the program.
"I was one of the rising sisters, so I knew that it was something that would get me out of my comfort zone, give me better interview skills and just be a really good program to be part of," she said.
As a member of the Big Blue Band's dance line, the EHS Encores, a Wildcat Rep, a leader of the student praise band at First Baptist, a dancer at the Enterprise School of Dance and being involved with EHS's theater department, Burg is no stranger to performing — but having the stage alone was a brand new experience.
After landing a role in a performance of Phantom of the Opera some time ago, Burg said she became "captivated" by more classical styles of music and wanted to learn how to sing it. For her solo act during the talent portion, Burg stunned with her performance of "Time to Say Goodbye" by Andrea Bocelli and Sarah Brightman.
"I'm used to being on stage, but I've never been on stage by myself doing a song that big, so it was different but it was also a lot of fun," she said. "I love the feeling of just being in a dress and it being my song and my way to express myself."
Music plays a large role in Burg's life. Her favorite movie is the Sound of Music, and she wants to study music at Auburn, which she plans to attend after graduation next spring, with a focus on either music ministry or worship leadership. She added that she also loves English and writing and could see herself becoming a Christian author, too.
Burg will compete for the title of Distinguished Young Woman of Alabama in Montgomery next January and will spend a week alongside the other county winners practicing and helping each other prepare for the big night. That kind of camaraderie is exactly what Burg said she experienced in the Coffee County competition and can't wait to experience again.
"I did grow up with most of the other girls, but we got even closer through this experience," she said. "We're very supportive of each other. I'm excited about getting to meet new people to share goals and talent with and to build each other up again."
One thought Burg kept coming back to was the importance of continually pushing herself in new directions, something that would seem to be a no-brainer for someone as involved as she is.
"One of the hardest things to learn, but one of the most important things I've realized, is you have to push yourself out of your comfort zone and not be afraid to get involved with different things," she said. "You're not going to see how successful you can be unless you work to your fullest potential. Fear robs people of grand opportunities. Don't let fear hold you back."
Helen Faught, chairman of the Coffee County DYW program, said, "Mary Cam Burg is a bright, talented, and hardworking young leader. We are very excited for her to represent Coffee County in January at Distinguished Young Women of Alabama 2021 in Montgomery.
"Our DYW of Coffee County board members will help her prepare for state in the upcoming months by scheduling her for various speaking engagements, involving her in community service events and assisting her in preparation for mock interviews.  She has a very supportive family and community that will ensure that she will enjoy and grow from this experience."
Burg is the daughter of Nikki and Trey Burg of Enterprise and is the older sister to Stafford, Henry and Harris.
Distinguished Young Women of Coffee County is part of a national scholarship program that promotes and rewards scholarship, leadership and talent in young women. Cash scholarships are awarded at the local level and millions in college-granted scholarships are available ($1 billion nationally).
Be the first to know
Get local news delivered to your inbox!