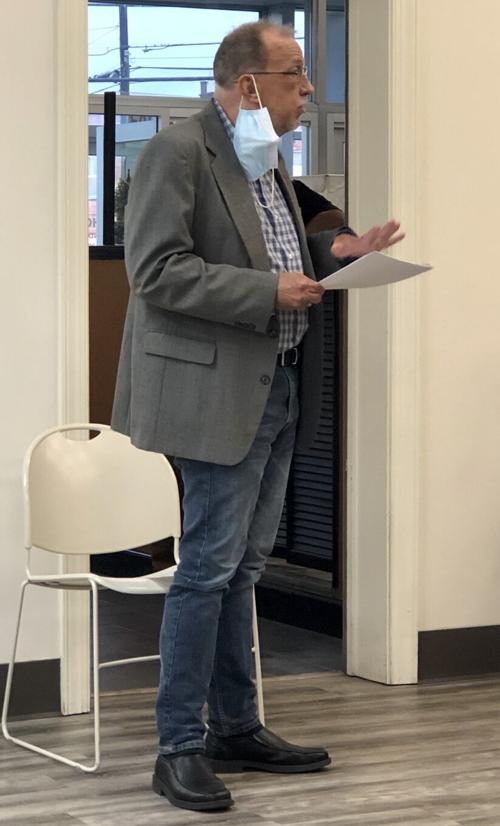 Elba City Council members had a lot to take in during Monday night's council meeting with multiple topics ranging from the lightning-struck police department, to a proposal for a historic marker, to COVID and the need for culvert repairs all being discussed.
At the Aug. 10 meeting, Police Chief Leslie Hussey reported that the police department had been struck by lightning late that afternoon, after a quick assessment before the 5:30 p.m. meeting, it appeared that most, if not all, of the radios, telephones and computers were down. At Mondays meeting, two weeks later, the following items had been replaced: nine desktop computers, 15 cameras, the door operating system, a network switch, the city clerk's camera system, radios, phones, audio recorders and three TV monitors.
Council member Jane Brunson asked if the lost equipment was insured and Hussey said it was. She also asked if there were any leads on the stolen kayaks and he replied not any they're able to share at the moment.
Assistant City Clerk Pat Boothe updated the council on multiple city projects. She said the work at the lagoon had been completed last Thursday, but the bathrooms at Hawkins-Williams Park are still under construction. The water meter replacement project is about 40 percent complete, and crews are now in the Smith Avenue and Troy Highway areas. The bid for electric meters will open on Aug. 31, and they are waiting on the USDA to give its approval for the water main contract so the city can let it out for bids.
At the conclusion of her report, she said the downtown theater received a response from the fire marshal — the contractors are currently working to see what the options are to be able to move forward — and reminded the council of a groundbreaking ceremony for Southern Tractor Wednesday at 10 a.m.
Ed Kelley with the Masonic Lodge presented a proposal requesting permission to place a historic marker in the city to honor Elba's Masonic Lodge #170. The marker would be located at the corner of Claxton Avenue and Davis Street, he said, "About midway between the original lodge and the second lodge," and would be funded entirely by the Lodge.
Last year, Kelley petitioned for preliminary approval to pursue the historic marker. He said the Elba lodge is one of the oldest in the state and was the first in Coffee County. He has also already met with the historical committee and the state archives and gained their support. If approved by the City, the unveiling would take place on Feb. 13, 2021, the 169th anniversary of the installation of the original officers.
A motion to accept the location for the marker was unanimously approved.
Next, Coffee County EMA Director James Brown provided an update on the COVID-19 cases in the county. As of Monday evening, the county sits at 902 cumulative cases. He said 55 of those cases are contagious, and 124 people are in quarantine. Over the past two weeks, 2,422 have been tested and 141 results came back positive, which shows that the positivity rate for the county is going down. He also said Coffee County had moved into the "moderate risk" category after sitting in the red for "quite a while."
Brown reported that they haven't seen big numbers from the schools, "which we're grateful for," he added. He also said that guidelines for the schools would be changing again soon to limit the number of healthy children being sent home. The information came from a meeting early Monday between Brown, Alabama Department of Public Health officials and school officials.
While the specifics are unknown for now, the biggest change was a designation between "major" and "minor" symptoms. Students with minor symptoms, such as a runny nose or the sniffles, would be allowed to remain in school, while students with a major symptom — cough, loss of taste or smell or shortness of breath/difficulty breathing — would be sent home to quarantine.
"Basically, when a kid comes down with a sniffle, we don't have to send the whole class home. Before, if they showed up with any of the symptoms, we had to send them home and also anyone who was within six feet of them for more than 15 minutes," he said. "As you can imagine, there ended up being a lot of kids that had to go home.
"If you get sick, you only have to quarantine 10 days, but if you're exposed you have to quarantine for 14 days," he said. "The science behind that is, you could show up with symptoms anywhere from four to 14 days, although the norm is usually six days. A lot of this stuff changes all the time and I apologize for that, but I'm not in charge of that, the ADPH is, so they tell me what the science is behind it and I just have to try to sell it to everybody."
To end the meeting, Mayor Mickey Murdock followed many other Coffee County leaders and urged citizens to complete the Census before it's too late.
"I think numbers went up a little, but we are still way behind," he said. "If you don't fill out the Census before Sept. 30, somebody is coming to your door and asking. If you don't want somebody coming to your door, fill the thing out. You can fill it out at City Hall, the Chamber of Commerce or the Library. It doesn't take very long; there's only six or seven questions.
"It's a no-brainer. We either fill it out and get a congressman, or we don't fill it out and we don't get a congressman. If you have any influence on anybody that hasn't filled it out, we'd appreciate you letting them know about it because it hurts them, too. In the long run it's going to hurt all of us."
A special meeting was called for Sept. 1 at noon to canvas the election results.
Code Enforcement Officer/Building Inspector Bryson Dear presented on update on the Simmons Street culvert. This update will be covered in-depth in a separate article.
Resolution 08242020 was accepted. This resolution, which involves funds from the Rebuild Alabama Act that was signed into law on March 12, 2019, requires that the $32,461 estimated revenue be used to perform roadway repairs, improvements or resurfacing, reconstruction or maintenance of Simmons Street or as match monies for any state or federal grant funded projects involving the roadway projects listed above.