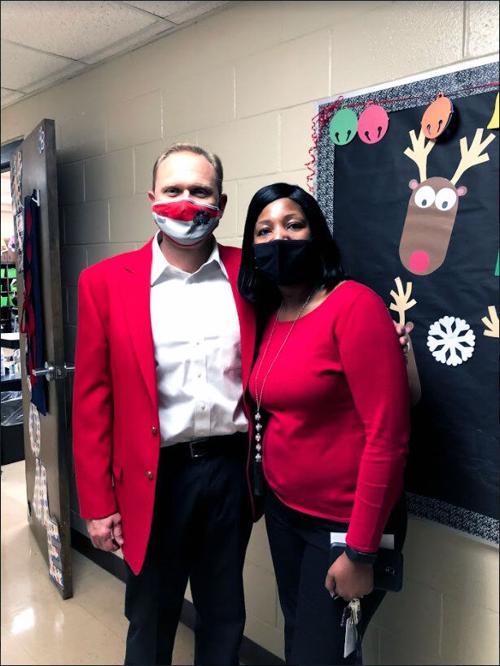 Christmas came early for Eufaula City School employees in the form of a $600 incentive handed out personally by Board of Education members before school let out for Christmas break.
Superintendent Joey Brannan said he and the board started discussing ways to recognize the extraordinary work ECS staff and teachers were doing around late September, early October.
"You could see the frustration and the panic everyone was feeling. When we first went back to school, we were all virtual and that was completely new," Brannan said. "Teachers were trying to learn a completely new way to teach, and then the second nine weeks we started going hybrid, so you've got some kids in the building and some still virtual. Teachers are trying to teach both at the same time, and the board wanted to reward the teachers and staff for all the work they had to do to get that going.
"We were sitting here in my office one day talking about ways to show that we recognize everyone's efforts. Then, we started looking at other school systems around the area and seeing what they had done. The next phase was talking to the board, and they loved the idea but were like, 'You're going to need to be a little more generous. The amount of effort they're having to put in and the things they're having to do, let's do a little more.' And that's when we started talking about higher numbers."
Every full time employee received a $600 incentive while part time employees received $250; in total, 365 checks were handed out. Instead of using CARES Act funding, the incentive was paid from the school system's general fund.
 "We've been fortunate that we had the capability of doing it this way, and the board felt like it would be an appropriate expense at this time to show the staff how we felt about their work," Brannan said.
The incentive was designed to serve a dual purpose: to recognize the hard work put in so far and the work that's left to be done.
"We know their work doesn't end at the semester; we've got a whole other semester to go," Brannan said. "Ultimately, the board just wanted to show teachers their appreciation for the work they've done and the work they're going to continue to have to do."
On the day of delivery, Brannan and the select few in the loop dressed festive—as festive as he can, at least—and began prepping to execute the well-kept surprise.
"We did a pretty good job in my opinion. I'm sure there were some mumblings going on, but you could tell when we delivered them that there were a lot of people that had no clue," he said.
Before arriving at the schools, Brannan made a call to all the principals warning of their arrival and that they would need to go around with a board member to the classrooms to deliver the teachers a "small gift." The teachers, largely unaware of what was to come, were uneasy at the beginning of each meeting.
"I know in their minds, because I've been there before, they're thinking 'Really? Something else for us to have to do?'" he said. "So you've got a board member, me and the school principal calling these teachers out into the hallways, and they're all nervous and expecting bad news, and I said, 'Do you think if I was delivering you bad news I'd do it in a red jacket?' Finally, one of the teachers did ask me what jacket I would wear if I had bad news. There was genuine shock, and if they knew about the incentive, they had no idea about the amount since we'd talked about a much smaller amount before."
For the record, Brannan said he'd wear a black jacket when delivering bad news.
Mitzi Clayton, public information liaison for Eufaula City Schools, said the board members wanted to further display their appreciation with a personal touch by hand delivering the checks to teachers in their classrooms, and the reactions on all sides were heartwarming.
"I went into a classroom that had two employees in it. One was a support employee, and she was so excited about her friend getting a check," Clayton said. "Then Richard Wingate, one of our board members, said 'Oh, I have one for you, too!' and the look on her face was priceless. She truly didn't expect it; she was just happy her friend was getting some extra money.
"We've been unable to have normal meetings and ceremonies this year due to COVID, so a lot of the 'cheer' of this job couldn't happen this year. Those kind of things are things that the board members enjoy seeing and being able to go to to interact with the employees and students, so I think this was just another reminder for them about why they do the work that they do."
Newly-appointed board member Katrina Wright said, "I wish everyone could have seen the joy from our ELC family. They lit up like Christmas lights when they were presented with the incentive. Some looked as though they wanted to cry, and some danced with excitement. The amount of joy and appreciation shown just warmed my heart.
"I think the token of appreciation was greatly needed and showed our staff members we appreciate all that they do, especially during the pandemic. This was an awesome gesture of appreciation and love for our ECS staff, and I'm honored to be a part of such a great system. I look forward to many more opportunities to show the staff we care."
Suzanne Bangert, a second grade teacher at Eufaula Primary School who had her check delivered by Brannan, board member Yadira Chavez and EPS Principal Emily Jackson, said the most meaningful part of the day was the delivery.
"They took time out of their busy schedules to see each of us and say thank you for all that we are doing. Not very many superintendents, school board members or principals would take that time. This just shows you how important each member of the Eufaula City Schools family is to each of us, which includes our school board. I didn't even open the envelope until the end of the day.
"Even though this year has been difficult, ECS has been there helping to support its teachers and community. We started this school year completely virtually and then four and half weeks later we began with face to face instruction. My heart is completely filled because my students and their families have worked so hard this year to learn as much as they can. I have seen so much growth in my students since the beginning of the school year despite all of the challenges we have faced. I am so proud to be part of the Eufaula City Schools Family."